On October 10, 2019, Cowan's will offer the collection of James B. Scoville in a single-owner auction at its Cincinnati salesroom. The spectacular collection offers perhaps the most complete snapshot of the latter half of the 19th century in the Great Plains of the United States. Across over 200 lots, the collection manages to seamlessly blend majestic Western art depicting the legend of the region with artifacts that provide a record of the realities of life for Native Americans at the time.
"I'm not sure you could have assembled a better representation of the Great Plains in the 19th century if you had unlimited time and resources," said Danica Farnand, Cowan's director of American Indian & Western Art. "James' fervent passion and incredible eye for quality created one of the most extraordinary collections we've ever had the pleasure of handling."
Born in Riverside, Ill. in 1924, Scoville was an outdoorsman from the earliest days of his childhood. He and his wife, Peggy, were avid hunters traveling the Great Plains to bow hunt, camping in their canvas replica teepee, in pursuit of deer, elk, and antelope often on horseback. A lifelong naturalist, he was a founding Director of Citizens for Conservation in his hometown of Barrington, Ill. This love of the outdoors sparked a passion of the history of the region, particularly in the 19th century. Scoville expressed this passion by meticulously curating a collection that could best depict that history.
"James was an incredible storyteller," said Farnand. "In his collection, he's telling us the story of the Great Plains. These majestic Western Art pieces of sweeping landscapes, untamed wildlife, and the rough and tumble frontiersmen show the romanticized legend of the Plains. Understanding the legend is critical to putting the reality of history into context."
The top Western Art lot is expected to be a C. M. Russell (American, 1864-1926) watercolor over pen and ink on paper entitled Inspection of a Permit. Russell, was one of the finest artists produced by the American West. Born in St. Louis, Russell became fascinated with the West as a young boy and began filling his notebooks with sketches of Native Americans and cowboys. Adding to the value of this particular watercolor, is a hand-written inscription along the lower margin believed to indicate the piece was a personal gift to a friend. The lot is estimated to sell for $80,000 to $100,000.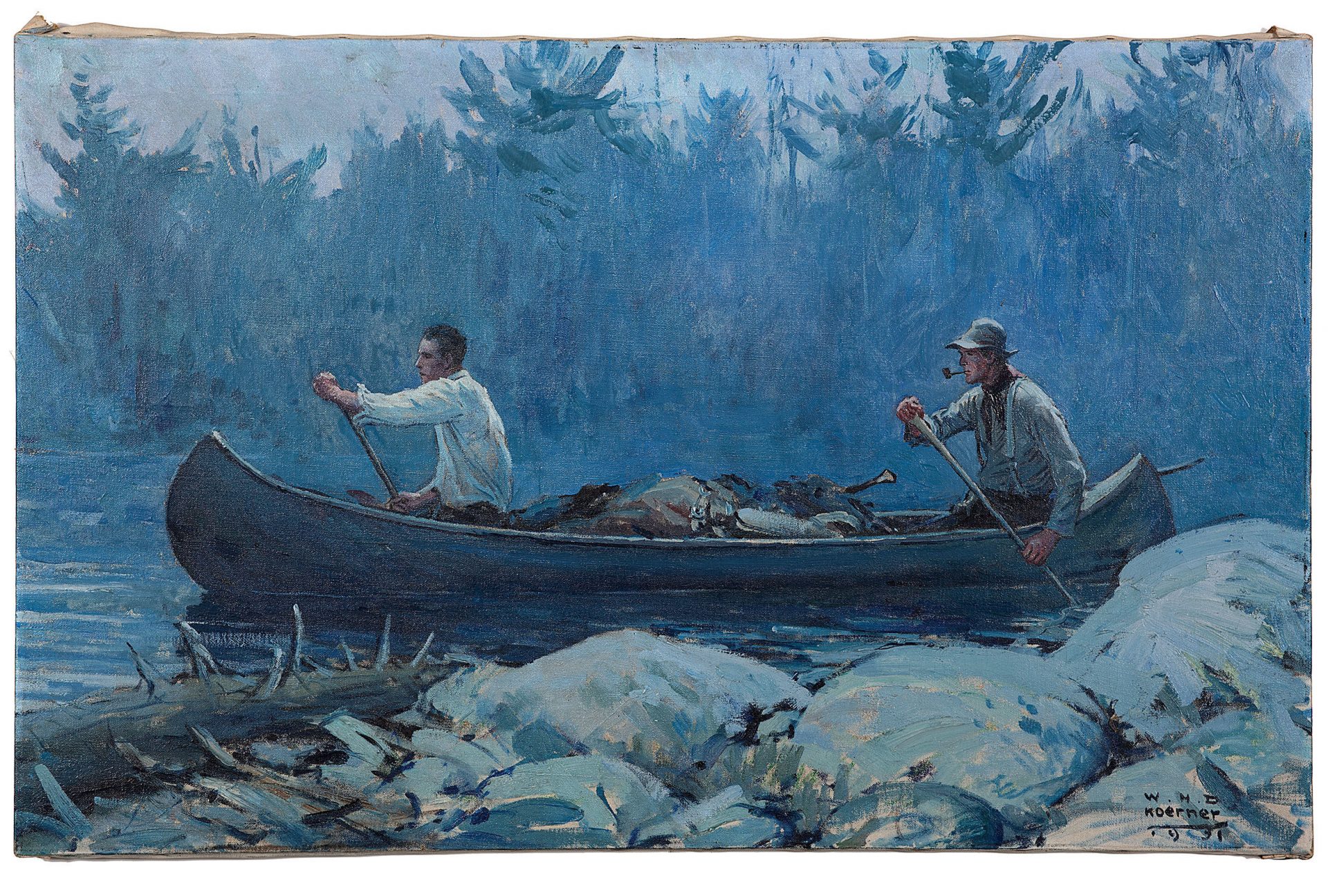 Other Western Art highlights include a WHD Koerner (German, 1878-1938) oil on canvas entitled Two Men in a Canoe, estimated to sell for $20,000 to $30,000; a Harvey Dunn (American, 1884-1952) oil on canvas entitled A Journey in the Badlands for $15,000 to $25,000; another C. M. Russell work, this one pen and ink with color on paper, entitled Looking for Trouble for $15,000 to $25,000; and a Frank Schoonover (American, 1877-1972) oil on canvas for $10,000 to $15,000.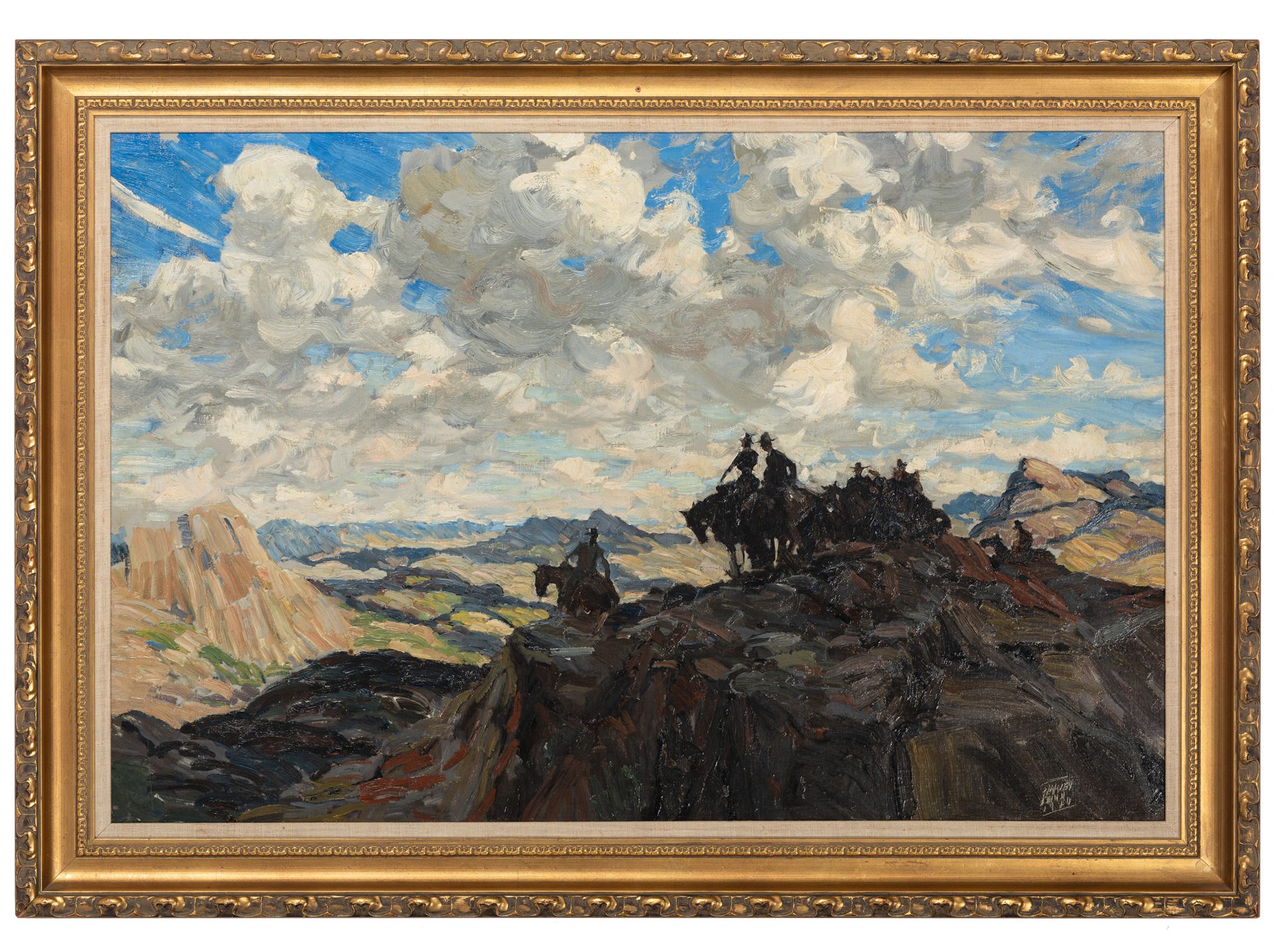 Highlights from the artifact portion of the auction include a vividly colored Cheyenne River Sioux pictorial beaded hide tobacco bag expected to sell for $30,000 to $50,000; an early plains pictorial beaded knife sheath with knife for $20,000 to $30,000; a Sioux quilled and beaded buffalo hide bowcase and quiver for $20,000 to $30,000; and a brightly colored Crow beaded hide rifle scabbard for $15,000 to $25,000.
The auction will take place on Thursday, October 10 at 10:00 a.m. (ET) in Cowan's Cincinnati salesroom. For more information on the auction and to register to bid, visit Cowans.com or call 513-871-1670.