Philanthropist and collector, Michelle Smith was renowned equally for her charitable efforts and for the vision of elegance and sophistication that influenced all areas of her life. She passionately supported causes in education, culture, health and the arts. After succeeding her father in January 2010, Smith served as president of the Robert H. Smith Family Foundation, supporting nonprofit organizations, universities, and cultural institutions through fundraising and charitable giving. Smith's commitment to sustaining and nurturing the arts is evident in her work with the Smithsonian's National Gallery of Art and the Whitney Museum; she also funded arts and business programs at the University of Maryland. Smith fostered key partnerships among organizations, bringing her curated approach to life and utilizing her relationships as she served on many boards of trustees and directors, including the Aspen Institute and The Foundation for Art and Preservation in Embassies.
Every facet of her world was shaped by refinement and beauty: at home, in art, and in fashion, over time acquiring a significant collection of contemporary haute couture. She treated couture as any other collecting category; the breadth and depth of her collection indicate an appreciation for the history of the craft, as well as a focused attention to a key group of designers: Dior, Ralph Rucci, and J. Mendel. Each of these designers is known for their craftsmanship and the ways in which their work demonstrates the extraordinary labor and care required to create these garments, ranging from ready-to-wear to fashion's most exclusive tier: haute couture.
The very notion of haute couture relies on the work of les petites mains, the highly skilled artisans who craft these garments in designers' ateliers. Each haute couture garment is custom made to the unique specifications of the client in a Paris atelier, as sanctioned by the strict edicts of the Chambre Syndicale de la Haute Couture. The care and labor poured into each of these pieces is evident in each embroidery, appliqué, and weave. To see a collection of contemporary haute couture, so thoughtfully curated and cultivated, illustrates Michelle Smith's pursuit of excellence, in fashion and in life.
"Couture was a world defined by relationships and lineage," explains journalist Robin Givhan, noting that women were historically introduced to this world socially, often by their mothers.[1] Traditionally, couture clients have become loyal to one or two labels, as did Michelle Smith with Ralph Rucci and Dior. Smith's exposure began close to home and sparked a lifelong joy for collecting: her own mother was a couture client, also a patron of Dior.
Lot 1 | Balenciaga Haute Couture Wool Coat, c.1960
A 1960s Balenciaga haute couture wool coat commences the sale, refined and subtle. Deceptively simple, this coat is cut with few pattern pieces, many of which are hand-sewn together with minimal seams. The silhouette of the coat is supported by internal layers of padding that extend down the front and back of the body, from the shoulder. These unusually placed pads help smooth the silhouette over the shoulders and chest and widen the silhouette of the chest and back to achieve the Cocoon shape of the 1940s-1960s, which Balenciaga helped introduce. This coat, and Balenciaga's innovations, set forth important changes in clothing construction, revered by the likes of Ralph Rucci and Christian Dior.
Smith's longstanding love for Dior is evident in a collection spanning decades. Christian Dior came to the fore of fashion with the debut of his New Look in 1947. Since then, and under the leadership of highly influential creative directors, the label has reigned modern fashion by remaining responsive, adaptive, and generative. Smith's collection features contemporary Dior haute couture from her wedding dress, 1979 (worn in 1980, lot 21), through 2018, collecting most heavily from 2008 onwards. These garments, rarely seen at auction, tell a story of the house of Dior's creative output as they have designed for increasingly modern women in an ever-changing world.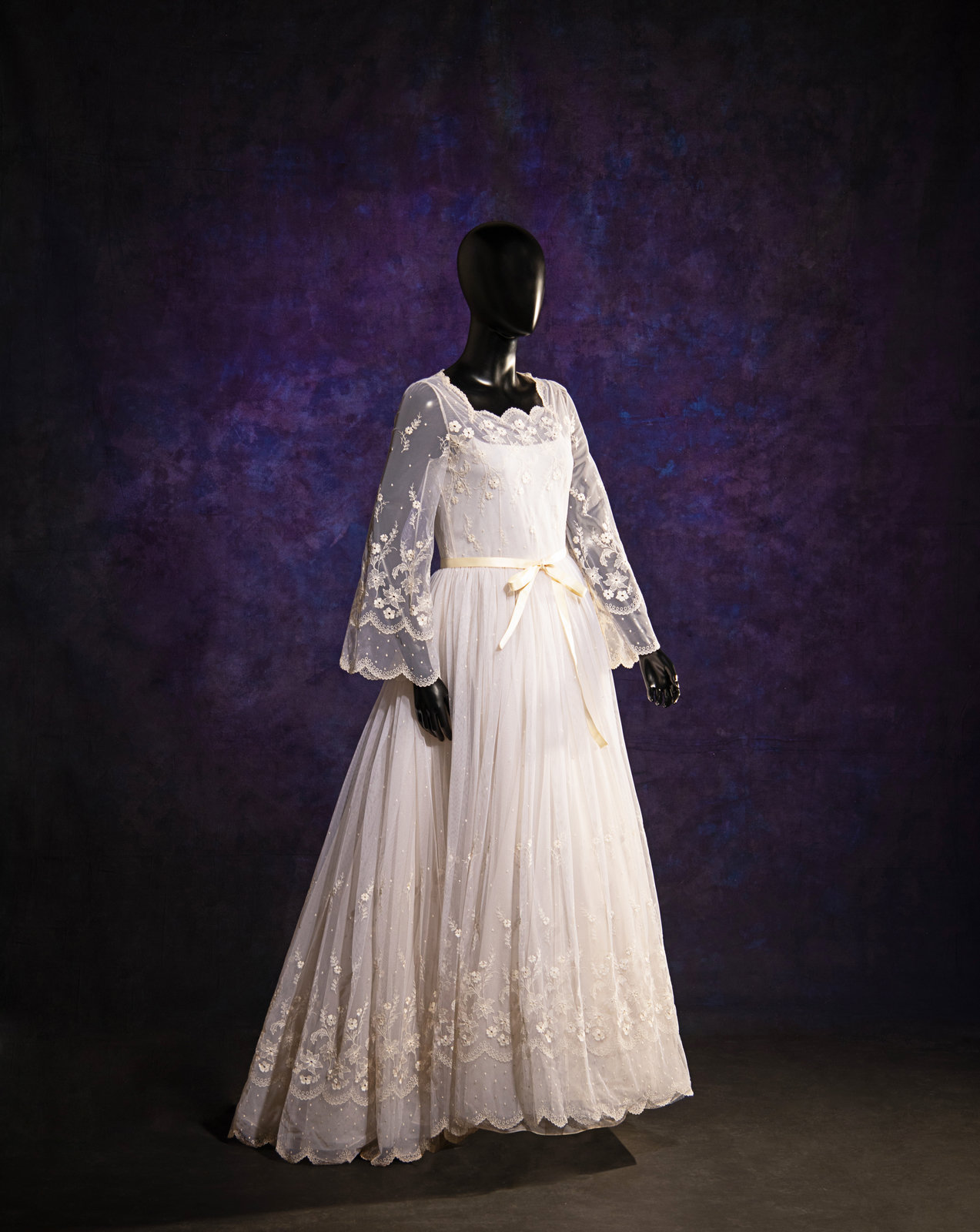 Lot 22 | Christian Dior Haute Couture Wedding Dress, Fall/Winter 1979
Since 2016, Maria Grazia Chiuri has sat at the helm of Dior, the first woman creative director, breathing new life into the label through minimalist edge with strong, feminist underpinnings. She has introduced a strong emphasis on craftsmanship by women artists and makers, and collaborates closely with workshops worldwide.[2] Chiuri's clothes embody a refined elegance, at times eye-catching and bold, at others, quiet and sophisticated. Of the autumn/winter 2018 collection, "These are serious clothes, Chiuri seemed to be saying, made by the finest hands and meant to be appreciated by women who are beyond the flimflam and easy glam of our times."[3] In Smith's collection, the item most closely resembling Christian Dior's iconic bar suit most explicitly subverts the house's traditional codes. The cinched, corseted jacket and voluminous, knife-pleated skirt are reintroduced as a jacket free of internal structure and – for the modern woman – pants (lot 31). This, for Chiuri, represents freedom. The garments are restrained so the wearer can speak; "Chiuri's offerings are for people who make noise in the world by wearing clothes that murmur elegantly."[4]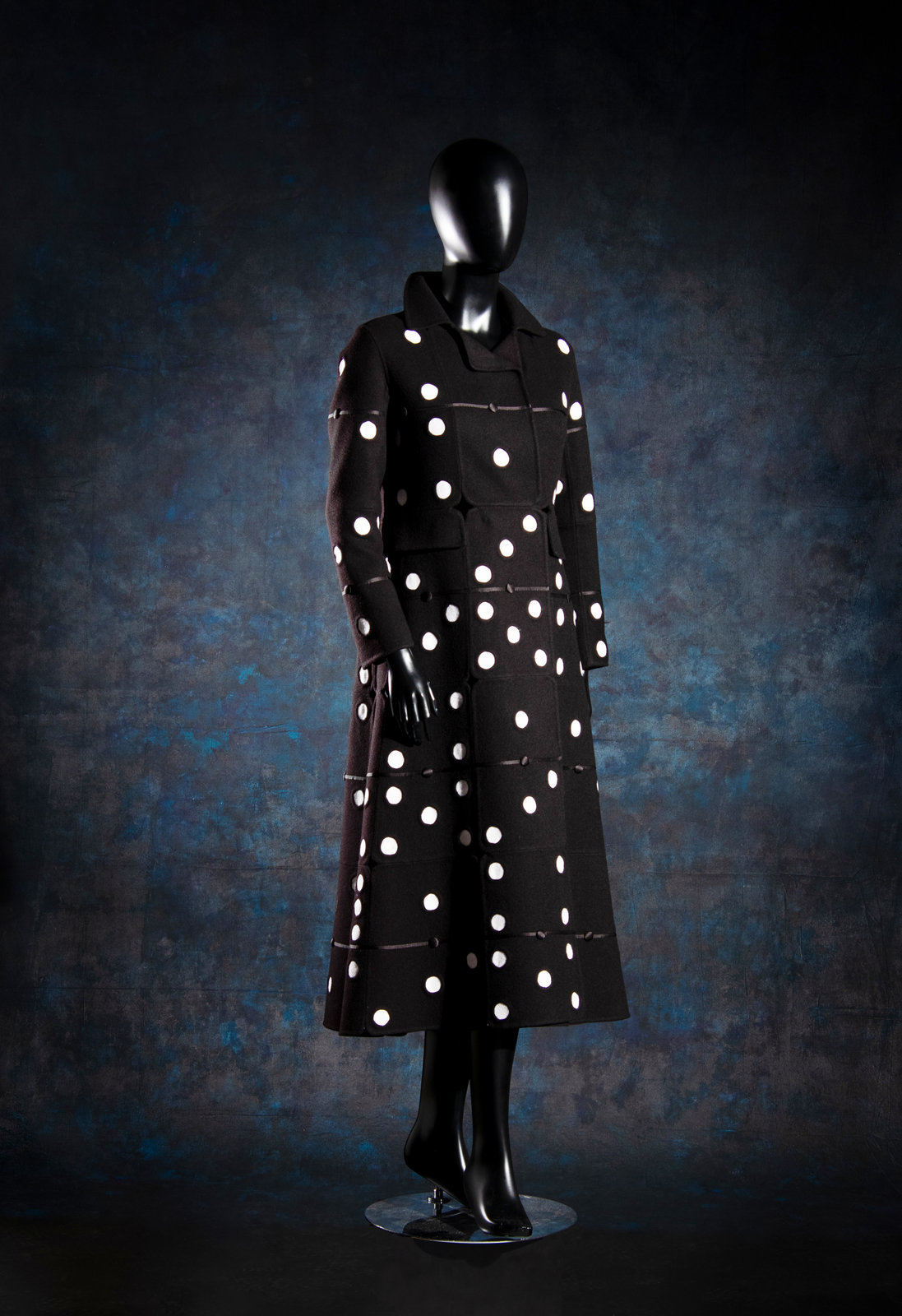 Lot 30 | Christian Dior Haute Couture Domino Pattern Wool Coat, Spring/Summer 2018
Smith developed close relationships with designers, working closely with American couturier Ralph Rucci to create custom garments to her unique specifications. Rucci's pieces featured within this collection represent some of his finest work, featuring luxury materials hand-worked in spectacular detail. "His work expresses at all times an exuberance combined with restraint," wrote André Leon Talley of couturier Ralph Rucci. "It is at once colossal and fragile, a Rucci construction of peerless seams and details. In his passion for 'old school' ideals, he refuses to compromise. The high standards of classical verities established by the masters of Paris haute couture are essentially the foundation of everything Rucci achieves."[5] Rucci's approach to fashion is one of profound thoughtfulness and exactitude. In his materials, construction, and techniques, Rucci honors the traditions of French couture. Reverent to his influences, Rucci credits Charles James, Cristóbal Balenciaga, and Madeleine Vionnet among the designers who have shaped his vision, evident in lot 81. Equally, contemporary visual art, Asian aesthetics, and classical antiquity play a key role in the Rucci visual pantheon. These components, combined with his commitment to artistry and quality, have enabled Rucci to hone and mature his creative expression over forty years, and earning recognition by the Chambre Syndicale de la Haute Couture, who invited him to show at Parisian haute couture as the second American in history.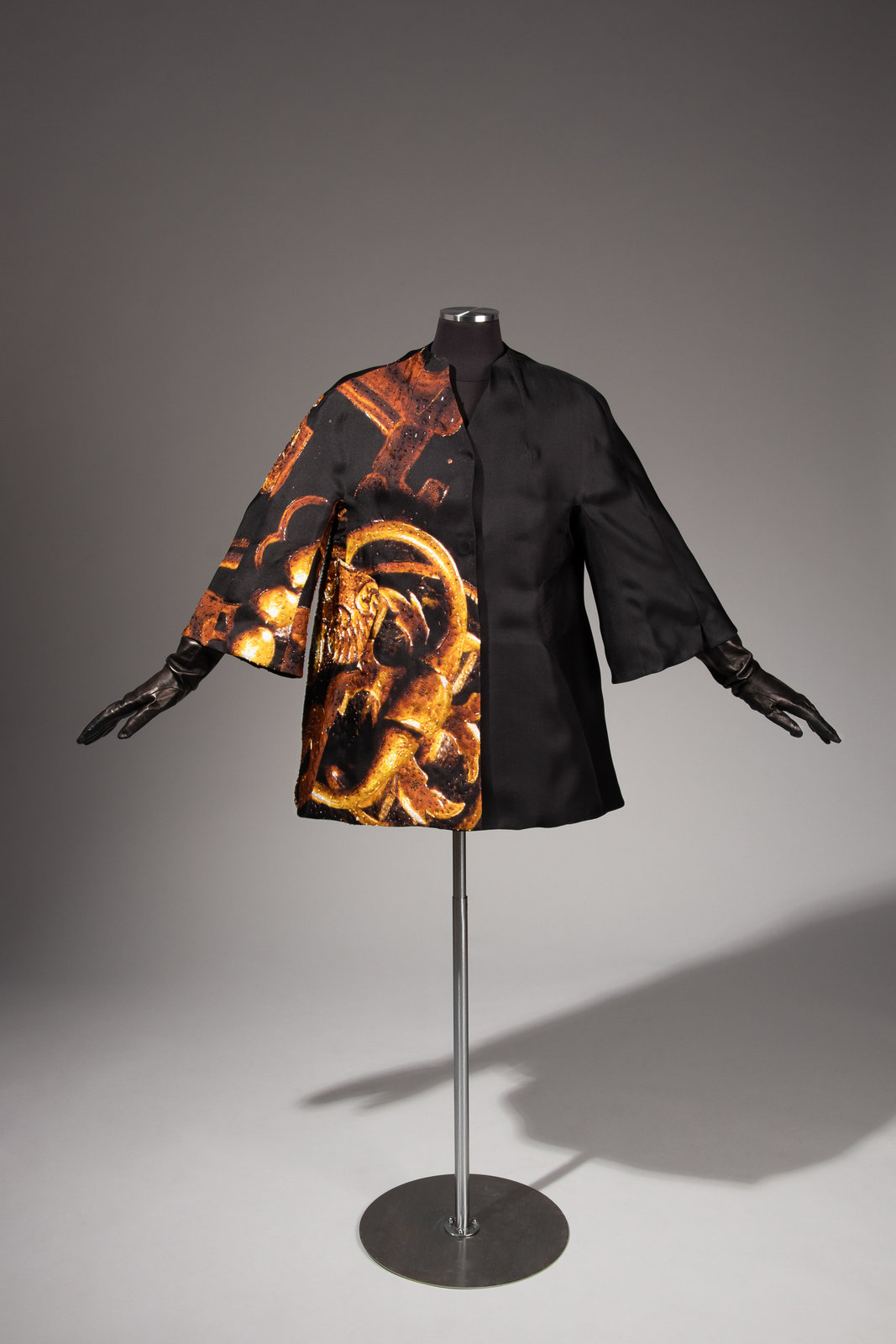 Lot 81 | Printed and Embellished Silk Jacket, Attributed to Ralph Rucci: An abstract screen-printed design is emphasized and textured by embroidered beads in this adaptation of a classic silhouette by Rucci. The sloped shoulder and structured form pay homage to Balenciaga, a perennial inspiration for the designer.
For Rucci, transitioning to haute couture was a natural progression. He acquires only the finest textiles, furs, and surface treatments, working with François Lesage for embroideries and sourcing silk gazar from Maison Bucol in Lyons, France, as had Balenciaga. His clothes are for people who see fashion as a work of art. The extraordinary craftsmanship of each garment indicates a profound appreciation for the skill and labor of the most sophisticated artisanship. Rucci derives inspiration from his clients themselves, developing symbiotic relationships between artist and patron. Deeda Blair, a longtime client, appreciates his work for its "deceptive simplicity," clothes that quietly reveal their "great intricacy."[6]In Rucci, Smith found qualities that aligned so closely with her own discerning eye, as Hamish Bowles describes: "unimpeachable good taste, a nuanced color palette, flattering silhouettes, and his legendary workmanship."[7]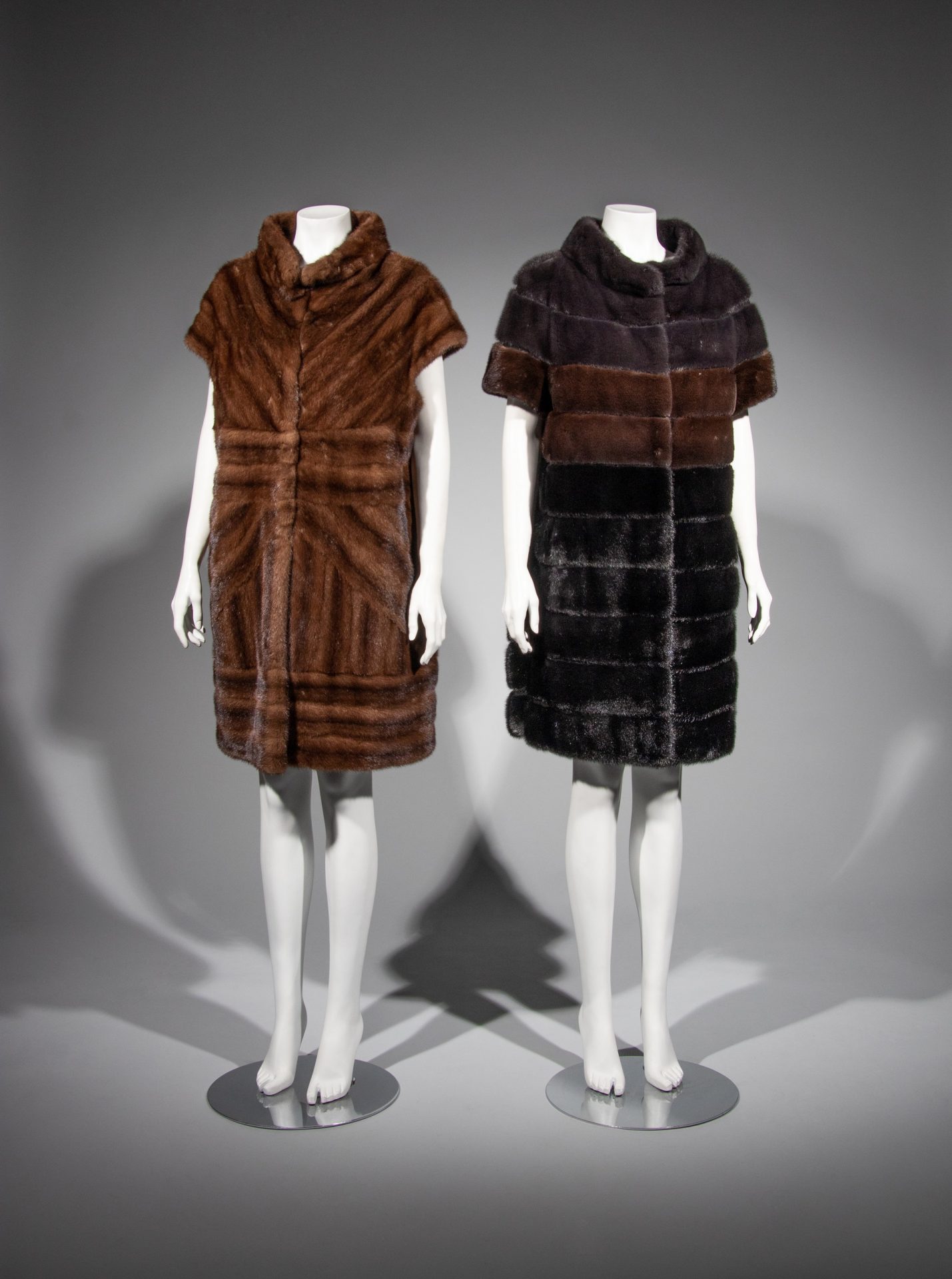 Lots 109 and 129 | J. Mendel Mink Fur Banded Jacket and J. Mendel Natural Scan-Glow Mink Vest
Smith demonstrated an appreciation for modernists with an eye towards the classic. As she collected contemporary couture under the Dior heritage label and Rucci's influences from the canon of fashion, so too did she apply this mindset to her taste in luxury fur. Creative director Gilles Mendel is the fifth-generation proprietor of furrier J. Mendel, ushering a label founded in 1870s St. Petersburg into the twenty-first century. Mendel adopted the craft of his forefathers and honors the time-honed traditions inherent in the brand. Only the finest pelts are used: broadtail, chinchilla, and barguzine sable among them, rare and of Russian imperial heritage. These materials are of the utmost luxury and require the work of highly skilled specialists who use sewing machines more than fifty years old. These tools and their expertise are time tested, and it is Gilles Mendel who introduces the cutting edge to the heritage brand. "My father's world was if you wanted the most extraordinary lynx coat, the most fabulous chinchilla, the way they were assembled you wouldn't even see a seam," says Mendel. "I started to create seams."[8] His cutting, deconstructing, and reshaping of exotic pelts and skins makes them fresh and modern, marking a twenty-first century approach to luxury fur.
A Life in Couture: The Collection of Michelle Smith presents a curated selection of top designers whose work has shaped and transformed fashion. These garments illustrate the keen eye and exacting tastes of an individual who sought perfection and innovation in all areas. Hindman is thrilled to share this collection, available for bidding on September 21.
---
[1] Robin Givhan, The Battle of Versailles: The Night American Fashion Stumbled into the Spotlight and Made History (New York: Flatiron, 2015), p. 14
[2] Alexis Okeowo, "Maria Grazia Chiuri's Feminist Mission Goes Beyond Slogans," Elle, October 16, 2020, https://www.elle.com/fashion/a34050277/maria-grazia-chiuri-dior-profile/.
[3] Sally Singer, "Christian Dior: Fall 2018 Couture," Vogue Runway, July 2, 2018, https://www.vogue.com/fashion-shows/fall-2018-couture/christian-dior.
[4] Ibid.
[5] Andre Leon Talley, quoted in Valerie Steele, Ralph Rucci: The Art of Weightlessness (New Haven: Yale University Press, 2007), p. 97.
[6] Deeda Blair, quoted in Ralph Rucci, p. 3.
[7] Hamish Bowles, "Ralph Rucci's Pragmatic Luxury and Haute Craftsmanship Has Never Seemed So Timely," Vogue Runway, July 14, 2021, https://www.vogue.com/slideshow/ralph-rucci-fall-2021-couture.
[8] Jesse Ashlock, "From Russia with Love," T Magazine, February 7, 2014, https://archive.nytimes.com/www.nytimes.com/packages/html/tmagazine/interactive/jmendel.html
---
Featured image:
Lot 80 | Detail, Ralph Rucci Cashmere and Embroidered Leather Jacket, Fall 2013