During her lifetime, Gabrielle Bonheur Chanel, better known by her nickname "Coco" Chanel, was a pioneer in early twentieth century French fashion. Notably, Coco was lauded for her innate ability to subvert firmly established norms in women's fashion with her designs. Chanel's preference for casual pieces, such as pants for women's everyday wear, instead of previously popular corseted silhouettes, was one of many ways in which her personal style forever influenced women's fashion design. However, Chanel's innovation extended far beyond a preoccupation with clothing, and lent itself to the entirety of an ensemble, infusing her aesthetic into everything from fragrance to accessories.
In the early twentieth century, accessories like fine jewelry were a means of visually establishing one's wealth, a function jewelry served for centuries prior. In keeping with her rebellious spirit, Chanel saw jewelry differently. Instead of viewing costume jewelry as an attempt to imitate the appearance of the wealthy, she felt costume jewelry was simply a way to adorn an ensemble or to transform an outfit, and not necessarily a signifier of wealth to be worn in the evening to events attended by fellow bourgeoisie. Chanel advocated for wearing jewelry, both costume and fine pieces, together at any time of day, utilizing her minimal, sporty clothing designs as the perfect contrast to her penchant for layering cuffs, necklaces, and rings.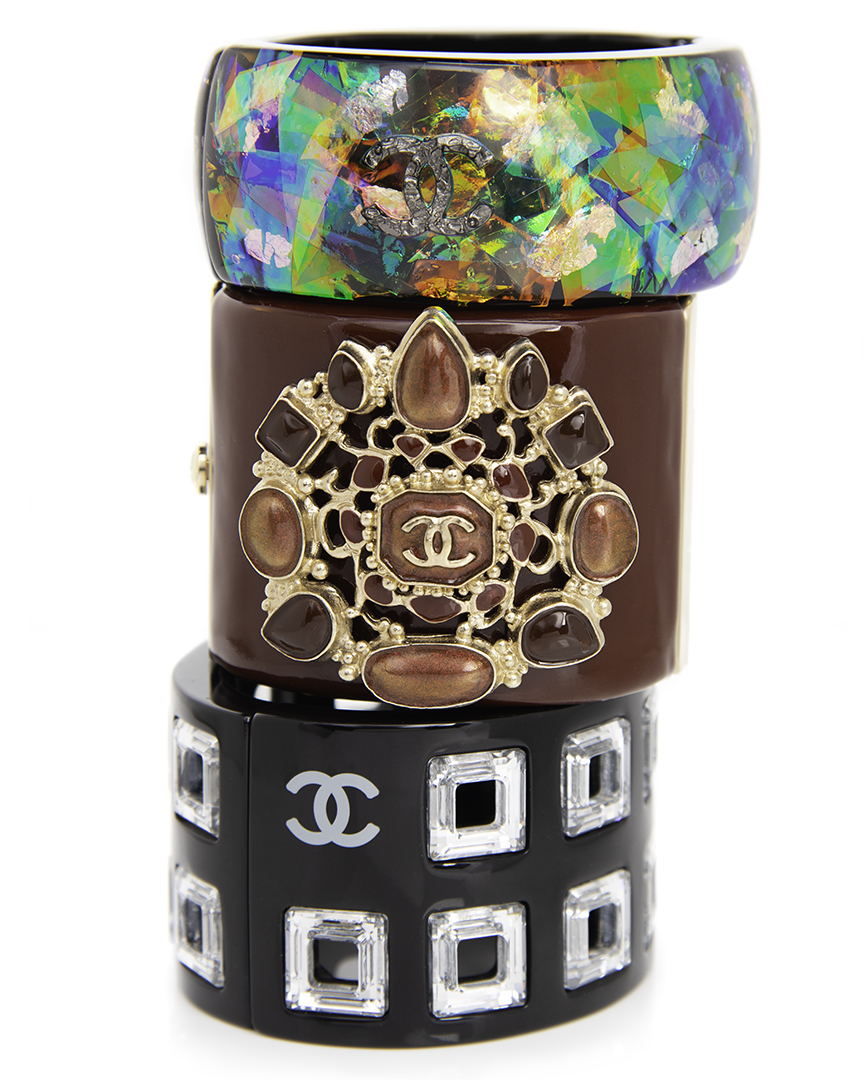 The popularity of Chanel costume jewelry has not wavered since its introduction almost 100 years ago in the 1920s. It is a staple of the luxury resale market and is a continually a popular item among bidders. Even designs created by the late Karl Lagerfeld for the fashion house attract competitive bidding. Pictured here are three twenty-first century Chanel cuffs from Lagerfeld's tenure, Lots 207, 208, and 191, respectively, from sale 740, Spring Fashion and Accessories (Fig. 1). Each cuff was the subject of competitive bidding, with 208 and 191 selling well above their low estimates. Cuffs were a favorite of Coco Chanel's, who often opted to utilize these pieces to elevate an ensemble, creating the illusion of a jeweled cuff sleeve. In the 1970s, the fashion house introduced a commemorative cuff featuring a cameo portrait of Coco, who passed in 1971 (Fig. 2). A highly sought-after piece of Chanel collectors, this cuff appeared in sale 740, lot 164, and sold for over the high estimate at $800.
Interested in buying Chanel costume jewelry? Have items you would like to consign for our next couture auction? Please email all inquiries to beatricelevine@hindmanauctions.com to begin your consignment today.