The architecture firm of Graham, Anderson, Probst & White was founded in 1917 and is of vast importance to the architectural landscape of Chicago. Originally Graham, Burnham & Co., the firm's connection to famed architect Daniel Burnham contributed to its successful acquisition of commissioned projects from 1912 to 1936. Among these iconic projects were The Wrigley Building, Shedd Aquarium, Field Museum, Civic Opera House and Merchandise Mart. Considered triumphs of their time, many of these buildings are still hallmarks of the Chicago skyline today.
Offered for auction in our October 23 Made in Chicago sale will be a two-volume set of The Architectural Work of Graham, Anderson Probst & White and their Predecessors D.H. Burnham & Co. and Graham Burnham & Co. Signed by Ernest P. Graham. The volumes are comprised of 385 photogravure plates documenting the firm's work in Chicago, Kansas City and Cleveland, among others cities.
Continue reading for a then-and-now glimpse of notable Chicago architecture by the firm.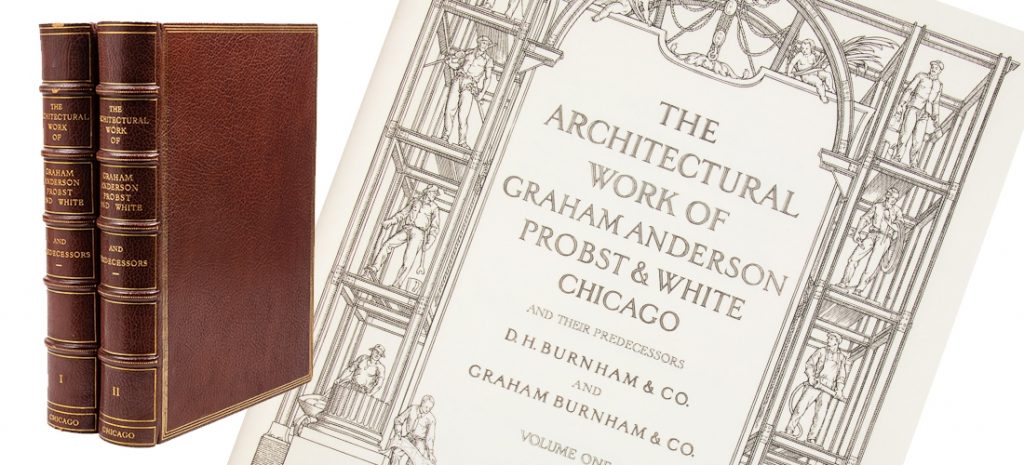 Field Museum of Natural History
The Field Museum and its collection originates from the World's Columbian Exposition of 1893 in Chicago and is named to honor its first major benefactor, Marshall Field.  In 1915, construction began in Grant Park to build the museum's present building, designed by Peirce Anderson of Graham, Anderson, Probst & White. It was opened in 1921.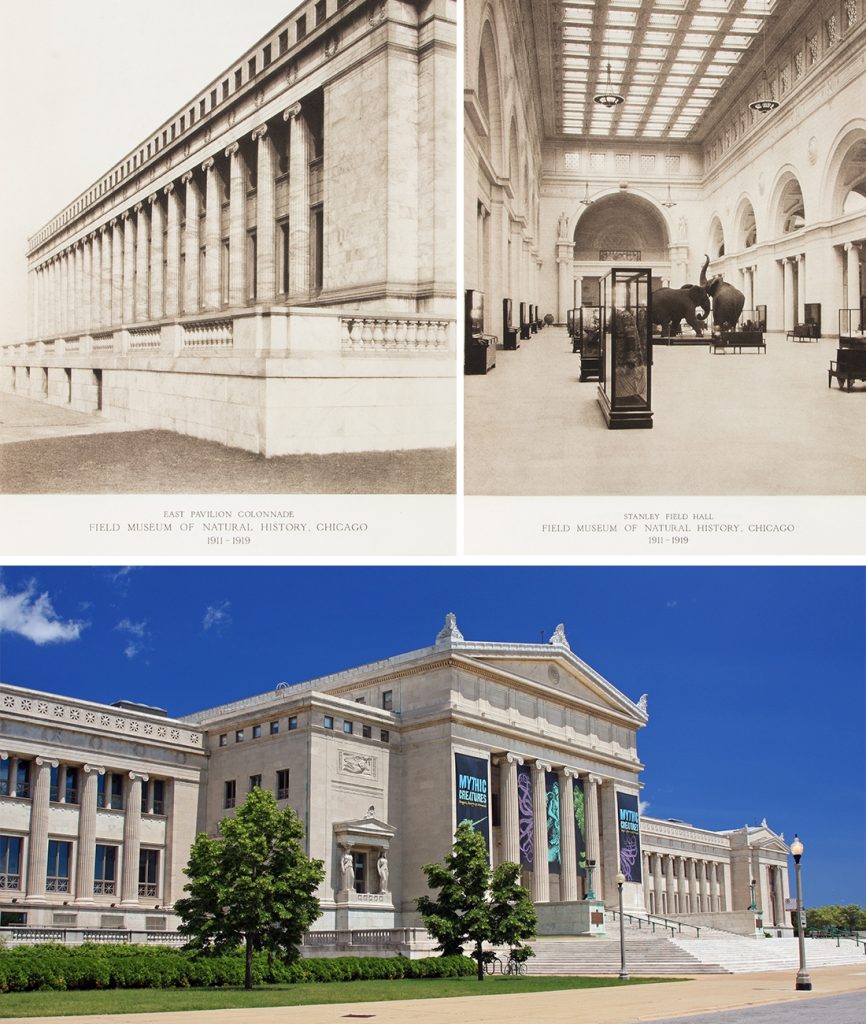 Union Station
The current Union Station developed out of a need for a centralized hub of transport within the city of Chicago. Construction began in 1913 with Daniel Burnham serving as the original architect of the building, though he died before its completion. Graham, Anderson, Probst & White completed the work closely following Burnham's designs. Union Station took 12 years to complete, finally opening in 1925.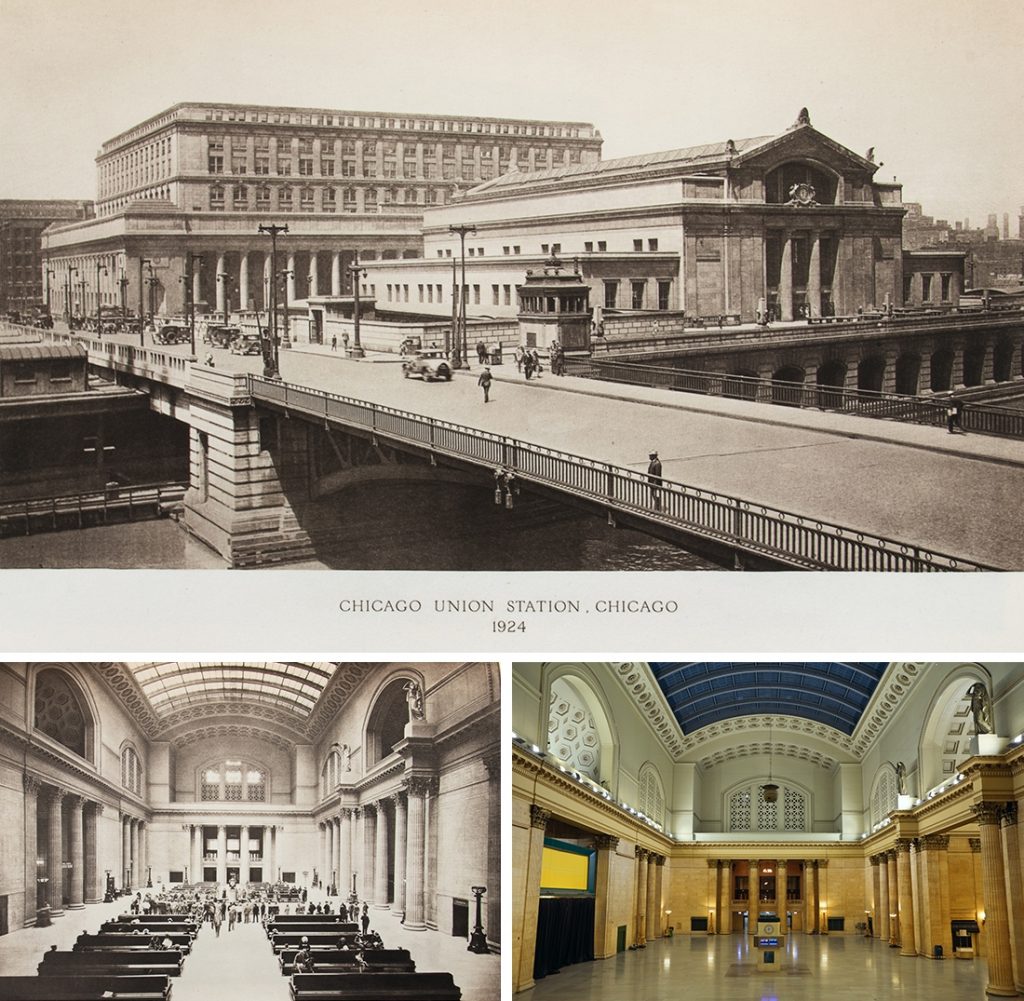 Merchandise Mart
The Art Deco style Merchandise Mart was built by retailer Marshall Field & Co. to consolidate the store's wholesale activities. Designed by Graham, Anderson, Probst & White, the building was constructed under chief architect Alfred P. Shaw and completed in 1930. Upon its opening, the Merchandise Mart was the largest building in the world, with four million square feet of floor space.
Marshall Field & Co.
The historic Marshall Field and Company building, which now houses Macy's, was built in 1891-1892 and served as the flagship location for Marshall Field's chain of department stores. The building was continuously added to between the years of 1902 and 1914, with both Daniel H. Burnham and Charles B. Atwood serving as architects. Marshall Field and Company is known for its two exterior clocks, each of which weigh 7.5 tons, that are mounted on the northwest and southwest corners of State Street at Randolph and Washington Streets. The building is the third largest store in the world and has been declared a National Historic Landmark (1978), as well as a Chicago Landmark (2005).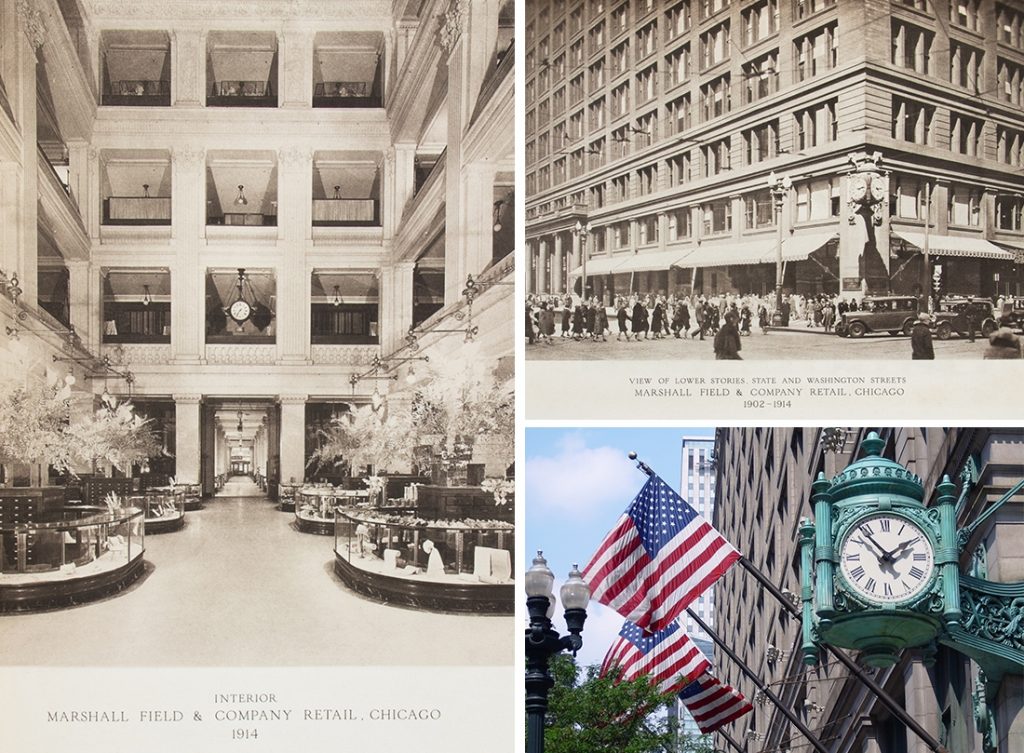 Central Chicago U.S. Post Office
Widely known as the Old Chicago Main Post Office, this nine-story building was designed by Graham, Anderson, Probst & White and built in 1921. The firm also handled a large expansion to the building in 1932 in order to serve Chicago's booming postal business spurred by retailers Montgomery Ward and Sears. In 1997, the building was vacated in favor of the new Main Post Office across Harrison Street. The old building was put up for auction in 2009 with plans for redevelopment still underway.