The October 19 Chicago Collects exhibition and panel welcomed over 75 guests to Leslie Hindman Auctioneers' West Loop showroom for a celebration of all things Chicago. The Made in Chicago auction exhibition showcased fine art, architectural elements, maps and decorative items made by or related to notable Chicagoans. The evening progressed with a panel discussion that included four Chicago-based collectors who spoke about their approach to collecting and told stories of successes and missed opportunities. Janine Mileaf, Executive Director of The Arts Club of Chicago, moderated the panel titled "The One That Got Away." Paula Crown, Chuck and Kathy Harper and Scott H. Lang participated as panelists.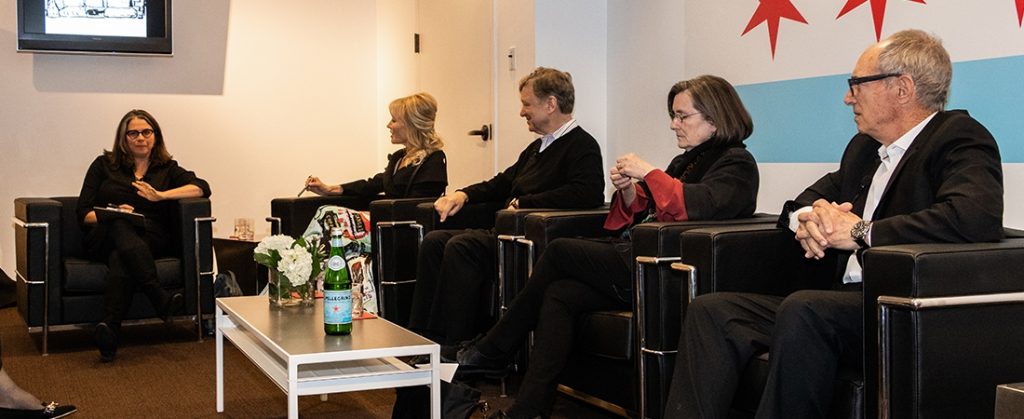 Chuck and Kathy Harper
Chuck and Kathy Harper have been collecting for 30 years. Their primary focus is on American Abstract Expressionists who studied at Black Mountain College from 1933–1957 or showed in Stable Gallery Annuals from 1953 – 1957.  The Harper's have recently been adding Chicago Imagists to their collection.
Scott H. Lang
Scott H. Lang started by collecting outsider and self-taught artists beginning in the late 70s. He added miscellaneous contemporary artists to his collection during the 80s and 90s and most recently narrowed his focus almost exclusively to Chicago Imagists and outsider/self-taught artists. He is a founding member, director and chair of the development committee for Intuit: The Center for Intuitive and Outsider Art, including the "Intuit – Just Imagine" capital campaign.
Paula Crown
Paula Crown is an artist, optimizer, connector and collector. Paula and Jim's collection reflects a palimpsest: an accretion of diverse works ranging from sculpture from the 2nd century BC to contemporary painting and drawing. The collection has a concentration of major works by female artists from 1930 to today.