In the early twenty-first century, fashion houses began to prioritize branding more intensely than ever before. This can be seen clearly in popular culture about fashion. Tim Gunn and Heidi Klum's mission in the early 2000's to find the next "in" fashion designer on Bravo's, then later Lifetime's, "Project Runway"  has completely evolved, with their new venture "The Cut" on Amazon openly stating its end goal is to find an up and coming mastermind behind the next mega-brand. While this transition has been treacherous for some established fashion houses, Rei Kawakubo, the designer and founder of Japanese fashion brand Comme des Garçons, has kept branding at the forefront of her mind since her label's genesis. As quoted in Vogue, Kawakubo stated in 1969 "It is true to say that I 'design' the company, not just clothes."
Kawakubo's focus on branding Comme des Garçons in the mid to late twentieth century was ahead of its time, and by 1973 her label was established officially as a company. In the following decades Kawakubo's collections garnered criticism from the French fashion elite during Comme des Garçons' runway shows at Paris Fashion Week. Kawakubo's ensembles broke all the rules, everything from her color selection, (she favored black), to technique, ensemble's proudly featured unfinished seams, and even her silhouettes, often models walked the runway draped in asymmetrical fabric, sent shockwaves throughout the fashion industry. However, any press is good press, and the label's unique style lent itself to the branding demands of the twenty-first century.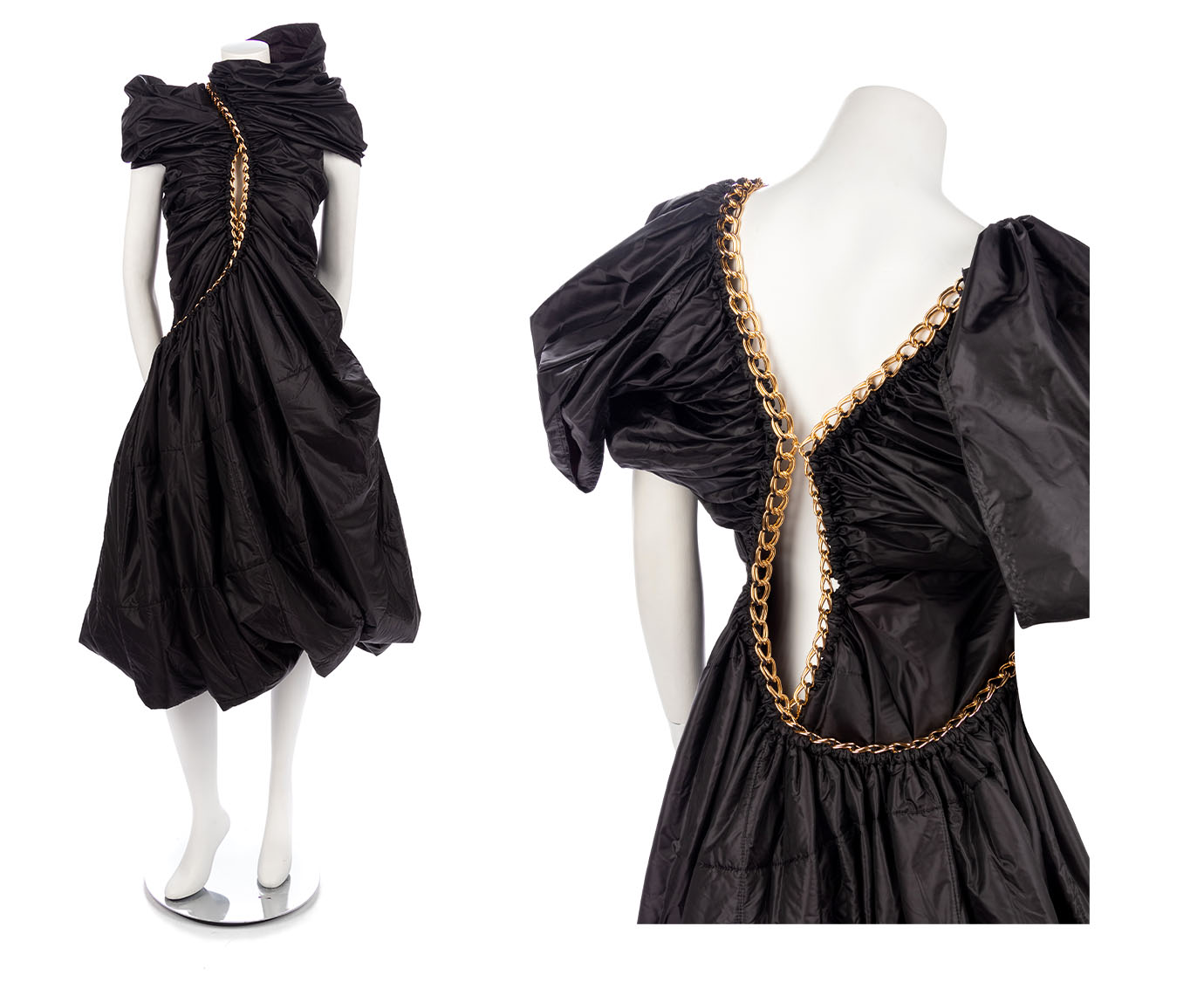 Instantly recognizable for its nonconformist style, Comme des Garçons expanded far beyond its own company, and collaborated with a plethora of fashion brands across a variety of markets including, Nike, Moncler, Lacoste, Converse All-Star, and even the epitome of traditional French fashion, Louis Vuitton. These collaborations lead to Comme des Garçons integrating into streetwear; the brand's wildly successful collaboration with Converse All-Star is readily available to the public at retailers like Nordstrom, bringing Kawakubo's style to the mainstream fashion market. Kawakubo set her sights high for Comme des Garçons and all it could achieve, proving fashion is a vehicle for more than just clothing, but rather presenting an attitude, a singular style, and ultimately a brand.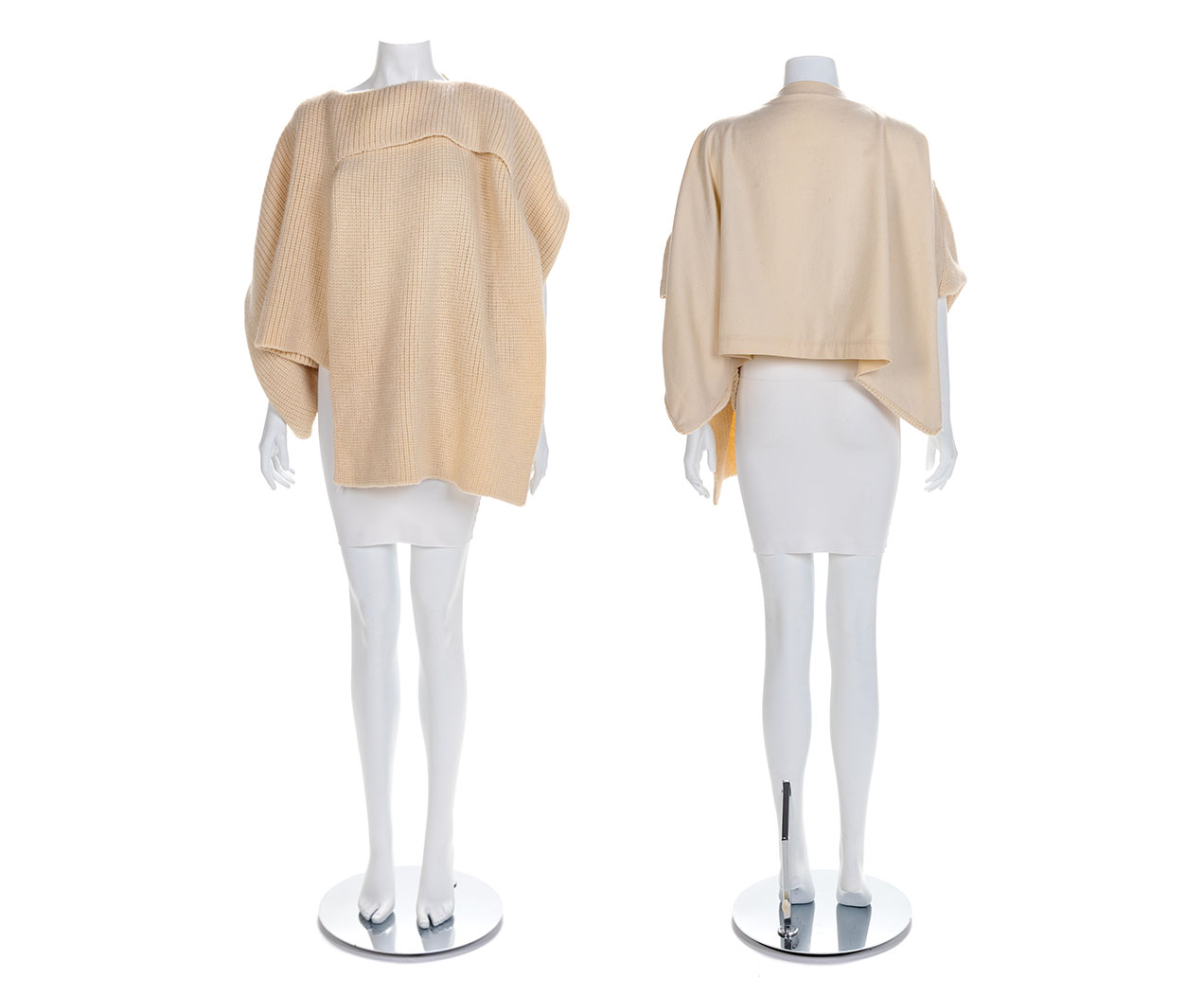 Comme des Garçons and its various iterations are popular items on the secondary fashion market and have sold successfully at auction through Hindman. As recently as March 19th, 2020, designs from Comme des Garçons have appeared consistently in Hindman sales. Auction 740, Spring Fashion and Accessories featured a Comme des Garçons by Junya Watanabe, Kawakubo's protégé, lot 136, and sold for $687.50 (Fig. 1). However, the brand has long been of interest among bidders, with lot 169, from sale 663, a Rare Early Comme des Garçons Knit Sweater, circa 1983-84, selling to The Costume Institute of the Metropolitan Museum of Art on April 8th, 2019 for an impressive $4,750 (Fig. 2). Additionally, Comme des Garçons will feature extensively in Hindman's upcoming Summer Fashion and Accessories and Couture auction, sale 768. Pieces covering the last twenty years of the brand's collections will be presented to the public for auction as soon as June 19th, 2020 (Fig. 3). Such unconventional ensembles feel perfectly suited to go to the podium for an unprecedented and equally as unique calendar year ahead.