Hindman Sets New Records in Post War and Contemporary, Prints and Multiples, and American and European Art Categories
Chicago – Hindman Auctions presented a series of three Fine Art sales this week, realizing over $3.5 million overall, beating presale estimates, and setting multiple global auction records. Extraordinarily strong interest and participation drove successful results with international bidders on the telephones and on four online bidding platforms. Eager engagement with works by renowned artists including Jim Nutt, Andy Warhol, Keith Haring, Frank Earle Schoonover, Bernard Buffet, and others brought exceptional results to conclude an exciting year for Hindman's Fine Art Department.
"We were thrilled to provide record breaking works in the Post War and Contemporary Art, Prints and Multiples, and American and European Art auctions," said Joe Stanfield, Hindman's Senior Specialist and Director of Fine Art. "This week of Fine Art sales was an enormous success, and we were pleased to see such high engagement and top results throughout all auctions. Works by the Chicago Imagists and the Hairy Who as well as iconic pop artists such as And Warhol and Keith Haring continued to see fantastic interest."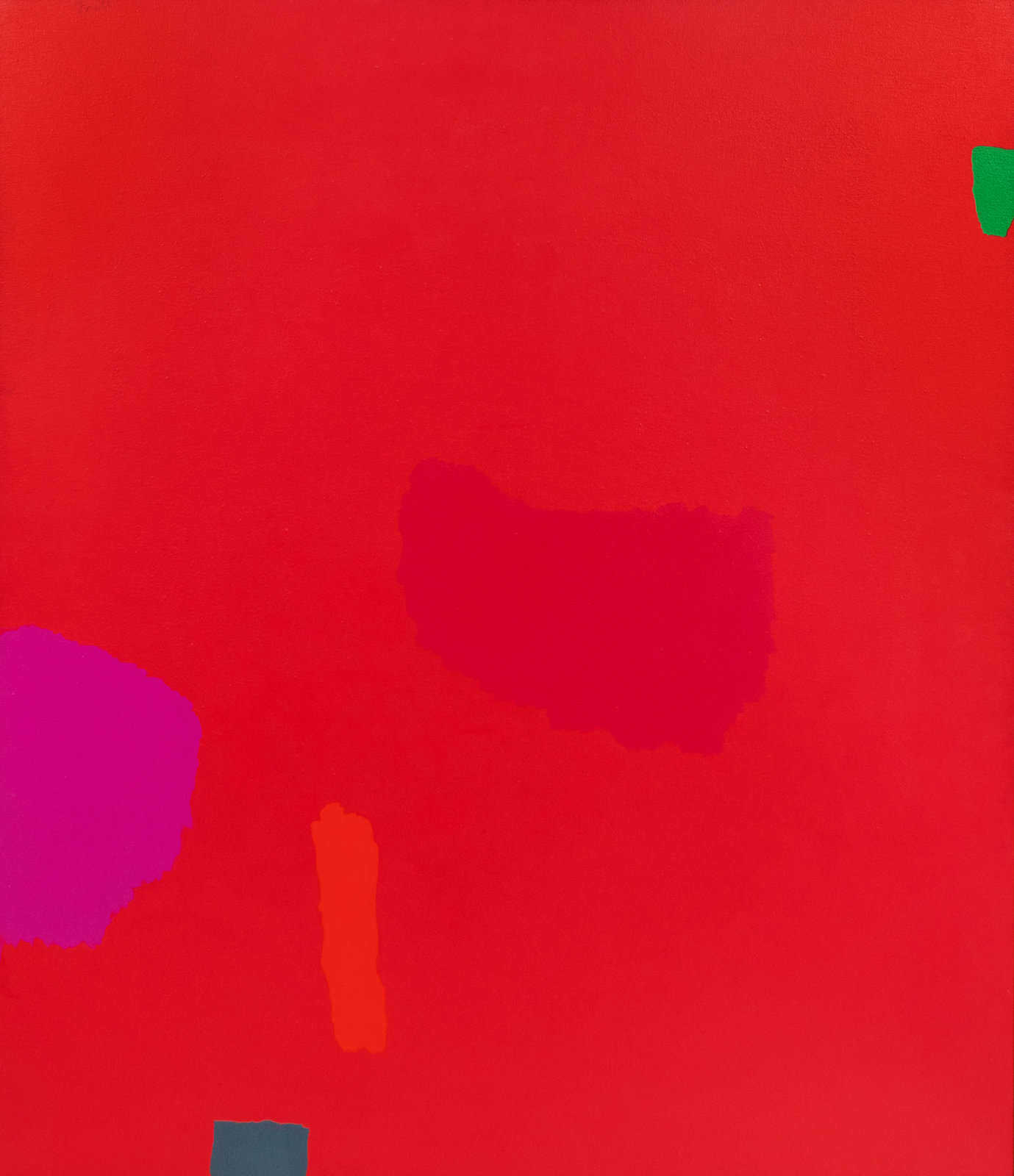 Dorothy Fratt (American, 1923-2017)
Red Hush, 1988-1998
acrylic on canvas
signed Fratt (upper left): titled and dated (verso)
56 x 48 inches
Price Realized: $18,750
Post War and Contemporary Art, December 9th, set new records and realized over $1.6 million.  Setting auction records in the category were the sale of Dorothy Fratt's Red Hush (Lot 1) which realized $18,750 against a presale estimate of $3,000-$5,000; Philip Hanson's Untitled (Lot 11)which sold for $32,500; and Paul Horiuchi's To See Beyond (Lot 39) which ultimately realized over ten times its presale estimate at $42,500.
The sale also demonstrated a continuing strong demand for works by the Hairy Who and the Chicago Imagists. Jim Nutt's Shouldn't We Be More Carefull? (Lot 13) led the auction and sold above its presale estimate at $396,500, which was the third highest sale price ever for the artist's work. The acrylic on canvas illustrates how Nutt began incorporating theatrical elements into his compositions, with greater textural and tonal variations than previously in his career. This artwork was once owned by Edwin and Lindy Bergman, renowned Chicago patrons, philanthropists, and stalwarts of the Chicago art scene who actively promoted the Hairy Who collective and the wider Chicago Imagists. Gladys Nilsson's Candy Outside (Lot 18) and Nutt's I'll look for an other (Lot 14) also beat their presale estimates selling for $83,200 and $45,000 respectively.
Other standout pieces were Sam Francis's Return of Blue Balls (Lot 33) which realized over triple its presale estimate, selling for $93,750; Ed Paschke's Double Green (Lot 12) whichalso exceeded its estimate and sold for $93,750; and Jules Olitski's Surge (Lot 3) and First Tremor (Lot 4) which both beat their presale estimates, ultimately realizing $92,750 and $81,250 respectively. Dan Christensen's Altair (Lot 32) sold for above its estimate, realizing $50,000, which marked the second highest ever sale price for the artist.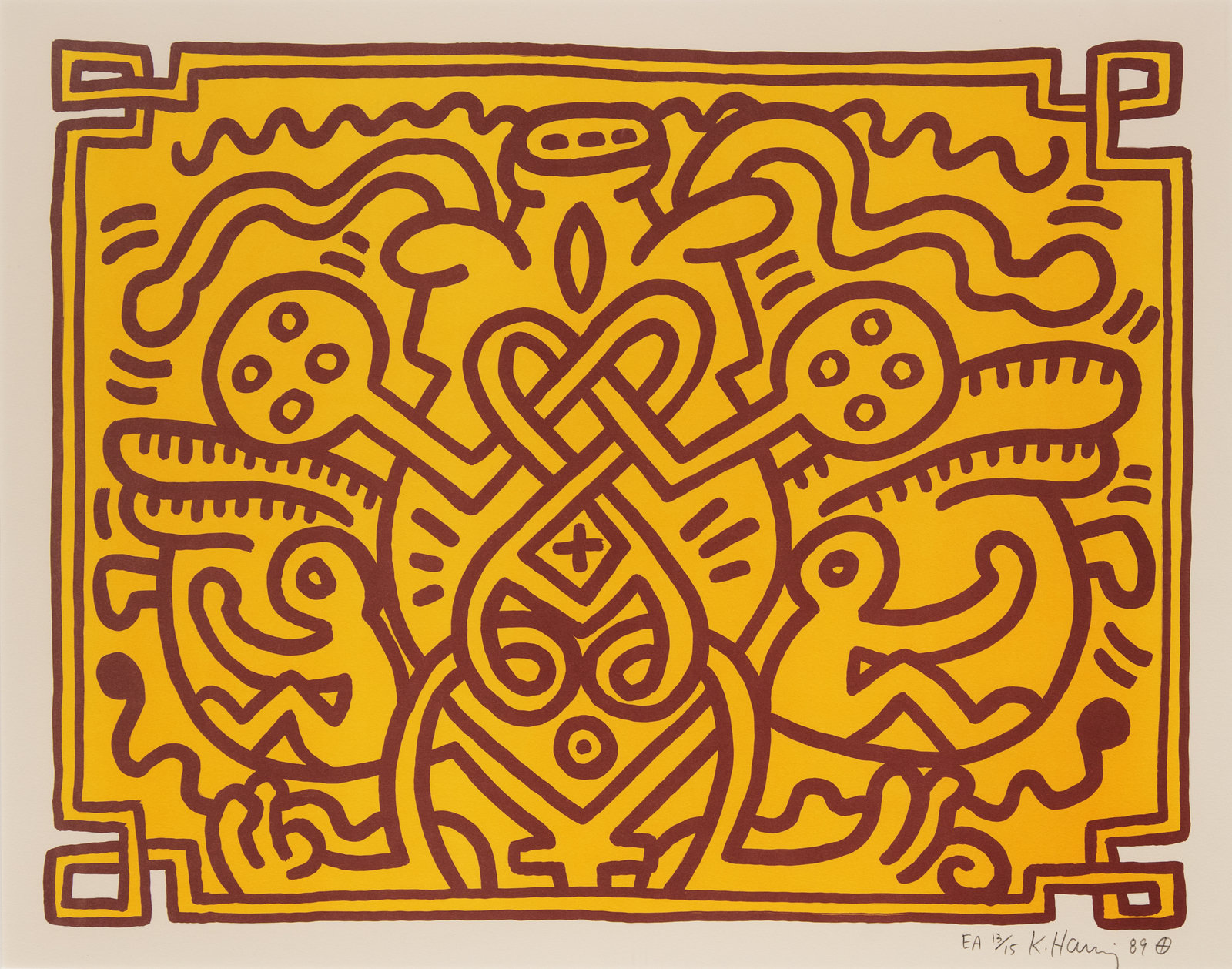 Keith Haring (American, 1958-1990)
Chocolate Buddha, 1989
color lithograph
signed, dated and numbered EA 13/15 in pencil
19 1/4 x 24 3/4 inches.
Price Realized: $30,000
The Print and Multiples, December 9th, auction surpassed expectations, confirming the consistent market for works by these iconic artists. New records were set with the sale of David Hockney's Gregory with Gym Socks (Lot 3), which sold for over ten times its presale estimate at $20,000 and Keith Haring's Chocolate Buddha (Lot 11) which sold for $30,000 against a pre-sale estimate of $5,000-$7,000. Works by artists like Andy Warhol, Pablo Picasso, and Haring were among top lots with two screenprints from Warhol's Mao series leading the sale and realizing $68,750 (Lot 15) and $52,500 (Lot 14), well above their presale estimates. Another top lot was Ten from Leo Castelli (Lot 16) by various artists (Lee Bontecou, Jasper Johns, Donald Judd, Roy Lichtenstein, Robert Morris, Larry Poons, Robert Rauschenberg, James Rosenquist, Frank Stella, and Andy Warhol) which beat its estimate of $25,000-$35,000 and ultimately realized $52,500.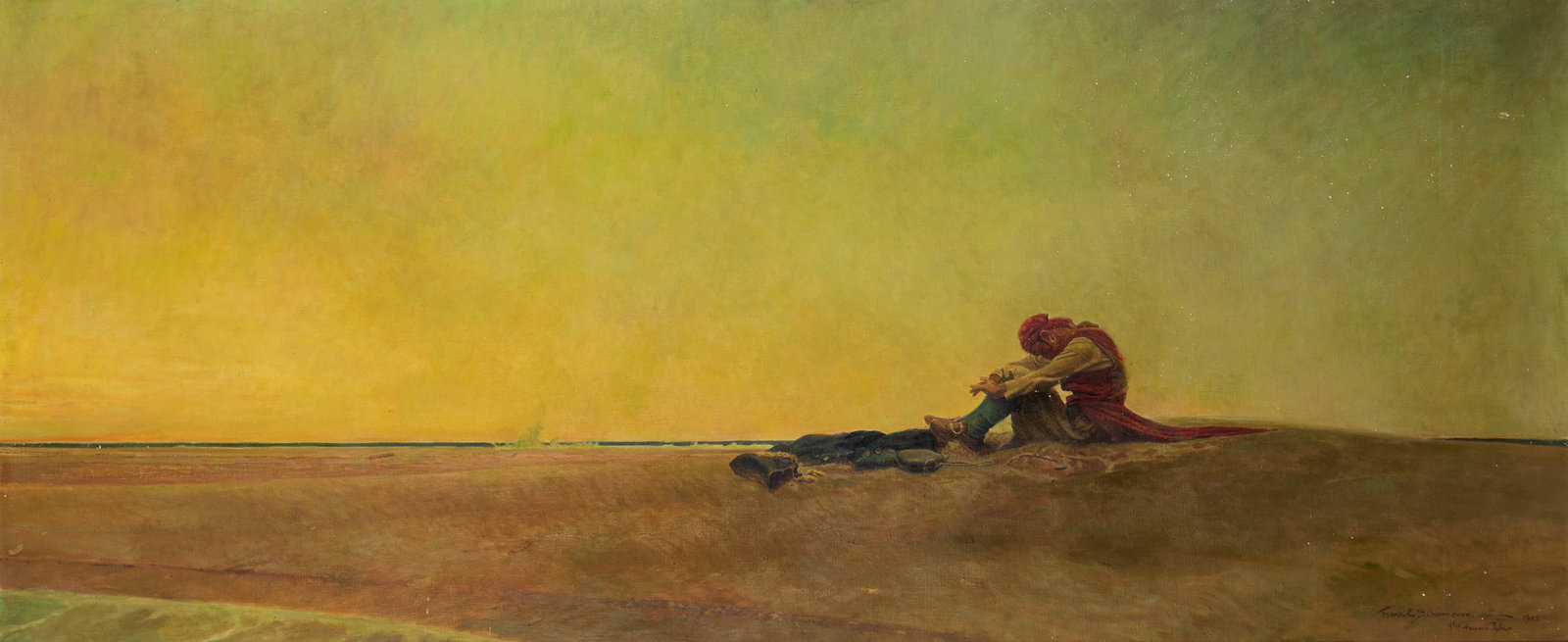 Frank Earle Schoonover (American, 1877-1972)
Marooned, 1942
oil on canvas
signed Frank E. Schoonover, dated, and inscribed (lower right)
35 x 83 ½ inches.
Price Realized: $112,500
The American and European Art, December 10th, auction illustrated a strong engagement with artworks by distinguished Modernist, Regionalist, and Impressionist artists. Strong interest in landscape paintings also continued to be seen with the sale of William McKendree Snyder's Forest Waterfall (Lot 67) which sold for over 15 times its presale estimate at $33,280 and set a new record for the category. Another record was Joseph Vorst's Family on Horse Drawn Cart (Lot 9), which realized $25,000. Frank Earle Schoonover's Marooned (Lot 31) was the top lot of the sale, exceeding its presale estimate and realizing $112,500. Another highlight was Jasper Francis Cropsey's Autumn Meadow Stream (Lot 63) which sold for more than six times its presale estimate of $15,000-$25,000, ultimately realizing $93,750.
Eldzier Cortor's The Merchants (Lot 4) also beat expectations, selling for $81,250 (over four times its presale estimate). Bernard Buffet's Les tentes (Lot 75) and Dale Nichols's The Last Snow (Lot 28) were also among top performers, selling for $42,500 and $37,500 respectively.