Hindman's Luxe Holiday: A Collectors' Collection Sale Beats Estimates
Chicago – Hindman's December 11th Luxe Holiday: A Collectors' Collection auction realized over $250,000 in 252 lots, exceeding its presale estimate with international bidder participation. The sale of gorgeous accessories and garments by renowned designers including Hermès, Louis Vuitton, Comme des Garçons, Gucci, and others marked an exciting end to the year for Hindman's Couture & Luxury Accessories Department.
"We were pleased to see the enthusiastic response that international bidders had to timeless and iconic fashion and handbags, and how the Couture & Luxury Accessories Department is continuing to blossom," said Timothy Long, Hindman's Senior Specialist for Couture & Luxury Accessories. "Hindman is proud of how many works by renowned fashion houses we continue to offer."
Compiled from around the world over many decades, the sale's featured collections comprised three distinct categories: 17th to 19th century fashion and ephemera, contemporary luxury menswear, as well as accessories and iconic dresses and ensembles by some of the top designers in Japanese fashion. Contemporary luxury accessories, Pre-World War II clothing, works by Japanese designers, and luxury fur were among the categories that performed strongly during the sale.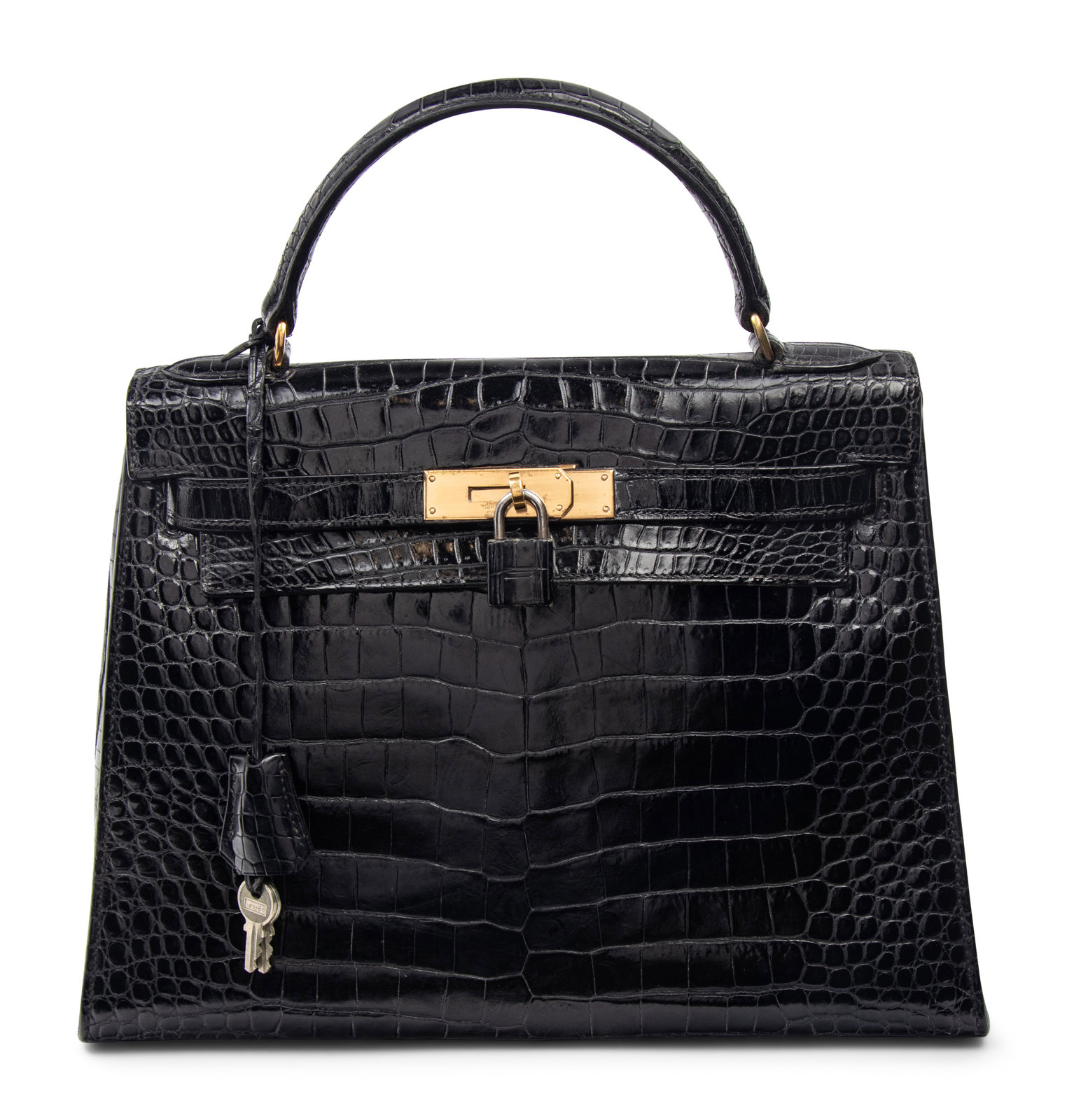 Hermès 28cm Black Porosus Crocodile Bag, 1960s
Price Realized: $8,320
Hermès lots soared with a shiny black crocodile Sellier Kelly leading the auction (Lot 249) and realizing over triple its presale estimate at $12,800. Other top lots included a second Hermès black crocodile Kelly bag (Lot 248), which exceeded its estimate and sold for $8,320; and an Hermès brown Birkin bag (Lot 250) which realized $7,500. Another standout was a Dennis Basso sable fur and cashmere blanket (Lot 197) which featured extra fine natural Russian sable with black cashmere lining and trim, and sold for double its presale estimate at $10,000.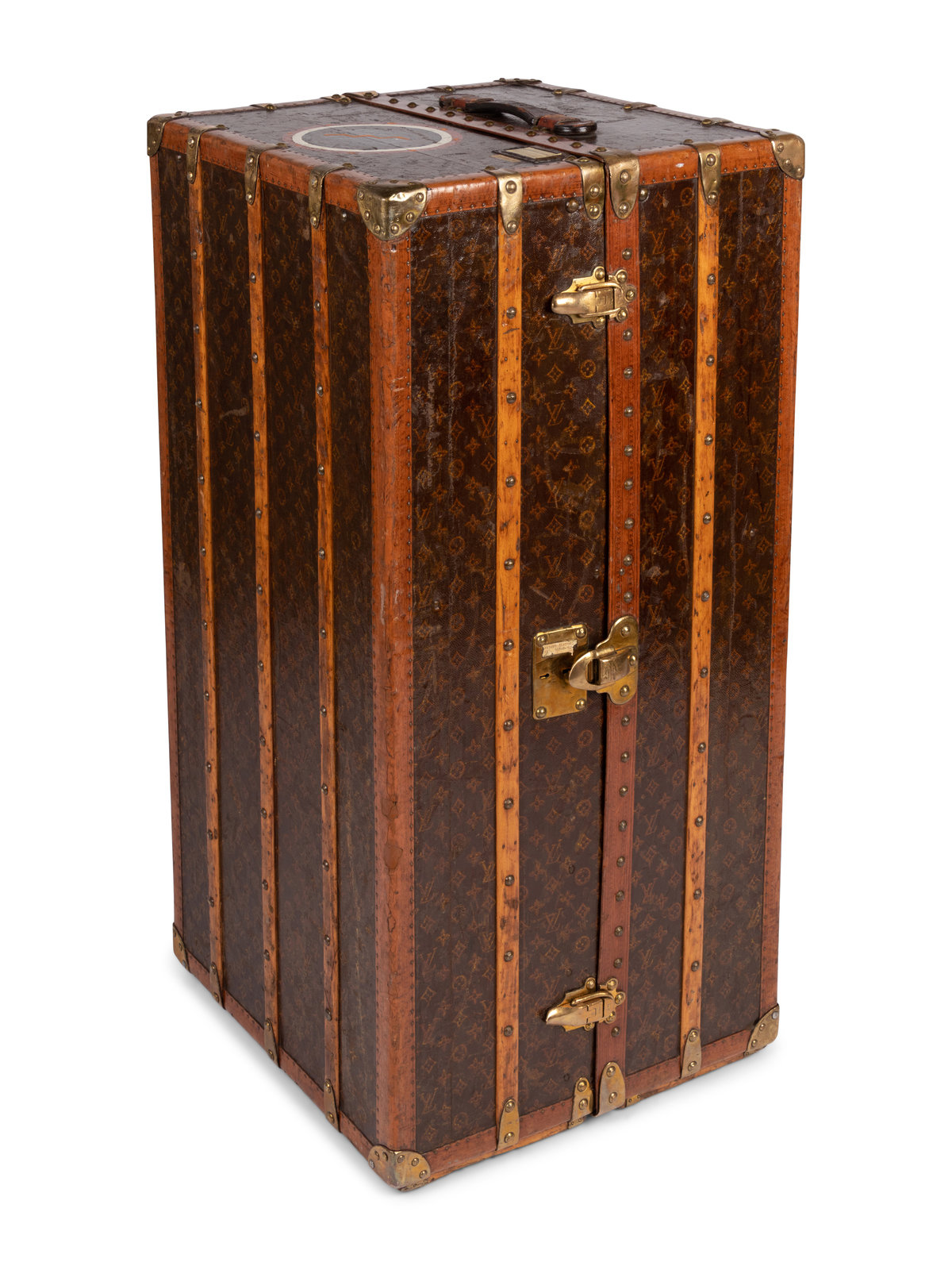 Louis Vuitton Double Wardrobe Trunk, ca. 1930s
Price Realized: $8,320
A Louis Vuitton double wardrobe trunk from the 1930s (Lot 252) was another top performer and sold for over double its estimate at $8,320. The distinguished trunk is covered in monogram canvas with natural Lozine leather trim and handles, and brass hardware, and an interior that is lined in orange vuittonite. A number of other Louis Vuitton pieces also brought strong results, including a number of limited edition keepall bandoulière bags including one designed by artist Takashi Murakami (Lot 99), which sold for $6,000. The bag was made popular by Kanye West, who often carried this bag. Another bandoulière (Lot 119) that was a part of Virgil Abloh's debut collection with Louis Vuitton as Men's Artistic Director surpassed its presale estimate and realized $4,096.
A stunning Comme des Garçons "Blood & Roses" dress (Lot 135) from Rei Kawakubo's Spring/Summer 2015 collection was also a top performer and realized $5,120, breaking the record for in-house sales related to the designer. The dress featured a non-traditional silhouette (illustrative of the collection) made of rose and poppy-red sueded synthetic leather. Other highlights of the auction were a collection of bustles from the late 19th century (Lot 23), which ultimately realized $5,000 against a $1,000-2,000 presale estimate; a silk taffeta evening dress (Lot 67), which sold for $4,750, over ten times its presale estimate; and a collection of four 19th century black wool riding clothes (Lot 94), which ultimately realized $4,250.