Outstanding Roman and Greek Marble Sculptures and Portrait Heads Lead Auction
CHICAGO— Hindman Auctions realized over $1 million in its biannual Antiquities and Ancient Art auction on May 27. Outstanding Roman and Greek marble sculptures were among standout lots, including portrait heads and Egyptian bronzes. Property from a Midwest Private Collection, the Collection of Tina and Simon Beriro (Aspen, Colorado), the Estate of Lewis B. Cullman, and an Important Midwestern Collector saw fantastic engagement. This was the first auction under new Director and Specialist of Antiquities and Pre-Columbian Art Jacob Coley and the sale received strong interest across multiple channels, leading to a successful sale.
"We were delighted to see how buyers responded to the rare and exceptional selection we presented in this auction," shared Coley. "As only the third sale for the department, we were thrilled to see the positive response, and are eager to continue to develop and expand our already impressive offerings."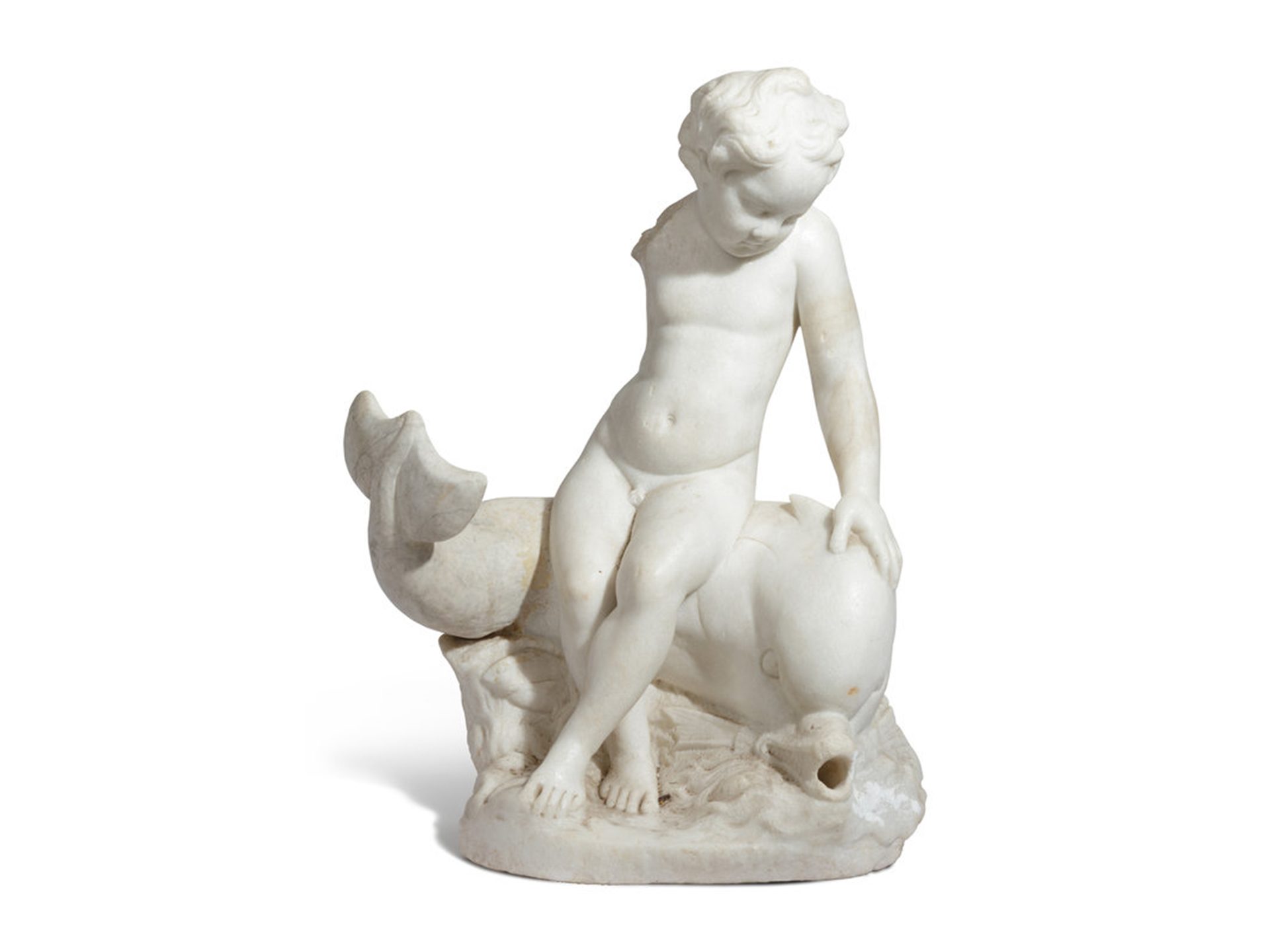 Lot 136 | A Roman Marble Eros Riding a Dolphin. Height 29 1/2 inches. Price realized: $137,500
Highlighting the auction was a Roman marble sculpture of Eros riding a dolphin from the first to second century A.D., which soared past its presale estimate of $25,000-35,000 (lot 136) to achieve an impressive price of $137,500. Another top lot was a Roman marble lower torso of a Satyr from the second century A.D. (lot 149) which sold for $75,000, triple its presale estimate. A Greek marble funerary stele of Eurynome from the early fourth century B.C. (lot 113) was another strong performer, which exceeded its estimate to achieve $56,250. A remarkable marble panther head from ancient Greece made in the third to second century B.C. (lot 114) sold for $68,750. In classical antiquity, panthers were the companion animal to Dionysos and the two were often depicted together in sculpture.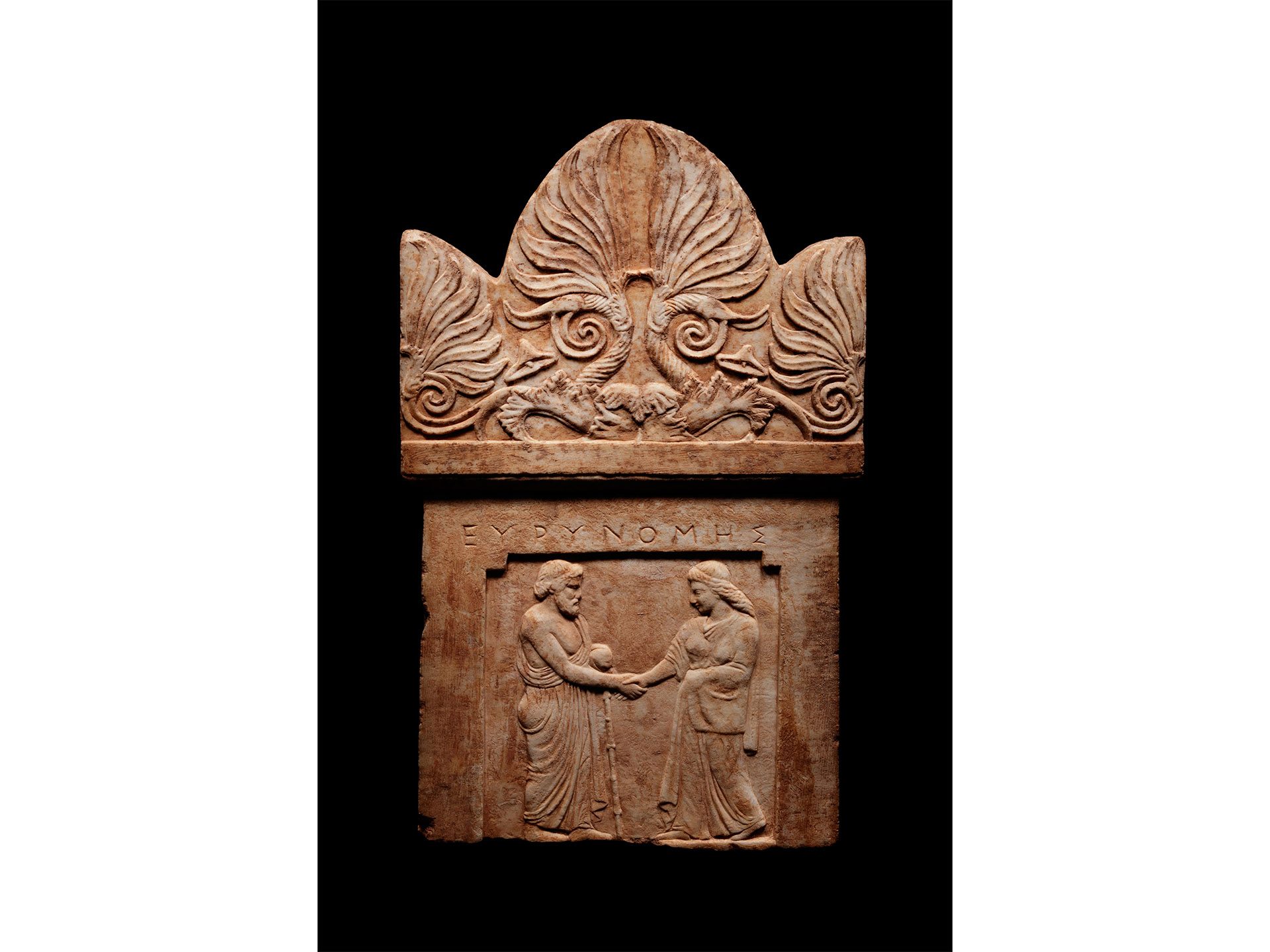 Lot 113 | A Greek Marble Funerary Stele of Eurynome. Price realized: $56,250
Marble portraiture achieved strong prices, such as a Roman marble portrait head of Emperor Trajan (lot 146), which sold for $43,670. A Greek marble portrait head of Ptolemy III (lot 124) also reached an impressive price of $37,500, and a Roman marble portrait bust of a man (lot 150) ultimately realized $22,500 against a presale estimate of $8,000-12,000. A portrait bust of a general (lot 133) and a head of Emperor Marcus Aurelius (lot 151) sold for outstanding prices of $15,000 and $12,500, respectively.
From ancient Egypt, a painted wood Ptah-Sokar-Osiris (lot 75) saw excellent interest, ultimately realizing $37,500 compared to an estimate of $3,000-5,000. A common occurrence in later Egyptian religious liturgy, Ptah-Sokar-Osiris was a conflation of three separate deities, all of whom were identified with fertility and regeneration as well as death and burial. Other highlights included an Egyptian bronze cat (lot 77), which sold for $18,750 against a presale estimate of $5,000-7,000 and an Egyptian limestone relief fragment (lot 80), which more than doubled its estimate to achieve $13,750.

Bidding for the May 27 auction was available via absentee bid, by phone, online through the Digital Bid Room, Hindman's recently launched online and mobile bidding platform, and three additional online bidding platforms. Hindman continues to welcome consignments for upcoming Antiquities auctions.

Featured image: Detail of a Greek Marble Funerary Stele of Eurynome.