Asian Art Season Achieves Nearly $3 Million and Sees Outstanding Prices Across Three Days of Sales
CHICAGO – Hindman Auctions saw tremendous engagement in its three days of Asian Art sales on March 25, 26, and 27. The auctions realized nearly $3 million across the three days, the highest total an Asian Art season has ever reached at Hindman. Of particular note, the Chinese and Southeast Asian Works of Art sale realized over $2.2 million, more than double the presale estimate, and saw competitive bidding throughout. The Japanese and Korean Works of Art sale and the Asian Works of Art online sales also surpassed expectations and saw over $238,000 and $513,000 in sales, respectively.
"We are so pleased by the outstanding success of the sales and how buyers responded so enthusiastically to the one-of-a-kind consignments we offered despite the challenging climate," said Annie Wu, Hindman's Director and Senior Specialist of Asian Art. "As a department that is continuing to thrive, we are thrilled to have set this new record."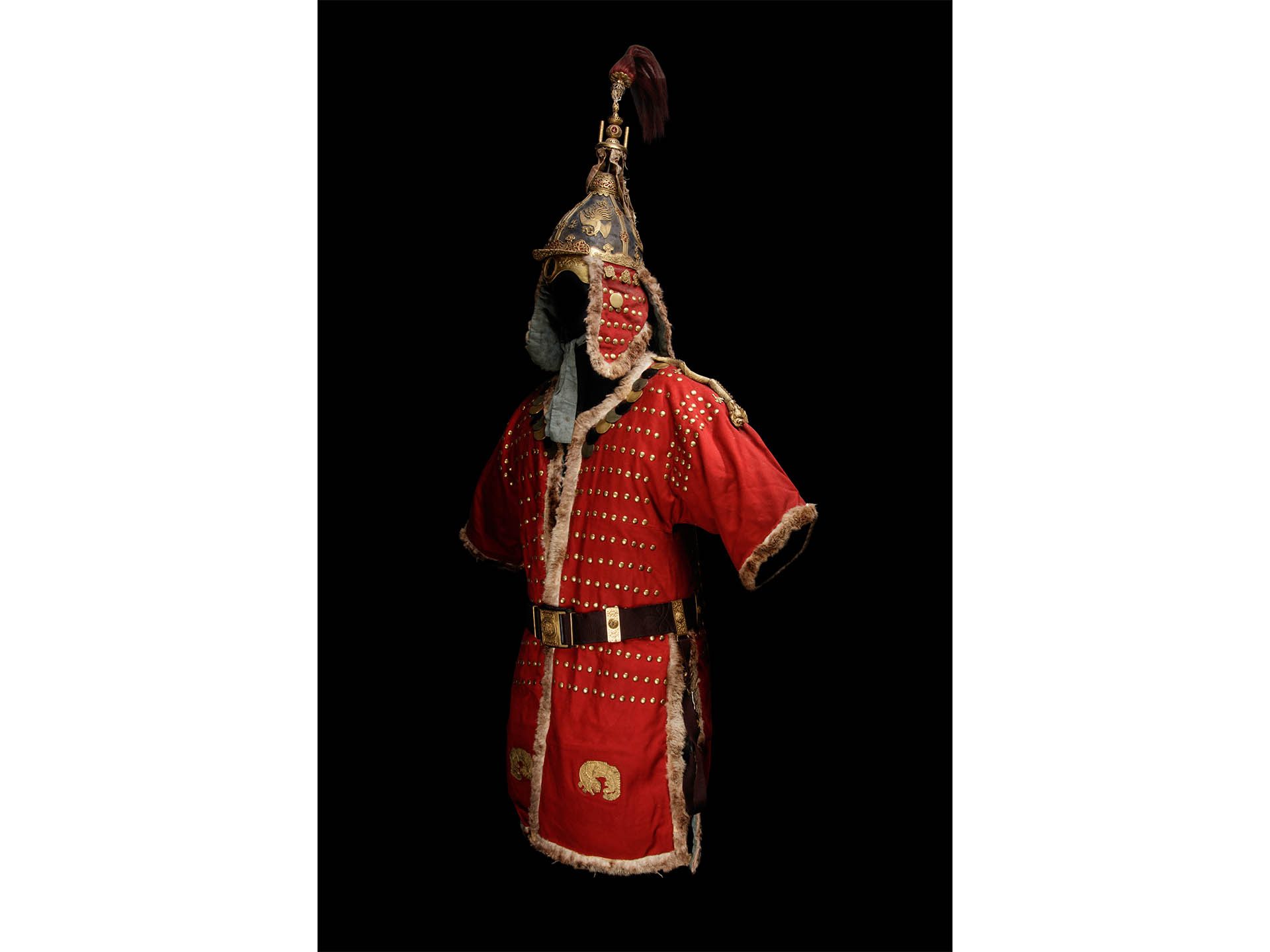 Lot 268 | A Set of Joseon Dynasty Studded Armor and Helmet. 19th Century. Price realized: $293,750
Outstanding prices were achieved and presale estimates were shattered in the March 25 Chinese and Southeast Asian Works of Art auction. The sale was led by a set of Joseon Dynasty studded armor and helmet (lot 268), which saw incredible engagement, ultimately selling for $293,750 against a presale estimate of $6,000-8,000. The very rare armor and helmet are constructed of vivid red wool, padded and lined with pale blue damask woven silk, and trimmed with fur. The robe is embellished with rows of gilt bosses and medallions between sinuous dragon across the shoulder crest. The helmet case is decorated with dragons and phoenix bordered by auspicious symbols, and topped by a gilt finial supporting a tuft of auburn hair.
Another noteworthy sale was a set of four scrolls by renowned Chinese artist Qi Baishi titled Flowers of the Four Seasons: Wisteria, Lotus, Chrysanthemum and Prunus, which realized over double its presale estimate, selling for $212,500 (lot 29). Other highlights of the auction included the sale of five loose album leaves depicting landscapes, birds and flowers (lot 15), which soared past its presale estimate of $10,000-20,000 to achieve $175,000 and a transparent amber-tone glass bottle (lot 171), which realized $75,000.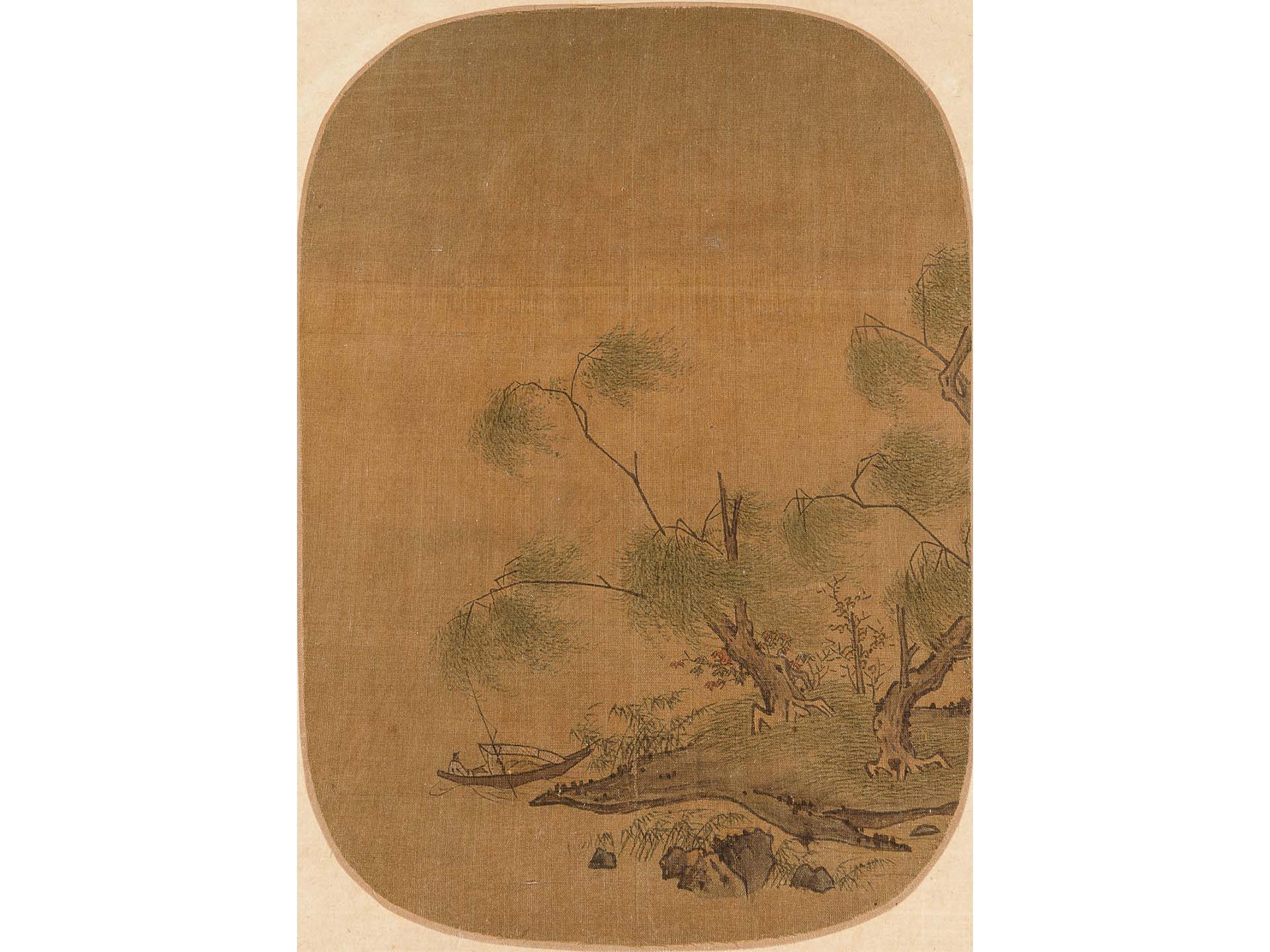 Lot 15 | Willows on Riverbank. Attributed to Zhao Danian. From Five Loose Album Leaves Depicting Landscapes, Birds and Flowers. Price realized (for all album leaves): $175,000
Highlighting the March 26 Japanese and Korean Works of Art sale was Tsukioka Yoshitoshi's The complete set of the series New Forms of Thirty-six Ghosts (Shinkei sanjurokkaisen), which realized triple its presale estimate, selling for $31,250 (lot 533) against a presale estimate of $10,000-15,000. The work comprises 36 woodblock prints, bound as an album. Other exceptional results included a number of tantos, including one which sold for $11,875, nearly ten times its presale estimate (lot 447). A pair of six-fold floor screens (lot 531) saw excellent interest, selling for $9,375 compared to a presale estimate of $1,500-2,500. Other fantastic sales included Japanese illustrated books, Shintei somoku zusetsu, zenpen (lot 551) which sold for $8,125, more than double their presale estimate and a ten panel floor screen, which sold for $5,160, far above its presale estimate of $500-700.
The March 27 Asian Works of Art Online sale saw fantastic engagement with jade and textile property, including a pair of Chinese silk gauze summer robes (lot 772), which realized $11,875 against a presale estimate of $600-800.
Bidding for the March 25 and 26 auctions was available via absentee bid, by phone, or live online through the Digital Bid Room – Hindman's recently launched online and mobile bidding platform –, and four online bidding platforms. The March 27 sale was online-only, and bidding was available through LiveAuctioneers.com. Hindman continues to welcome consignments for upcoming 2021 Asian Art sales.
---
Featured image: Flowers of the Four Seasons: Wisteria, Lotus, Chrysanthemum and Prunus by Qi Baishi. Price Realized: $212,500