Works by Renowned Designers Wendell Castle, Albert Paley, Wendy Maruyama, Sam Maloof, Toots Zynsky, Judy Kensley McKie, and Others to be Presented for Auction on March 23
CHICAGO – Hindman Auctions will present the Springborn Collection of Contemporary Craft sale on March 23, 2021. The auction will feature furniture from respected collectors Robert and Carolyn Springborn, with works by renowned designers known for their contributions to the American studio craft movement, including Wendell Castle, Albert Paley, Wendy Maruyama, Sam Maloof, Toots Zynsky, Judy Kensley McKie, and others. Based on the rejection of mass production, the studio craft movement was rooted in one-of-a-kind, expressive design made by hand and built on the ideas of experimentation and creativity. Independent curator and design scholar Glenn Adamson describes the Springborns as "lucky enough to be there when the studio furniture field crested to its height. And smart enough to catch the wave."
Known as the leader of the studio furniture movement, the Wendell Castle works included in the auction illustrate his outstanding craftsmanship and the innovative techniques he developed. Wendell Castle's Too Soon chair (lot 59; estimate: $30,000-50,000) is an exceptional work in which he utilized stack lamination, a construction technique that he pioneered during the 1960s. The chair demonstrates how Castle created extraordinary works by merging his expertise in carving, finishes, and metal casting with digital technologies such as 3D scanning and CNC milling. While the work features a base similar to what Castle featured in past tables and chairs, Too Soon is the first example in which he uses branch-like elements to form independent supports for a surface and seat.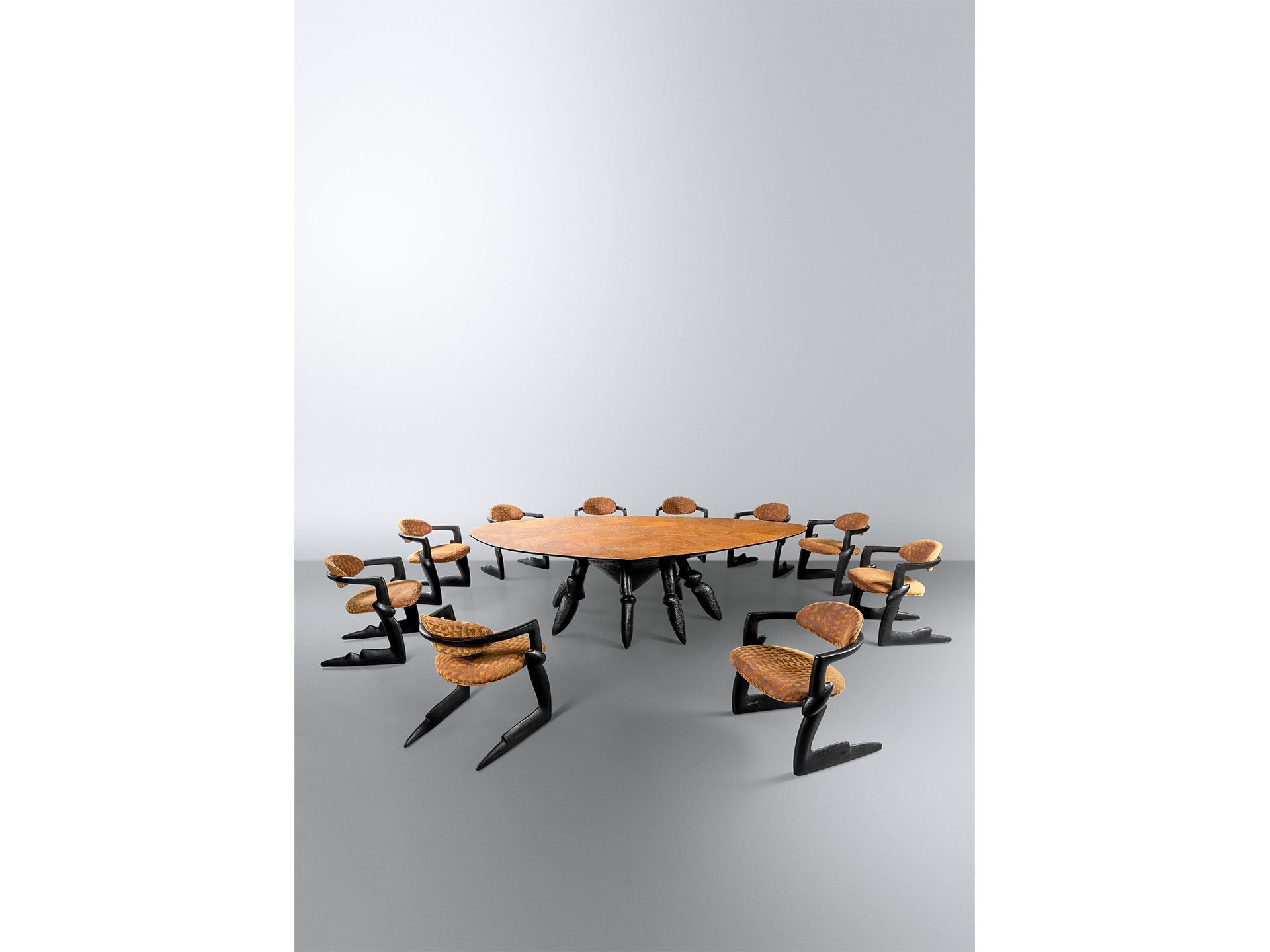 Lot 46 | Seven Days of the Week Dining Table and Ten Chairs, 1997. Wendell Castle. Estimate: $60,000-80,000
Castle's Seven Days of the Week dining suite (lot 46; estimate: $60,000-80,000) is another seminal work, which he created in 1997 at a pivotal point in his career. The table has an organic shape with legs that are reminiscent of an arthropod's. In describing the work Glenn Adamson writes that "the legs stage a vivid contrast with the smooth asymmetrical top, recalling midcentury biomorphic designs by Isamu Noguchi."
Influential metal sculptor Albert Paley's works will also be up for auction. Paley's entrance doors (lot 37; estimate: $30,000-50,000) were commissioned for the Springborns' Naples home in 2004. With delicate tendrils, the doors feature a similar style to a set of gates that helped launch Paley's career when he designed them for a competition at the Renwick Gallery in Washington, D.C. The doors also include glass elements created by Paley's longtime collaborator Martin Blank. Another highlight by Paley is a monumental forged steel and glass sculpture (lot 45; estimate: $20,000-40,000).­­­­­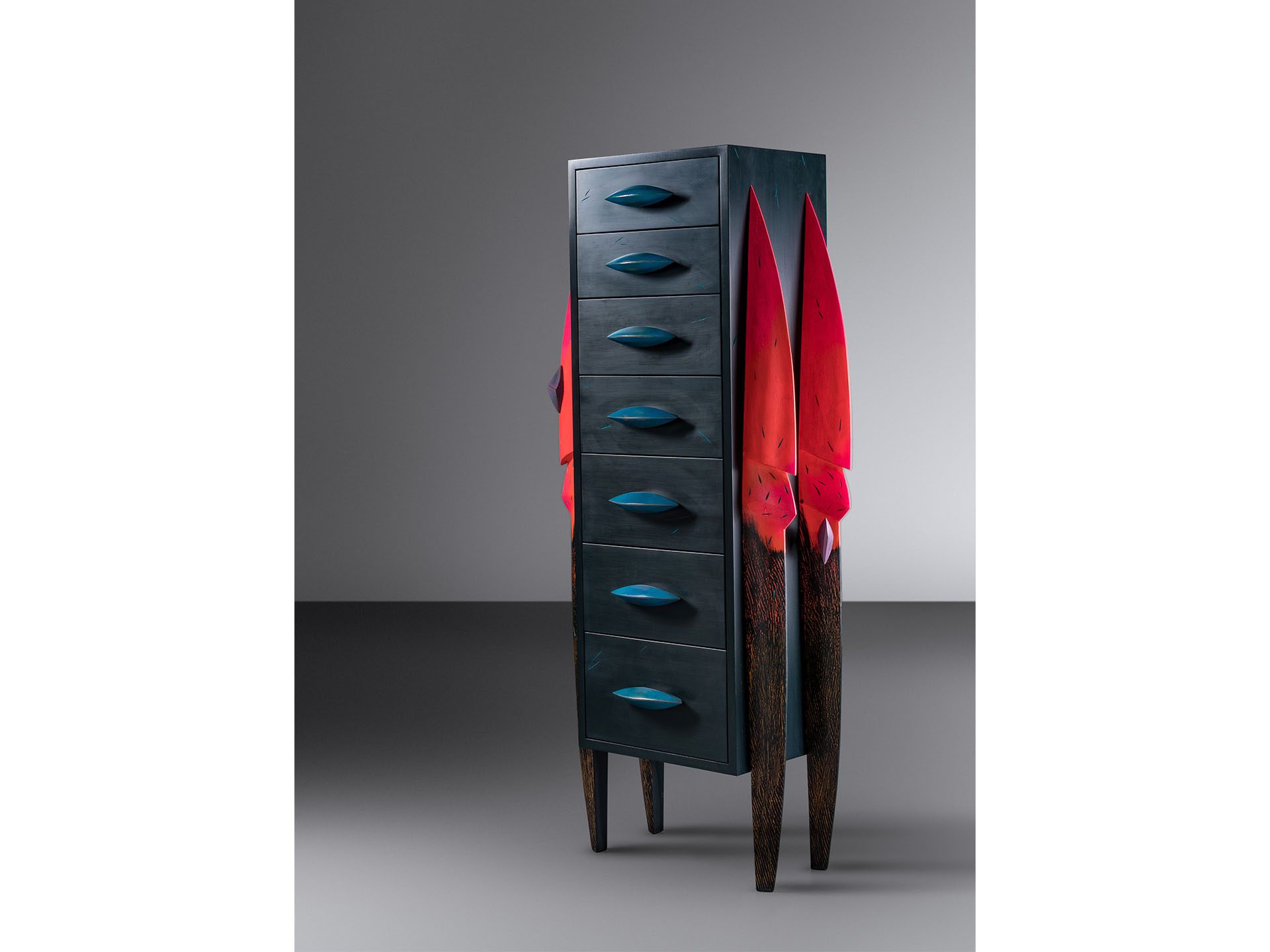 Lot 4 | Cowabunga II, 1990. Wendy Maruyama. Estimate: $2,000-4,000
Works by Wendy Maruyama, one of the first women to make her mark in the studio furniture movement, will also be featured. Utilizing the aesthetic languages of curvilinear and rectilinear form, zealous surface treatments, and vibrant color palettes, Maruyama's Cowabunga II (lot 4; estimate: $2,000-4,000) evokes the lineages of the Memphis Group and Arts & Crafts movements in one stroke. Candelabrum C is another brightly hued and whimsical sculpture that will be offered (lot 3; estimate: $1,500-2,500).
Bidding for the March 23 sale begins at 10 am CT. Bidders will be able to participate via absentee bid, by phone, or live online through the Digital Bid Room, Hindman's recently launched online and mobile bidding platform. A private preview of the auction will be available at Hindman's Chicago office by appointment only. For more information about the auction, please view the catalogue and the auction page.
---
Featured Image: Too Soon Chair, 2005. Wendell Castle. Estimate: $30,000-50,000