They were two trailblazers who broke barriers, while also changing the hearts and minds of America: Jackie Robinson and Muhammad Ali.
Robinson broke baseball's color line on April 15, 1947 – making his Major League debut with the Brooklyn Dodgers. Robinson's contract with the Dodgers marked the end of professional baseball's racial segregation that kept Black players isolated in the Negro Leagues since the 1880s. He was inducted into the Baseball Hall of Fame in 1962.
Robinson also transformed American life outside of baseball. He influenced the civil rights movement with his character and philosophy of nonviolence, and also became a leader in business. Robinson was the first Black television analyst in MLB, the first Black vice president of a major American corporation, and he helped establish the African-American-owned Freedom National Bank in Harlem, New York. After his death in 1972, Robinson was posthumously awarded the Congressional Gold Medal and Presidential Medal of Freedom in recognition of his achievements.  
Born Cassius Marcellus Clay, Jr., Ali won a gold medal at 18 in the 1960 Rome Summer Olympics. Four years later, and against all odds, Ali captured the world heavyweight championship from Sonny Liston in what is still considered one of boxing's greatest upsets. But 1966 was the year that changed his life, career – and our national history – forever, when he refused to be inducted into the military for the Vietnam War on religious and social grounds. At the peak of his career, he was convicted of draft evasion, faced five years in prison and was stripped of his boxing titles. He appealed the decision to the Supreme Court, which overturned his conviction in 1971. Until his death in 2016, Ali championed humanitarian causes across the globe and, like Robinson, earned the Presidential Medal of Freedom in 2005.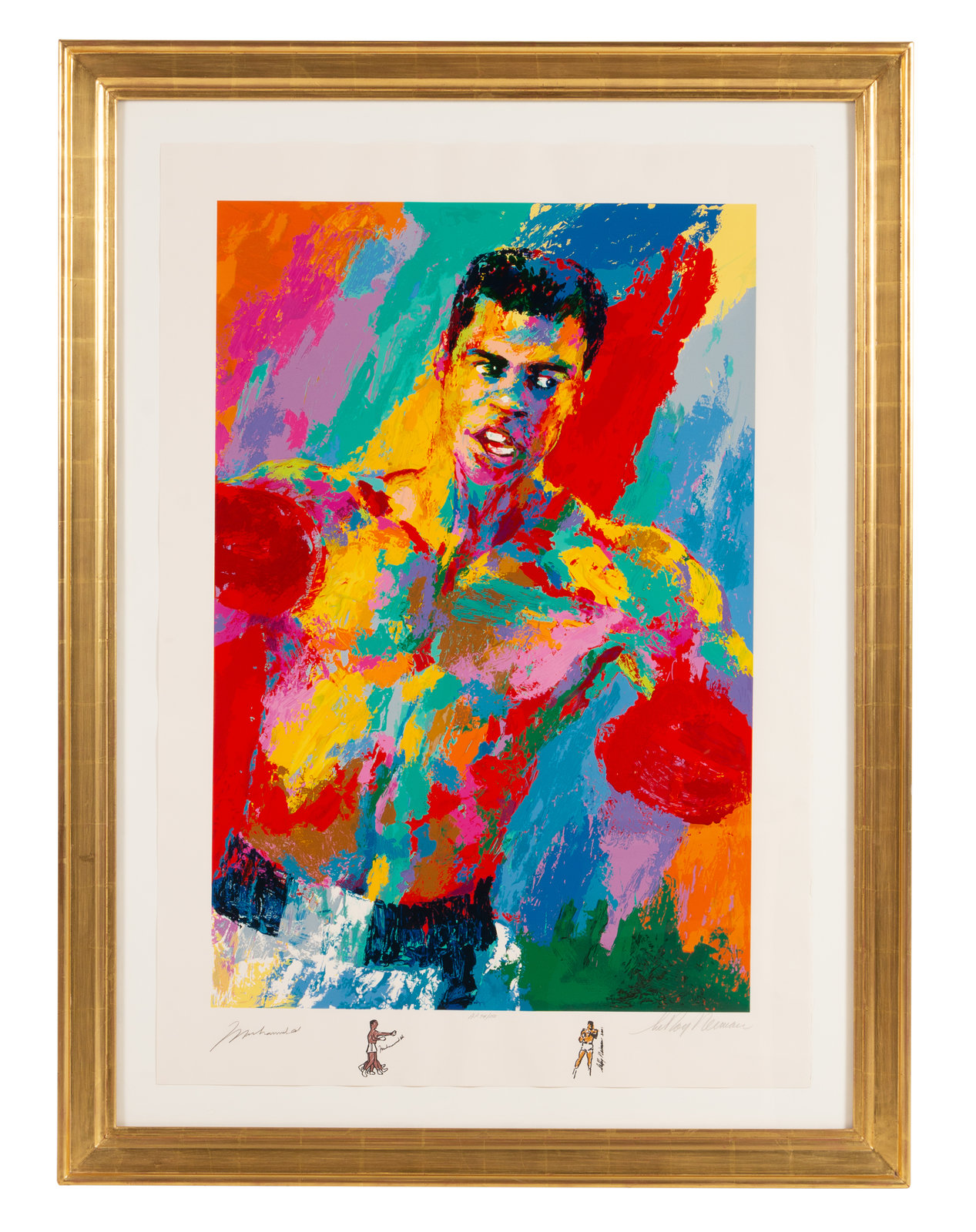 Hindman is proud to offer two pieces that capture the spirit of these Civil Rights pioneers: A 2001 portrait of Muhammad Ali, "Athlete of the Century," by LeRoy Neiman and a Jackie Robinson signed display.
The Neiman is a limited-edition Artist's Proof Serigraph that includes Remarques and Autographs of Both, is signed by Ali and Neiman and numbered AP 34/150. The Robinson display features a framed collage featuring a color photo inscribed ("Jackie Robinson") in blue ink and comes with a Full Beckett Authentication Services Letter of Authenticity.
---
These lots will be offered in the October 20, 2020 Sports Memorabilia Auction
Lot 32
A 2001 Muhammad Ali "Athlete of the Century" LeRoy Neiman Artist's Proof Serigraph with Remarques and Autographs of Both,
limited edition, signed by Ali and Neiman and numbered AP 34/150.
Property from the Collection of Larry Kieft, Elmhurst, Illinois
$2,000 – $4,000
Lot 82
A Jackie Robinson Signed Display (Beckett LOA),
framed collage featuring color photo inscribed ("Jackie Robinson") in blue ink.
Full Beckett Letter of Authenticity.
2 1/2 x 3 inches.
$800 – $1,000