Lauded as "the first to blow a raspberry at the Paris fashion establishment," Jean Paul Gaultier's experimentations in couture have provoked shock, delight, and, at times, horror in the minds of his audiences.[1] Iconoclast and provocateur, Gaultier earned his reputation when he entered the mainstream in the early 1980s. His collections during this decade were among his boldest, mining the history of fashion and contemporary dress codes to challenge long standing social mores. He debuted designs that have since become mainstays of his oeuvre, introducing cone-shaped bras, skirts and corsets for men, and underwear-as-outerwear, setting the stage for a forty-year career in which he has playfully defied and rewritten the rules of Parisian couture.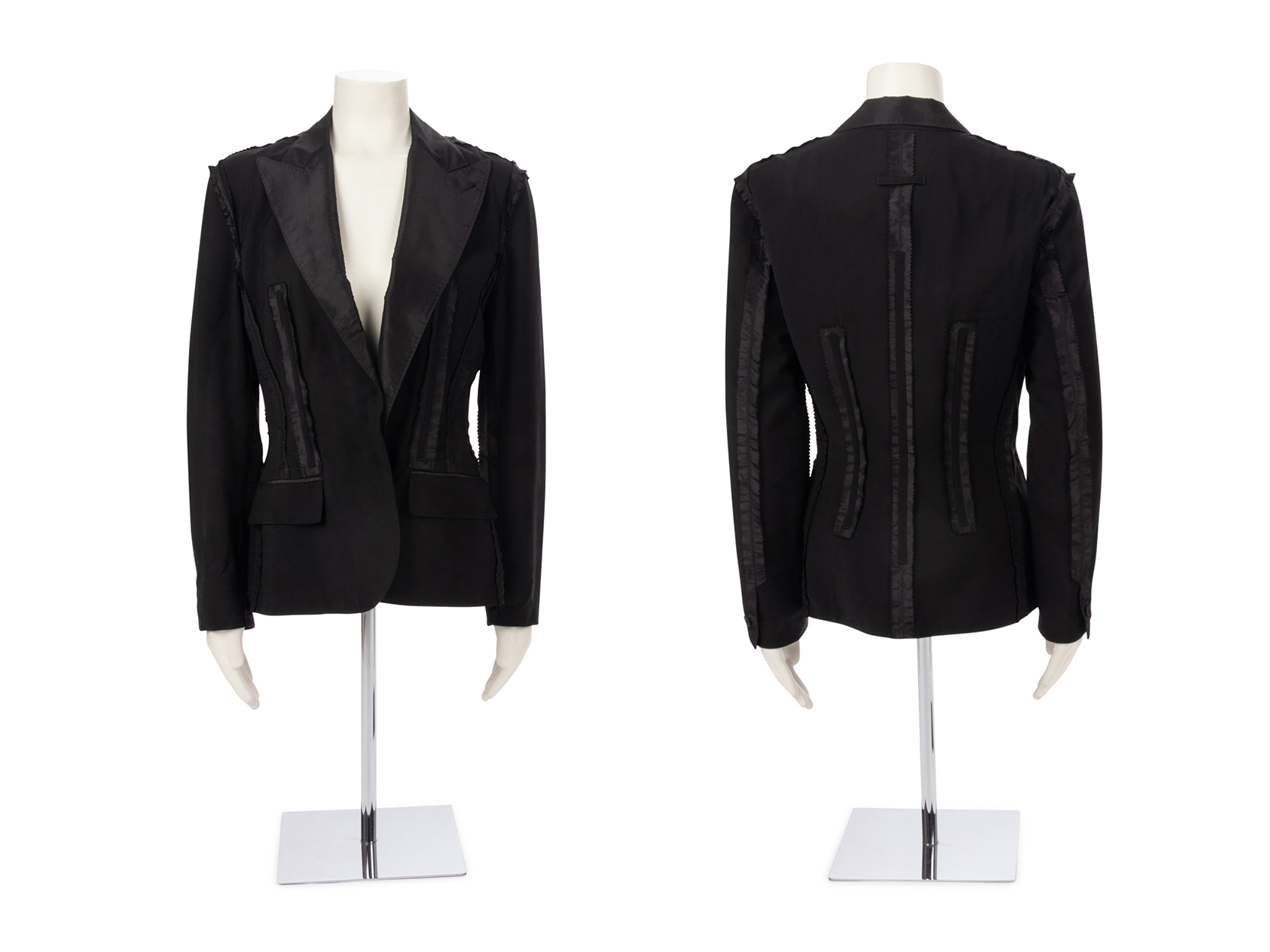 Lot 167, Collection of Three Designer Jackets and Coats, 1998-2006
Gaultier's enduring interest in the corset began during his youth when he would spend time with his grandmother, learning about the lacing and reshaping of the feminine form. For him, the corset evoked "something extraordinary, fascinating and mysterious."[2] This early exposure influenced his later reintroduction of elements of corsetry to his runway fashion. Though it had fallen out of favor in the late 1960s during the women's liberation movement, Gaultier was interested in the corset's potential to represent strength and empowerment. Lot 167 includes a 1998 Jean Paul Gaultier women's jacket featuring seam detailing on the exterior to resemble boning. The silhouette makes reference to Christian Dior's New Look debuted in 1947, but in its exposure of the "boning," becomes skeletal and powerful.Gaultier's use of such visual elements helped to change the associations of corsetry in popular culture, a transformation that, thanks to his collaboration with Madonna from 1990 onward, took place on the world stage.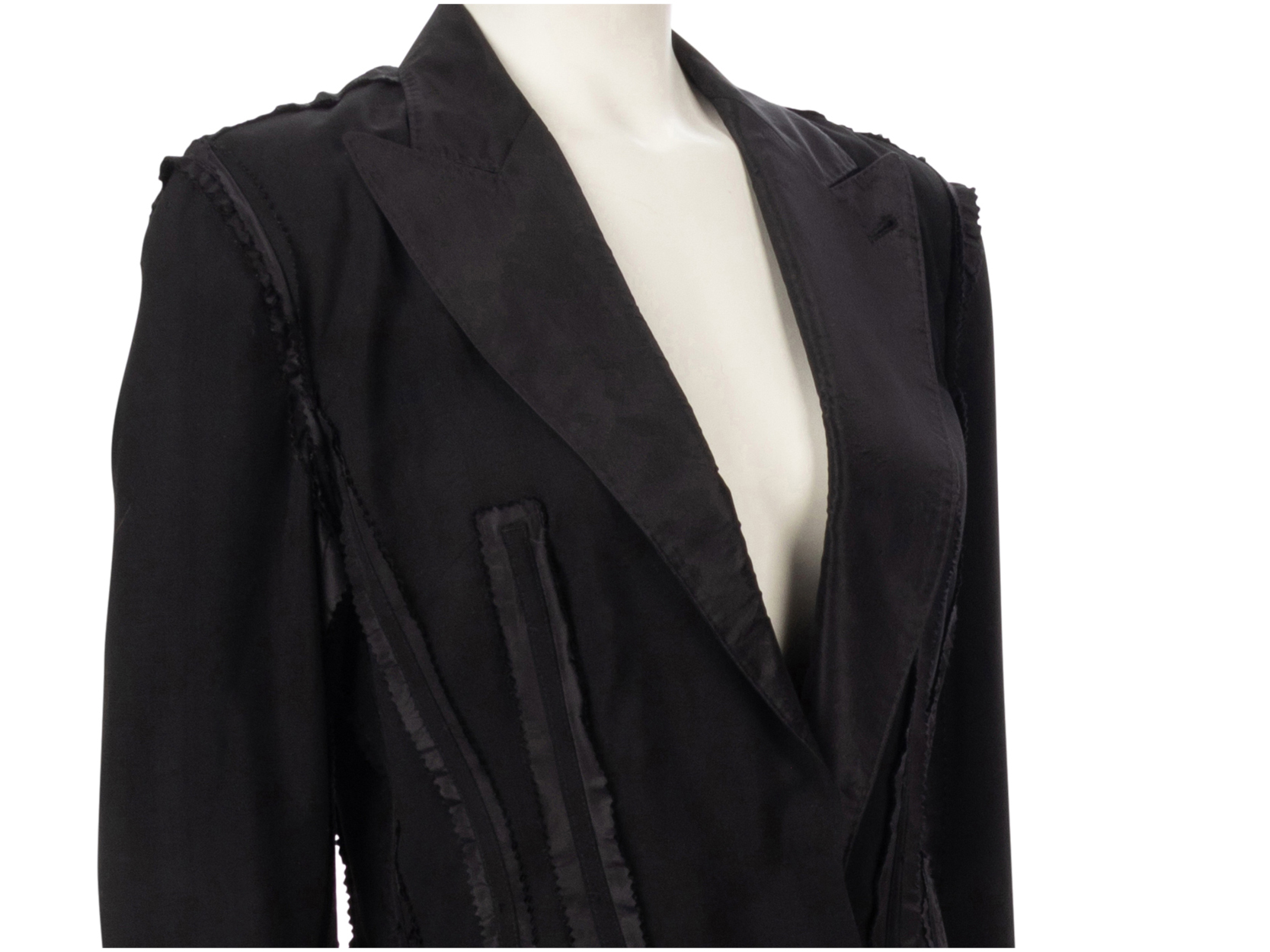 Lot 167, Collection of Three Designer Jackets and Coats, 1998-2006
Lot 177 features a men's jacket from Gaultier's spring/summer 1989 collection, with cutouts at the waist forming a corset, and lacing up the back. As the corset enabled Gaultier to explore femininity, so too does he use it to challenge masculinity. "He has played a crucial role in the redefinition of 'woman'—and also 'man'—in fashion," writes fashion historian and curator Valerie Steele. "His is a very constructed approach. In it, the beauty ideal is denaturalized and can be seen to be artificial, a construction of masculinity and femininity, coolness or youth, but Gaultier shows the seams to indicate how it has been done."[3] These jackets reveal the structure of the corsets so central to Gaultier's work, and in doing so, introduce something playful to what fashion holds most elemental.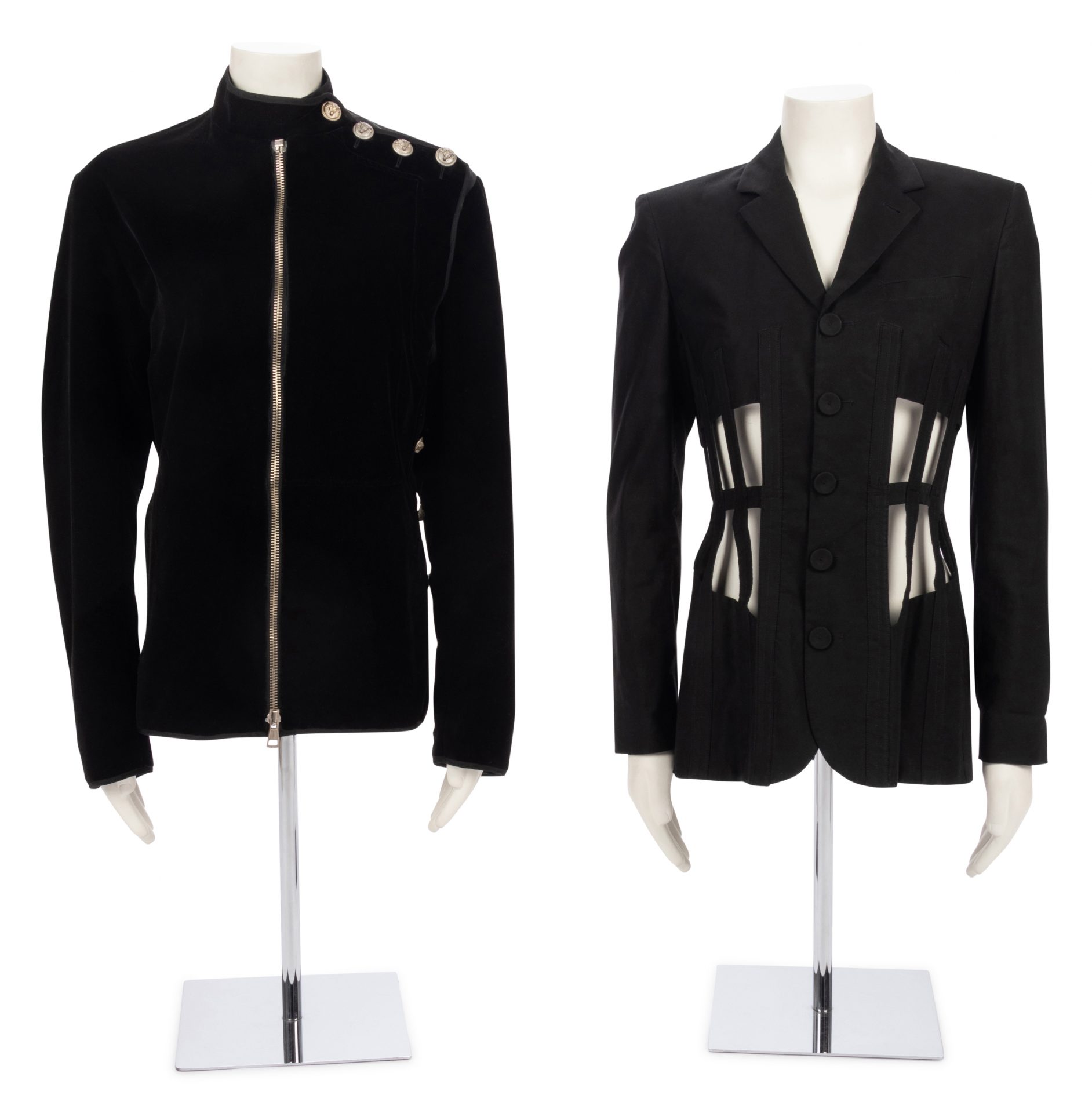 Lot 177, Three Jean Paul Gaultier Pieces; Two Jackets, One Vest, 1990s
Hindman is pleased to offer these garments, among others, by Jean Paul Gaultier in the Luxe Holiday: A Collectors' Collection auction on December 11th.

---
[1] This, and title, from "Jean Paul Gaultier: Enfant terrible of haute couture" in The Observer, 17 Oct. 1993
[2] Florence Müller, 'Gaul'tier by Jean Paul' in The Fashion World of Jean Paul Gaultier: From The Sidewalk to the Catwalk, ed. Thierry-Maxime Loriot (Montreal, 2011)p. 27
[3] Valerie Steele in The Fashion World, p. 153.