Jean Schlumberger (pronounced 'Shlum-Bur-Zhay') is an iconic name in jewelry design. He is one of only four designers ever given permission to sign their work for Tiffany & Co. in the company's 183-year history – the others being Paloma Picasso, Elsa Peretti, and Frank Gehry.
Born in France in 1907, Schlumberger was a completely self-taught artist. His work is known for its creativity, daring use of color, and inspiration from the natural world. Schlumberger designs have a lasting legacy with important pieces continuing to be remade by Tiffany & Co. in limited runs, displayed in permanent collections in museums and worn and enjoyed by collectors around the world.
When Schlumberger joined Tiffany & Co. he was given his own independent salon on the mezzanine level of its flagship store on Fifth Avenue – a rare honor. He retained complete creative control of his designs and cultivated an impressive following, including Greta Garbo, Jackie Kennedy, Audrey Hepburn and Elizabeth Taylor. He continued to be a signature designer for the firm for over 30 years.
One of Schlumberger's first designs when he started in 1956 was the iconic 'Bird on a Rock' brooch made for the historic Tiffany Diamond (a 128.54 carat yellow diamond). It has been made in several iterations with various large 'rocks' of different gem varieties. We are pleased to offer this important brooch (Lot 59) with a beautiful green beryl as the bird's perch.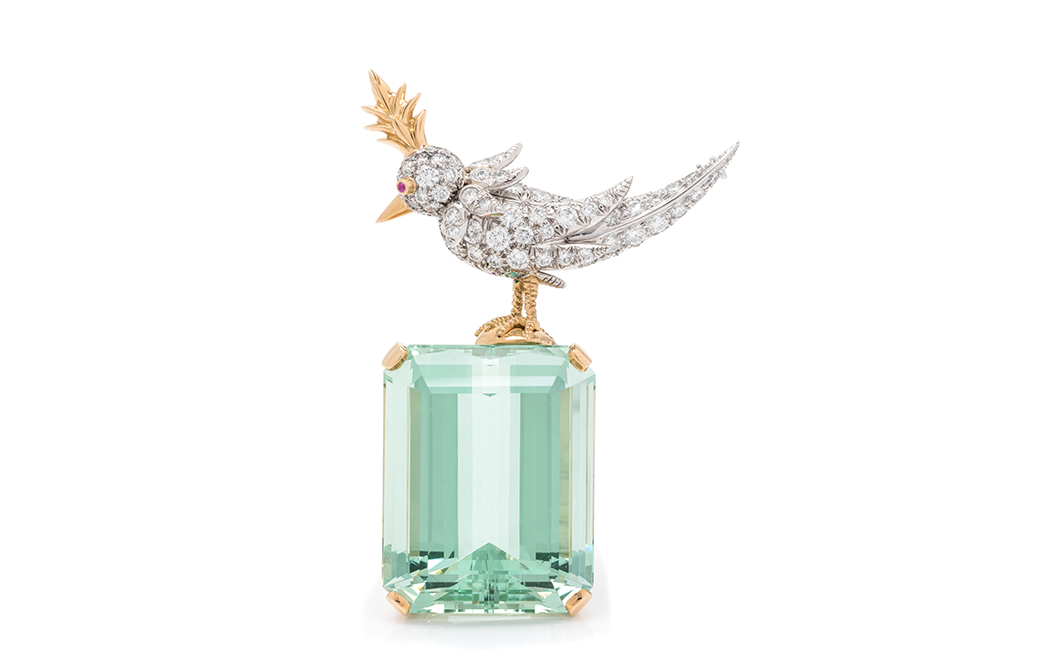 Lot 59, TIFFANY & CO., SCHLUMBERGER, GREEN BERYL AND DIAMOND 'BIRD ON A ROCK' BROOCH
Another of Schlumberger's most famous designs is the 'Dot Losange' bangle bracelet, which was first designed in 1960. Jackie Kennedy, then the first Lady of the United States, was a fan and wore her bangle so often they became known as "Jackie Bracelets", and were popular throughout the 1960s as a chic daytime accessory for ladies including Bunny Mellon and Lauren Bacall.
Lot 56, TIFFANY & CO., SCHLUMBERGER, 'DOT LOSANGE' BANGLE
Schlumberger renewed paillonné enamel for the 'Dot Losange' bangles, a technique developed in the 19th century. Extremely labor intensive, it requires the application of translucent tinted enamel over fine pieces of gold leaf (paillons), then is fired at a high temperature and repeated dozens of times to create a thick layer. This fine craftsmanship gives the bangles a unique and beautiful shimmering effect.
Marine life was a source of inspiration for Schlumberger throughout his career. He traveled to Sri Lanka, Thailand, Indonesia and the Philippines, where he saw coral reefs and shallow seas, sketching designs of the sea creatures he saw along the way. By the late 1950s, he had his own studio in Guadeloupe, a French colony in the Caribbean, where he was able to connect with nature and the ocean for design inspiration. These pieces are infused with his signature whimsical touch.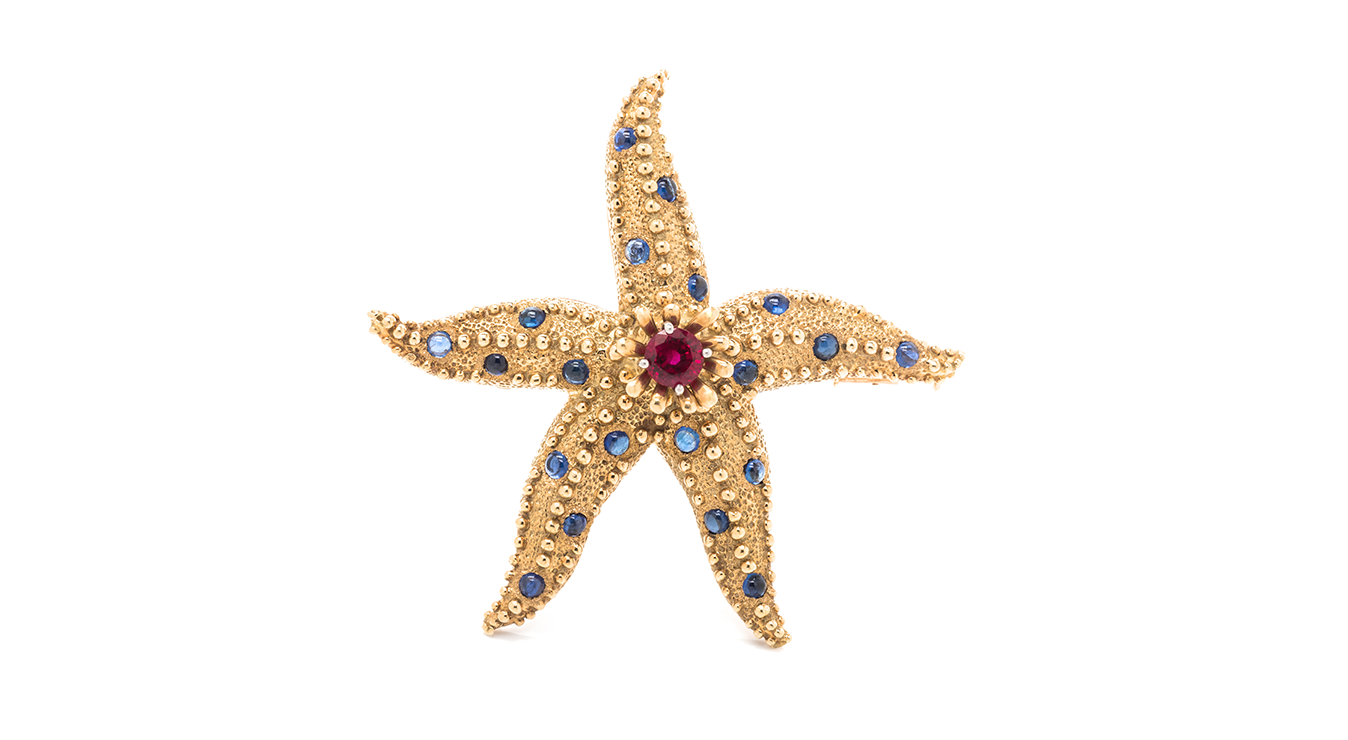 Lot 53, TIFFANY & CO., SCHLUMBERGER, YELLOW GOLD, RUBY AND SAPPHIRE STARFISH BROOCH
Among many design elements he made his own, Schlumberger is famous for 'X' motif jewelry representing a kiss. The 'X' motif displays Schlumberger's knack for wearability and timelessness that continue to be worn and admired by collectors today. With warm yellow gold, his designs are a whimsical and elegant addition to any jewelry collection.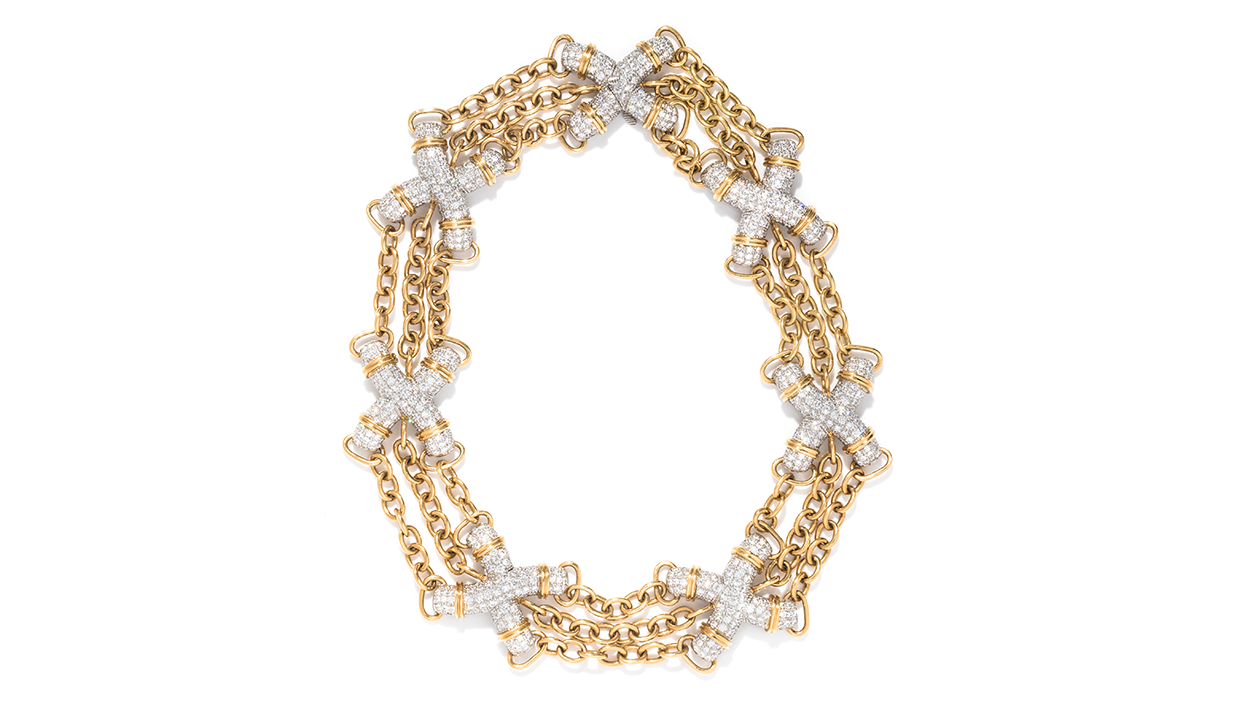 Lot 57, TIFFANY & CO., SCHLUMBERGER, DIAMOND 'X' NECKLACE
Schlumberger's designs continue to delight modern jewelry collectors and are a staple of any collection. Hindman is pleased to offer a collection of nine Schlumberger pieces (lots 52A through 60) in our September 15th auction. Please contact our specialists for a private viewing or more information on how to bid.