We all know Tiffany & Co – the iconic jewelry store, the little blue box, and of course Audrey Hepburn – but who was Louis Comfort Tiffany? Hindman Fine Jewelry & Timepieces cataloguer Hana Thomson dives a little deeper into this iconic and highly influential man and his impact on the jewelry world.
Born February 18, 1848, Louis Comfort Tiffany grew up surrounded by jewelry and fine objects. His father, Charles Lewis Tiffany founded the eponymous Tiffany & Co. in New York in 1837. Louis Comfort Tiffany wanted to forge his own path and began studying art, and later turned to decorative work after seeing Arts & Crafts furniture at the Philadelphia Centennial Exposition in 1877.  He was fascinated with how light interacted with colors and its effects in glass. He went on to found his own glass making company in 1885, constantly experimenting with new techniques and designs. Though he is best known for his works in glass, his oeuvre also included paintings, ceramics, mosaics, stained glass, bronze and metalwork, interior design, and eventually jewelry.
Tiffany traveled to several places in Europe to exhibit his work, including the 1900 Paris Exposition Universelle alongside his father's Tiffany & Co. booth. This European exposure introduced Tiffany to the flowing and natural Art Nouveau style that was gaining popularity in Europe by the 1880s. Back in America, Tiffany created his own, uniquely American version of this new style, incorporating local plants and wildflowers which he studied in his own garden. All of his designs were handmade by artisans in his studio.
In 1902, Charles Lewis Tiffany passed away and left Tiffany & Co. to his son. Louis Tiffany had already begun exhibiting his decorative objects at the store on Fifth Avenue, as well as at various world's fairs with the company. As artistic director of Tiffany & Co., Louis Tiffany had access to some of the world's best artisans and jewelers. He began designing jewelry under the Tiffany & Co. brand, which aligned with the rest of his design sensibility and utilized the effects of light in the form of enamel and colored gemstones. Great emphasis was made on the imperfect, handmade quality of Arts & Crafts style, as well as the curving lines and natural inspiration from Art Nouveau. Tiffany hired two women, Meta Overbeck and Julia Munson, to help design and oversee the jewelry department. They utilized precious and semi-precious gemstones with unique color combinations, often using local sources for the gemstones.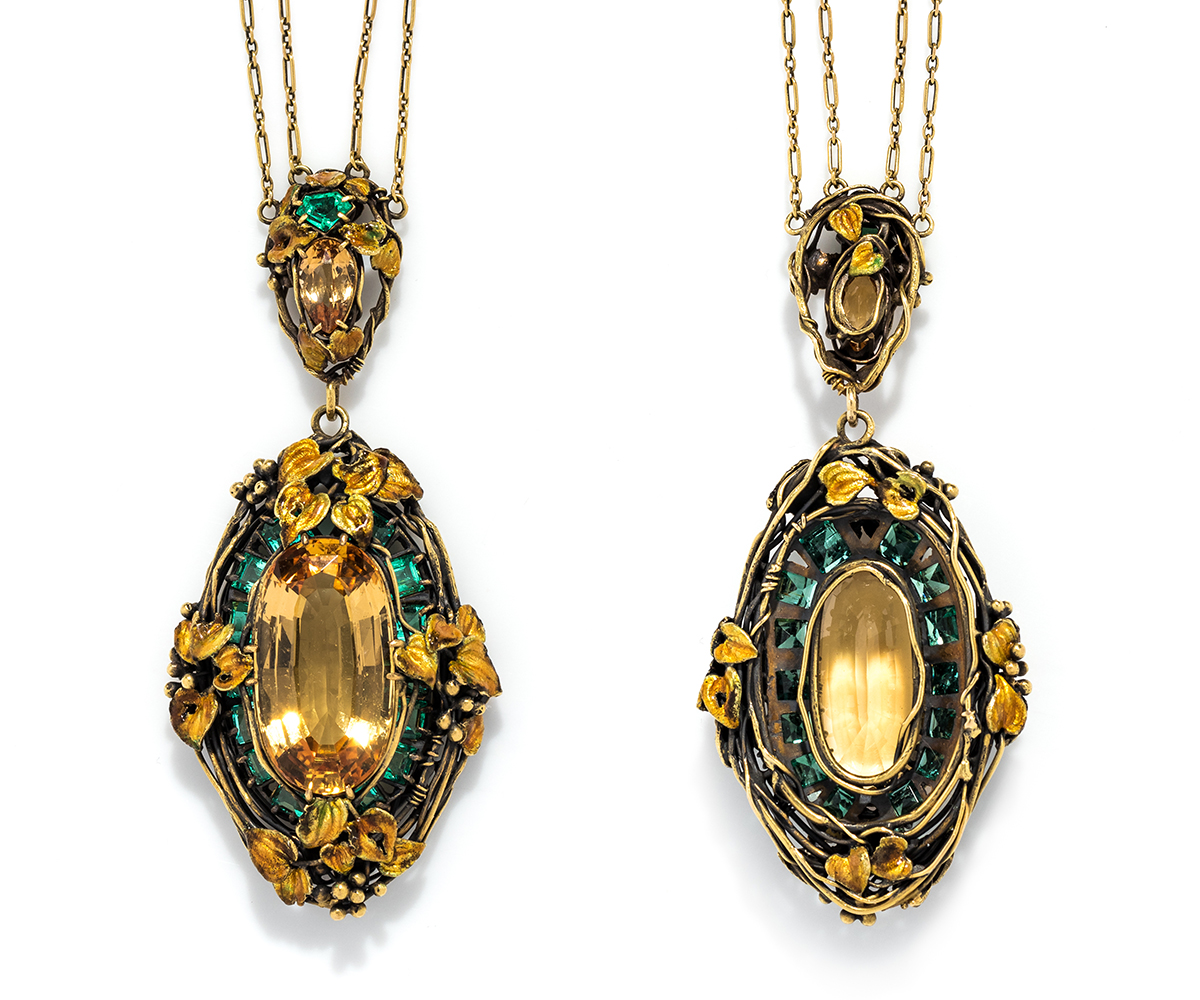 Offered from the Estate of Linda Zoe Jenkins, Roseville, Minnesota, Lot 81, Tiffany & Co., Art Nouveau, Topaz, Emerald and Polychrome Enamel Necklace is an extraordinary example of 'Tiffany Art Jewelry', combining semi-precious golden topaz gemstones with precious emeralds. The intricately wrought wirework settings and finely rendered enamel leaves of this necklace make it a beautiful example of the art jewelry that Tiffany made during his time overseeing the American jewelry house. A necklace of this quality, condition and design exemplifies Tiffany's unique interpretation of the turn of the century design movements and sensibility and make it a collector's piece not often seen at auction.