For many, when we hear the name Louis Vuitton our minds immediately think of the brand's iconic monogram covering a variety of accessories, from handbags, to belts, and even a luxury water bottle holder.
Initially, when the logo was patented in 1896, it was emblematic of a passion for travel, about which Louis Vuitton himself was very dedicated. Louis Vuitton is the center of a voyaging legend of sorts; his biography places a thirteen year old Vuitton travelling on foot from his hometown Anchay to Paris, a feat that is said to have taken him overall two years to complete. Upon his arrival in Paris in 1837, Vuitton began working for Paris' premier box maker Monsieur Maréchal, eventually leaving at the age of 33 to begin his own box-making business, earning a favorable reputation among the city's elite.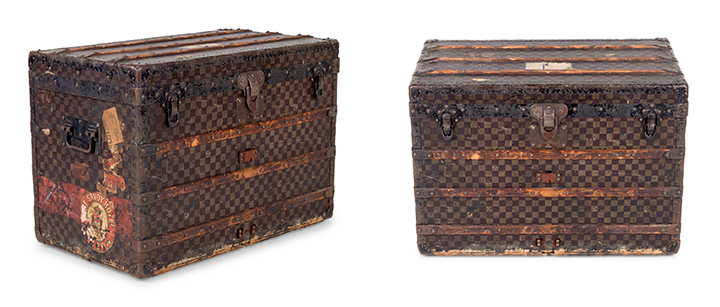 Figure 1: Lot 280 from sale 740 sold for $4,00 and features Louis Vuitton's original damier print.
By 1858, Vuitton had not only mastered his craft, but began innovating in his field, creating his famous flattop trunks. The design lent itself to stacking trunks on top of one another, unlike the round top trunks (for water runoff) available on the market at the time, and thus an unprecedented demand for Vuitton's product began. Vuitton's shellac-embedded canvas provided the same weather protection as the rounded tops of competing trunks on the market, but were ultimately more functional due to their flat tops.
Moreover, these initial trunks introduced the now iconic Louis Vuitton checkerboard "damier" pattern to the luxury market. After Louis Vuitton's death in 1892, his son Georges Vuitton pushed the company to become the most sought after luxury travel brand in the world, creating the beloved monogram canvas for the company's products in 1896, and opening a storefront on the Champs-Elysees by 1913.
Figure 2: Lot 281 from sale 740 sold for $5,750 and features Louis Vuitton's iconic monogram logo.
While Louis Vuitton products are continually popular among buyers on the luxury secondary market, the monogram branding is difficult to ignore and not desire; it is the brand's original luxury travel merchandise that excites enormous interest. Louis Vuitton's steamer trunks are hotly sought after due to their iconic status. While a typical steamer trunk could fetch maybe a few hundred on the secondary market, Vuitton's originals are worth significantly more, with estimates reaching into the thousands. Clients often place them in their homes as coffee tables, storage, or simply as works of art in their own right.
As recently as March 19, 2020 two Louis Vuitton steamer trunks, lots 280 and 281 in sale 740 Spring Fashion and Accessories, sold well over their high estimates at $4,000 and $5,750 respectively. With lot 280 featuring a damier print (Fig. 1)  and 281 boasting Vuitton's monogram logo (Fig. 2), it is easy to see both iterations of the shellac canvas still have a large audience, even if the trunk's function has changed significantly in our modern day.