Hindman's Modern Design Department is excited to offer A Pair of 'Sculptured Metal' Lounge Chairs by Paul Evans in our upcoming May 19 Modern Design Auction. Read more about this iconic metalsmith, craftsman, and designer below.
Paul Evans (1931–1987) was a prolific designer-craftsman whose work eschewed the canon of design history until recent years. Today Evans' radical and varied body of work is a testament to his contributions to the American Craft Movement in the United States.
Crafting a dynamic visual language, Paul Evans' universal appeal stems from his sculptural forms embodying creativity in the face of industrialization. Evans' timeless shapes borrow techniques of manufacturing and mass production to realize furniture that is as conceptualized as sculpture.
Born during the Great Depression in Trenton, New Jersey, Evans' first introduction to woodworking and metalsmithing began at a Quaker preparatory school. Demonstrating unique sensibilities from an early age, Evans' was awarded a scholarship by the "patron of craft" Aileen O. Webb to attend Rochester's School for American Craftsmen and later Cranbrook Academy of Art.
In 1955, Evans' settled in New Hope, Pennsylvania, and cultivated a friendship with fellow craftsmen Phillip Lloyd Powell that lasted over a decade. Their shared showroom and early collaborative works helped contribute to the craft renaissance that was taking shape in America. The studio became a laboratory rife with experimentation and Evans' embarked on a journey of material investigations daringly radical from his contemporaries.
A shift in Evans' work occurred when he and his assistant witnessed dockyard workers spraying zinc dust onto ship hulls to prevent corrosion. Evans' then began the innovative application of epoxy and bronze over wood and steel frames to achieve the impression of massiveness to his furniture pieces.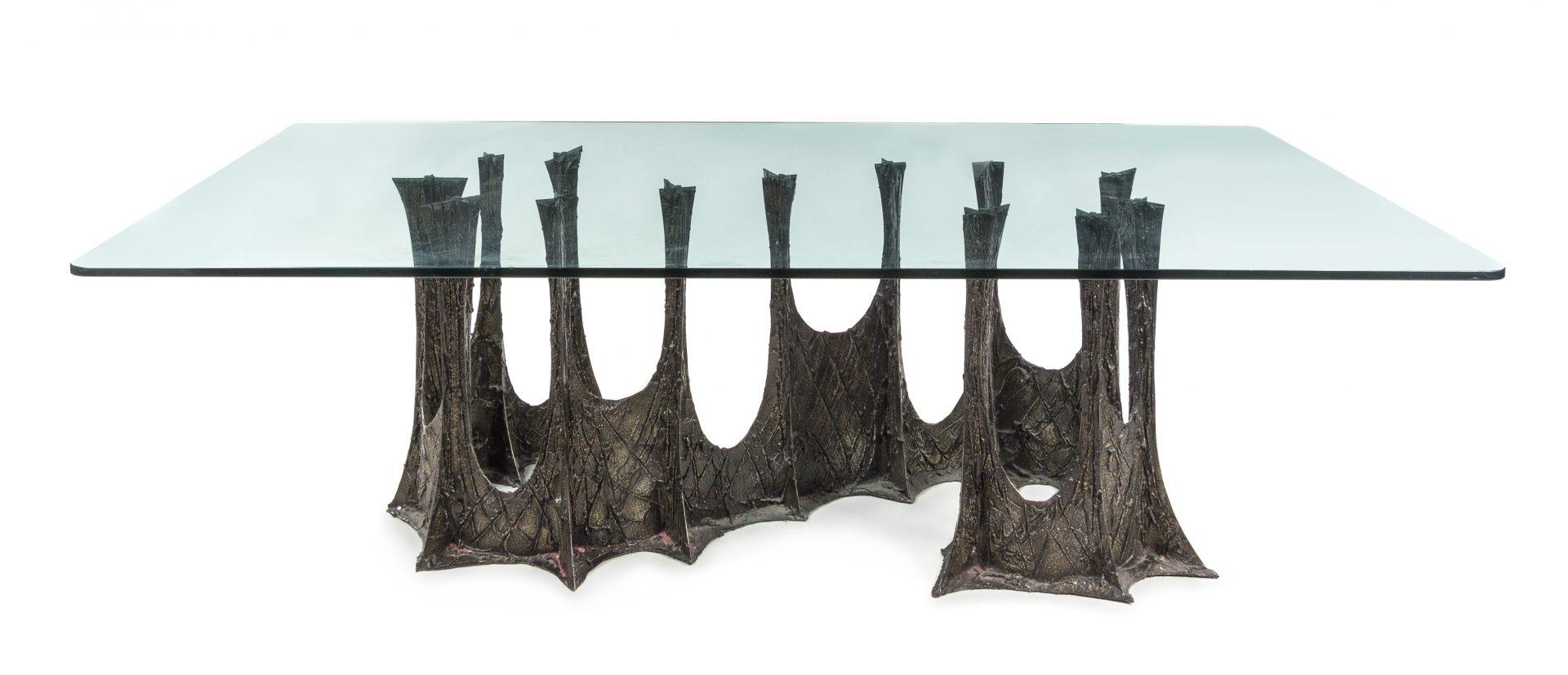 Figure 1: This Paul Evans DIRECTIONAL Stalagmite dining table, model PE-102 featured bronzed resin over steel and realized $15,250 at Hindman in 2017.
By the time Evans' was approached by Directional Furniture Company in 1964, he had already exhibited and sold through America House in New York, the leading retail gallery for pioneering American crafts to the public. Their extensive roster of artists included the likes of Wharton Esherick, Paolo Soleri, Tage Frid, and Wendall Castle. With the need to scale up production, Evans' studio maintained on average 80 assistants––predominantly women.
Ultimately, due to the complexity of forms and materials Evans' partnership with Directional dissipated in 1979. Opening his showroom in New York at the height of Postmodernism, Evans' evaded the classification as only "A carpenter in steel who gets burnished color with a torch" as Life magazine had once dubbed him.
Figure 2: Hindman is excited to offer A Pair of 'Sculptured Metal' Lounge Chairs by Paul Evans in our upcoming May 19 Modern Design Auction. To achieve the 'Sculptured Metal' technique Paul Evans' Studio used primarily for their work with Directional- first epoxy resin was applied over a steel frame, then the resin was sculpted in freehand form, sandblasted, and finally coated with atomized bronze.
During the 1980s Evans' worked with his son to explore the possibilities of kinetic furniture and embraced the eclecticism, ornamentation, kitsch, and irony that came with the movement. A day after his retirement at the age of 56, Paul Evans' suffered from a heart attack bringing a definitive end to his three-decade-long career.
What makes Evans' work so compelling––from his stalactite-shaped chairs to his cityscape polished metal cabinets––is his ingenuity with materials which forged a distinct visual language for the tactile. With the resurgence of craft in the mid-2000s, Evans' name has now become ubiquitous and crosses generational and international collecting spheres with bidders at auction today.