Hindman Auctions has teamed up with the Atlanta, Georgia based Friends of Olmsted Plein Air to support their annual fundraiser, The Olmsted Plein Air Invitational. This year, plein air paintings from 29 internationally known artists will be showcased through a virtual preview gallery and online selling exhibition, here.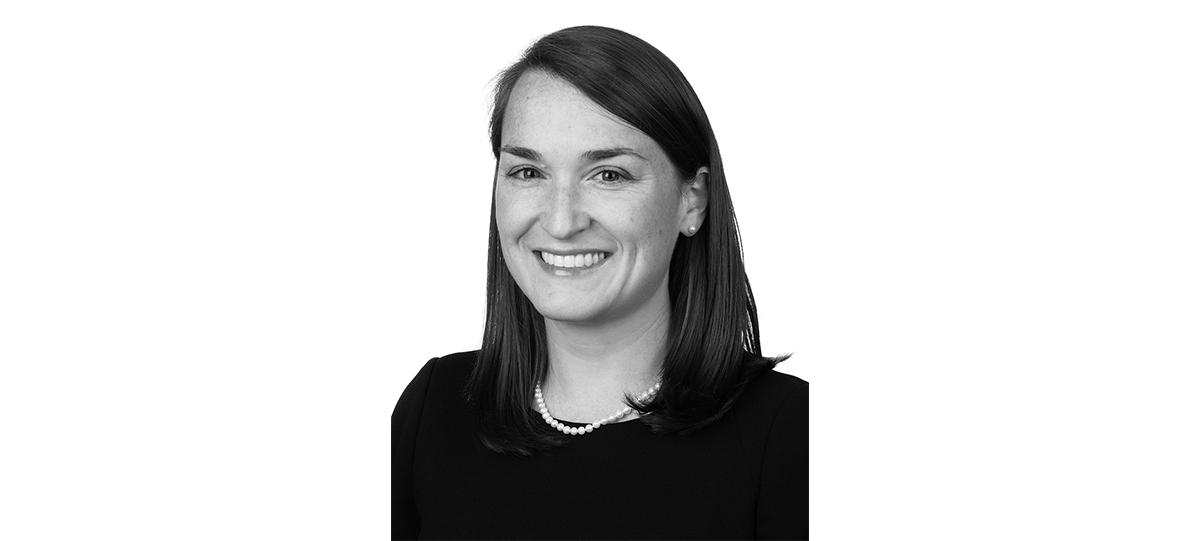 Anastasia (Tess) Hall, Hindman's Senior Specialist of American and European Art, reviewed the online gallery and offers her perspective on the show.
Q: What's your experience with plein air painting?
Tess: Plein Air painting is so much more than just painting in the outdoors. This technique was championed by the Impressionists, who wanted to capture the atmosphere or feeling of a scene, rather than convey a literal interpretation of what is in front of them at the time of conception.
Q: Have you ever tried plein air painting?
Tess (chuckles): I'm not an artist, and so I've never attempted it, but I can imagine artists may face a few challenges like encountering animals, bugs, even onlookers. Weather and other environmental conditions would also factor into creating a painting outdoors. I mean, imagine these artists creating these special works in heat and humidity or with onlookers passing by and making comments. It's a lot of pressure!
Q: Collectors can now preview 29 different works online through Olmsted's website here. Do you have any tips for how viewers can avoid feeling overwhelmed by options?
Tess:  Much like when collectors view Hindman's online auctions, the first step is viewing the photographs of the works and finding something that compels you.  You see an image and it immediately draws you in. An added benefit with the Olmsted Invitational is that collectors can get-to-know the artist through their bios featured on the website, which can also be a way to connect with the artwork.
If you're still unsure, then consider typical scenes or subjects you enjoy. So, ask yourself do you prefer landscapes or cityscapes? Still life or a scene with action. All of these typical themes are represented here, so you really can't go wrong.
And at the end of the day, there's so much satisfaction knowing you're supporting a nonprofit and acquiring an original work of art to add beauty and personality to your space.
Q: On a more personal note, which of these works resonate with you because it feels like a moment in time or place you may have been– or would like to go?
Tess: Jill Steenhuis' Lemon Pie Azeleas and Tea looks delicious enough to eat! It certainly reminds me of an Impressionistic take on Wayne Thiebaud
Valerie Craig's First Pick reminds me of our huge family easter egg hunts as kids! Some of the most fun memories!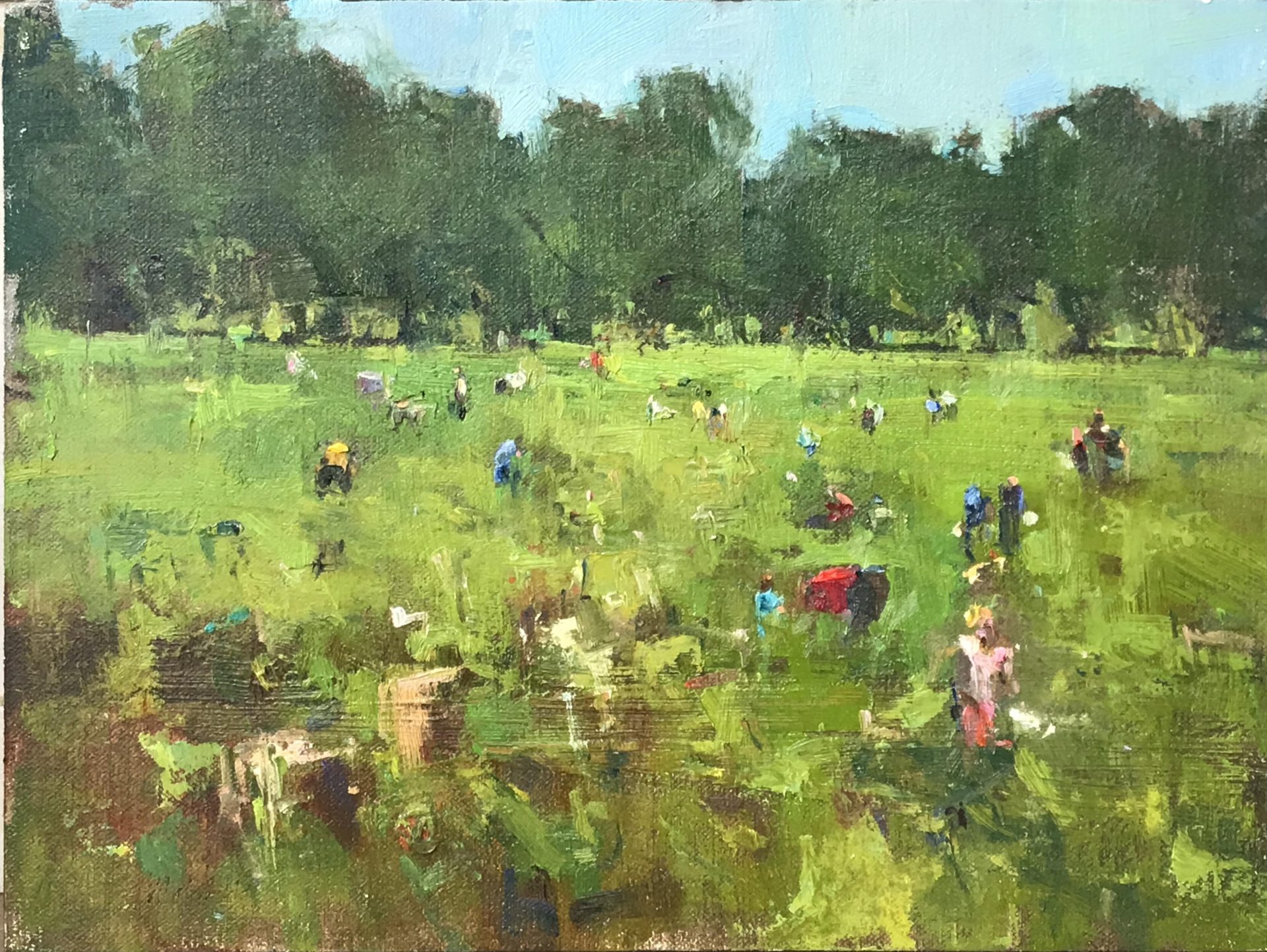 Lower Base of Falls – Yosemite National Park by Suzie Baker reminds me of camping with my family during the summer. We love visiting National Parks!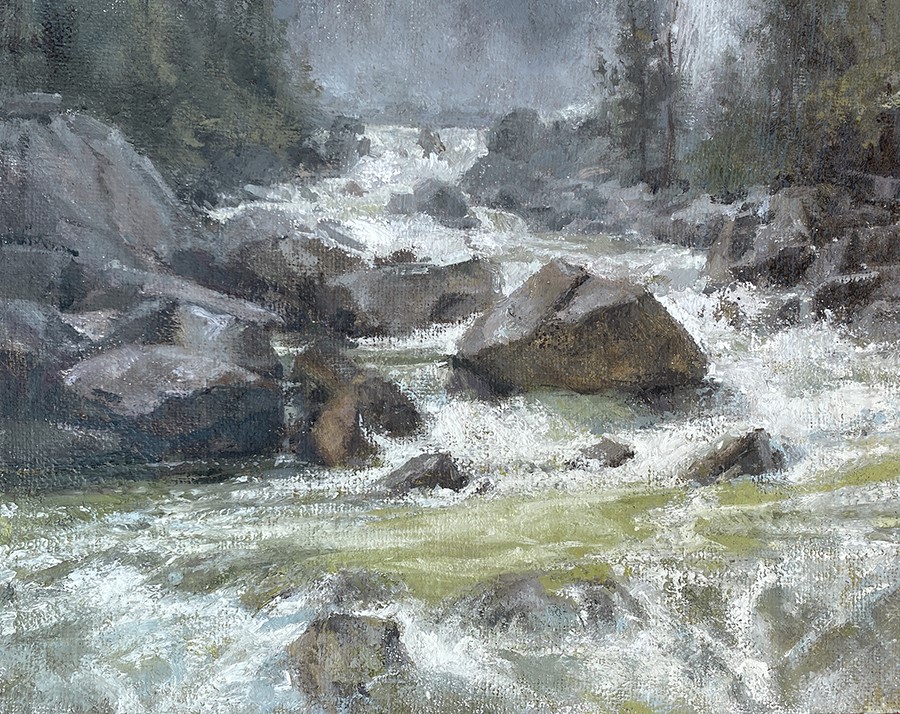 Q: Let's talk about technique. Does anything standout? And how does the technique make you feel when you view the work?
Tess: Mat Barber Kennedy's Tongs at the Forge very much reminds me of Andrew Wyeth. I love his work and the watercolor/drybrush technique he used makes each work very moody and charged.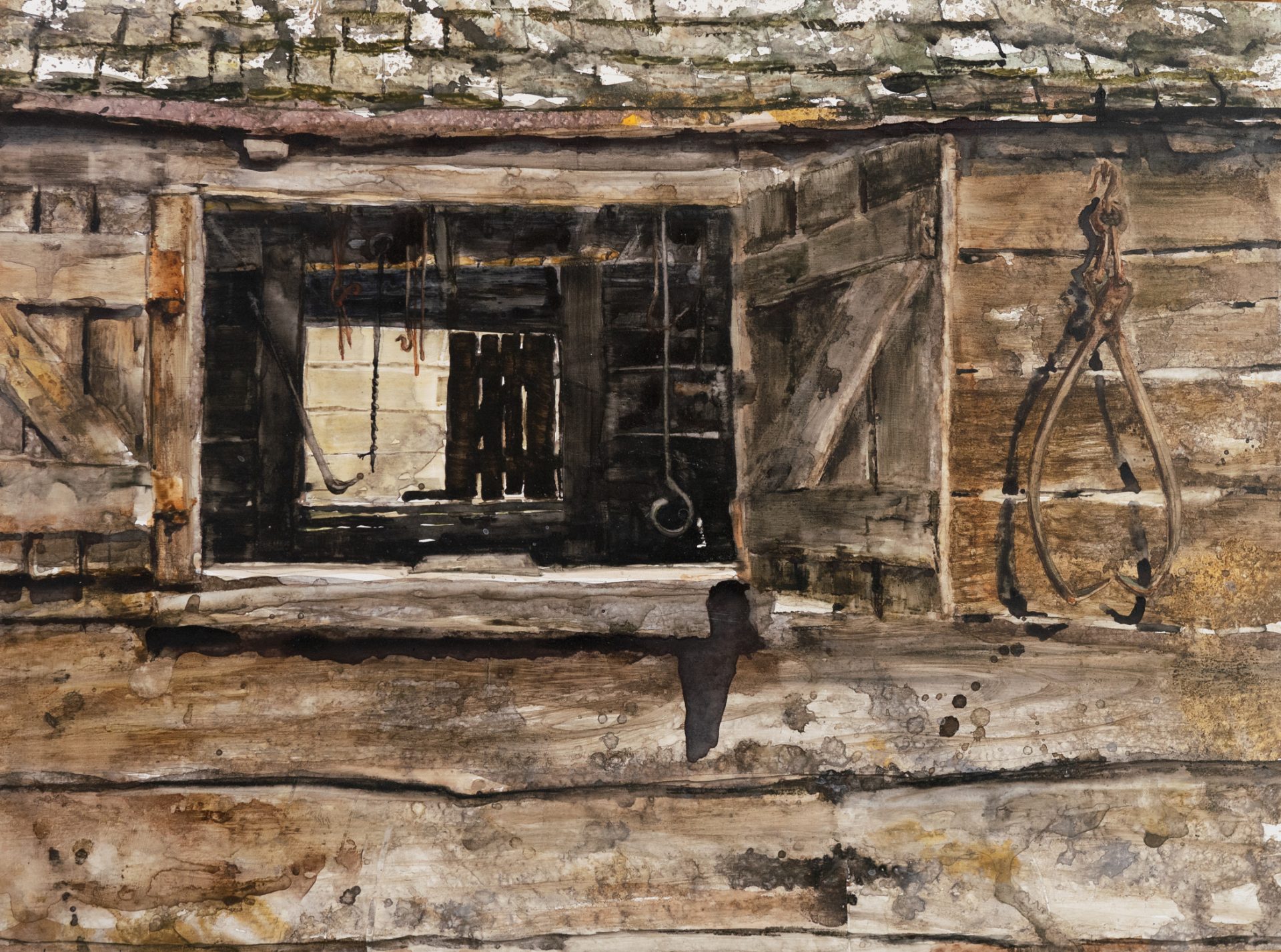 Zufar Bikbov's Purple Haze used very thick impasto, a technique where layers of paint are used to build up texture and depth. Van Gogh often employed this style and its overall effect can be impressive!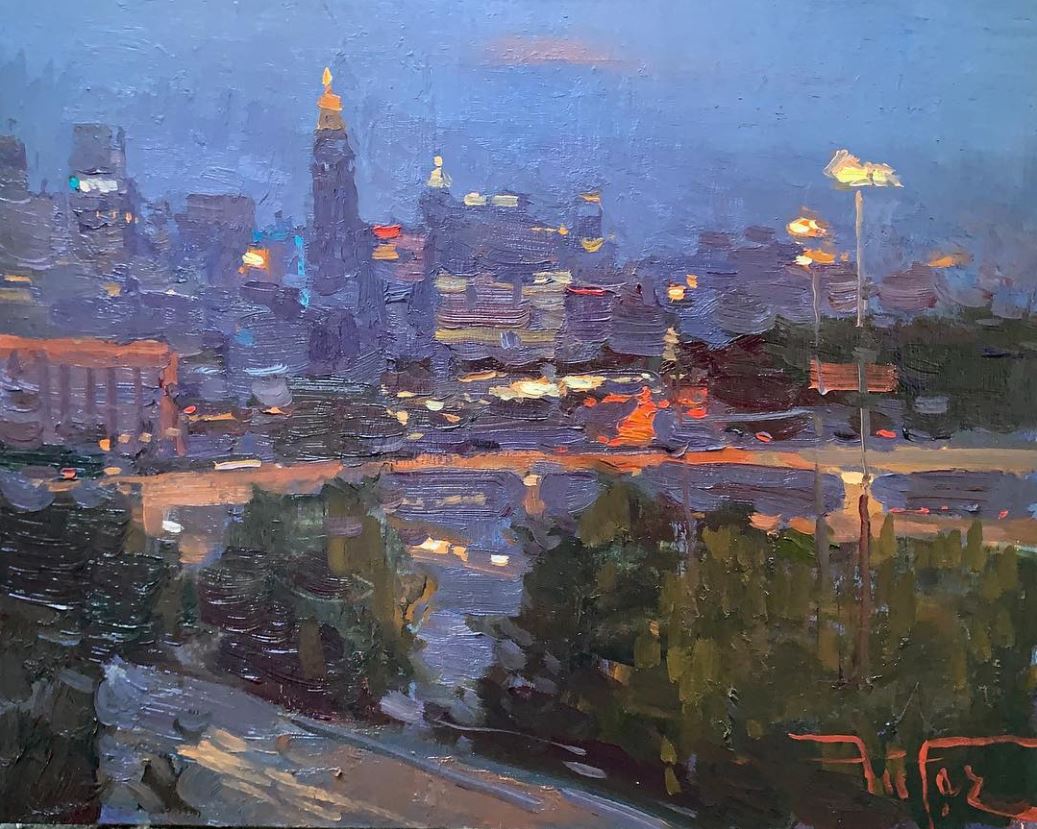 Q: Which ones would make great screen savers for your phone or laptop? Or be happy enough to post on social media?
Warm Evening Light by Tara Will: what can I say, this just makes me smile! I would be very happy to look at it every day on my screen.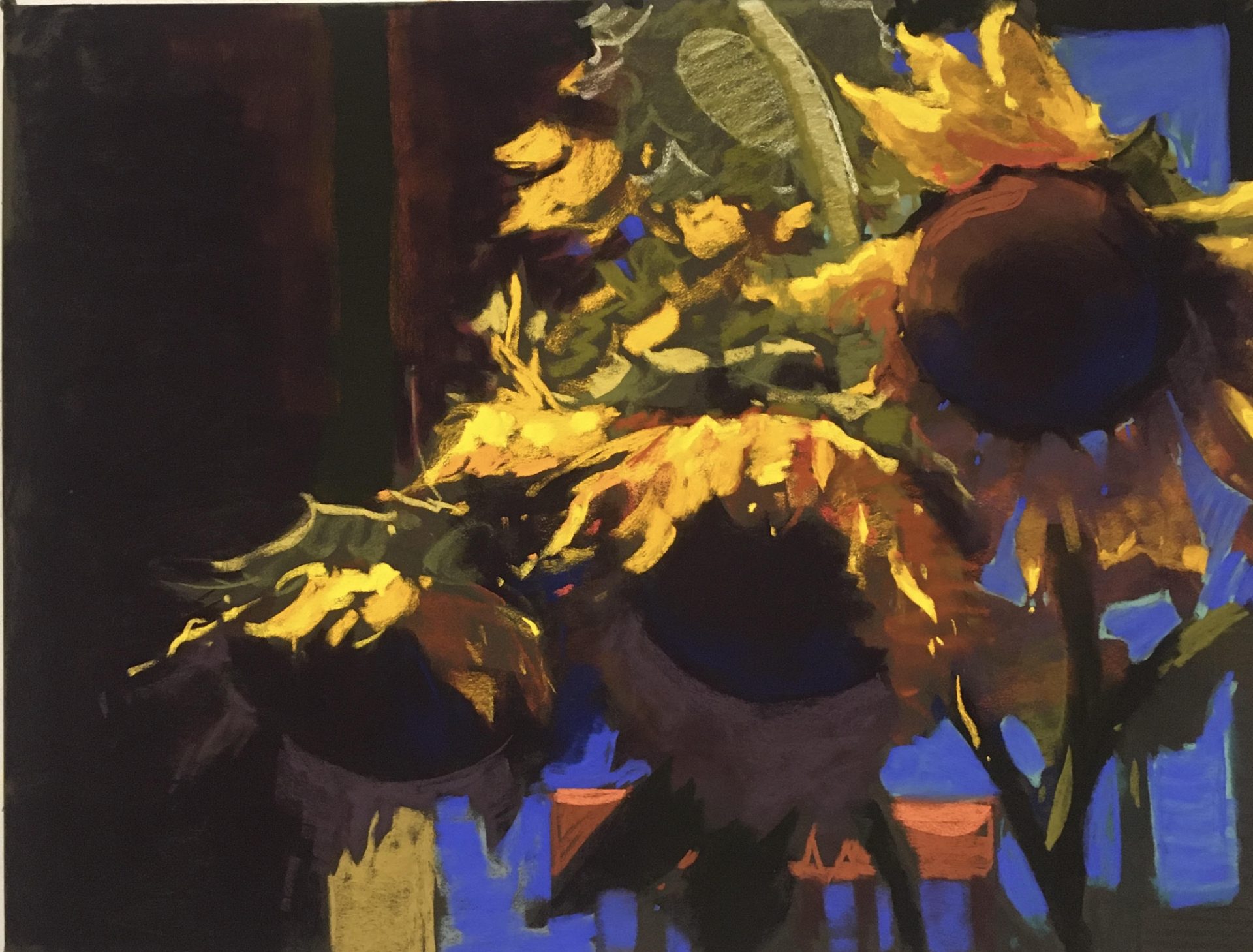 Q: If you could put a caption on one or two works, what would you say?
Jonathan Mcphillips's Low Country Comfort Take me here when quarantine is over!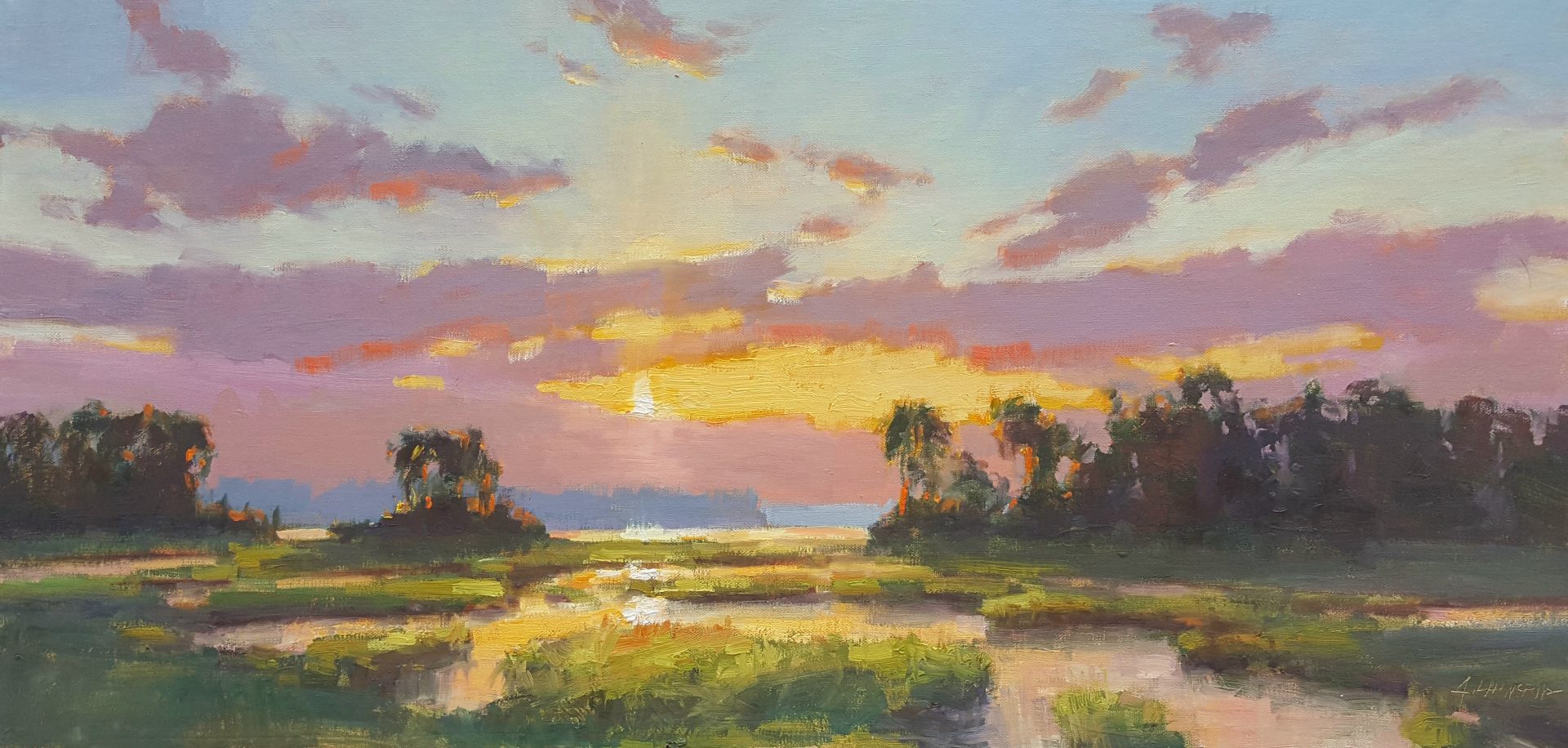 Q: How would you design your space? If you had to be quarantined with one or two works, which ones would they be?
I couldn't pick just one! I love them all and would be happy to have any of the wonderful works featured hanging in my home.