Art movements come and go with the regularity of the tide, with currents pulled along by a few key innovators, others following in their wake. Such was certainly the case with studio furniture. As a way of working, it had antecedents in the Arts and Crafts era.
By Glenn Adamson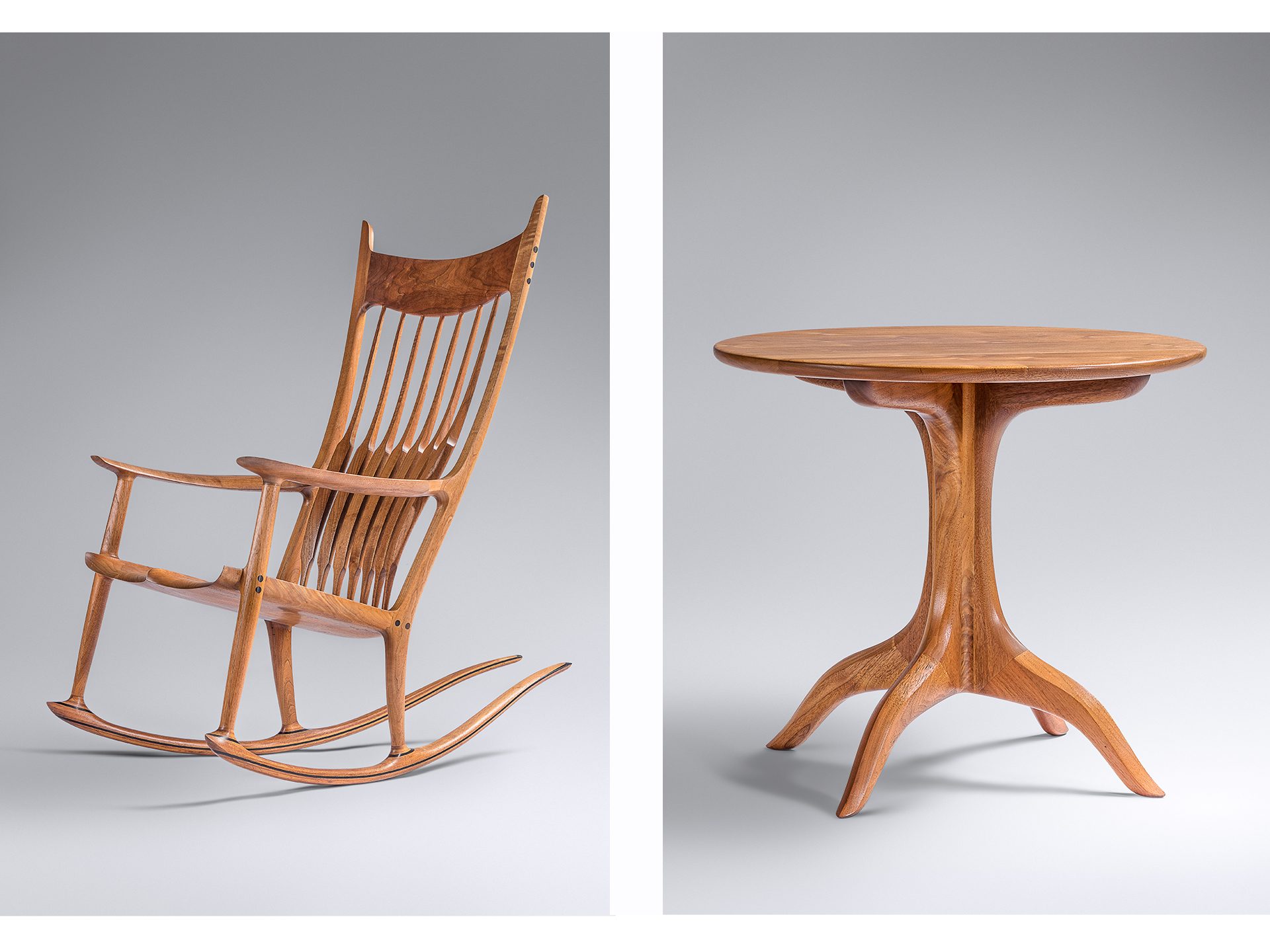 Left: Sam Maloof (1916-2009), Rocking Chair, 1993. Estimate: $20,000-$30,000. Right: Sam Maloof (1916-2009), Pedestal Table, 1993. Estimate: $4,000-$6,000.
But it was not until the mid-century era that it began to take a recognizable shape: one maker (perhaps with a couple of assistants) creating self-designed, expressive furniture, entirely by hand. Even by the late 1950s, the main exponents of this approach – men like Wharton Esherick, George Nakashima, and Sam Maloof – did not even know one another. So it can hardly be said to have been a movement. Nonetheless, a definite new approach to furniture-making was in the air, based in the values of independence, experimentation, and creativity.
With the emergence of Wendell Castle on the scene in the 1960s, the sculptural implications of this early activity – its artistic potential – gradually became clear. And with the maturation of the field, part of a general advancement of craft in America, studio furniture makers came to recognize themselves as a breed apart. Their efforts paralleled developments in ceramics, fiber, glass, and metal, yet remained particular to some degree. The sheer scale of furniture meant that collectors were few; studio-based makers worked mostly on commission, for private clients.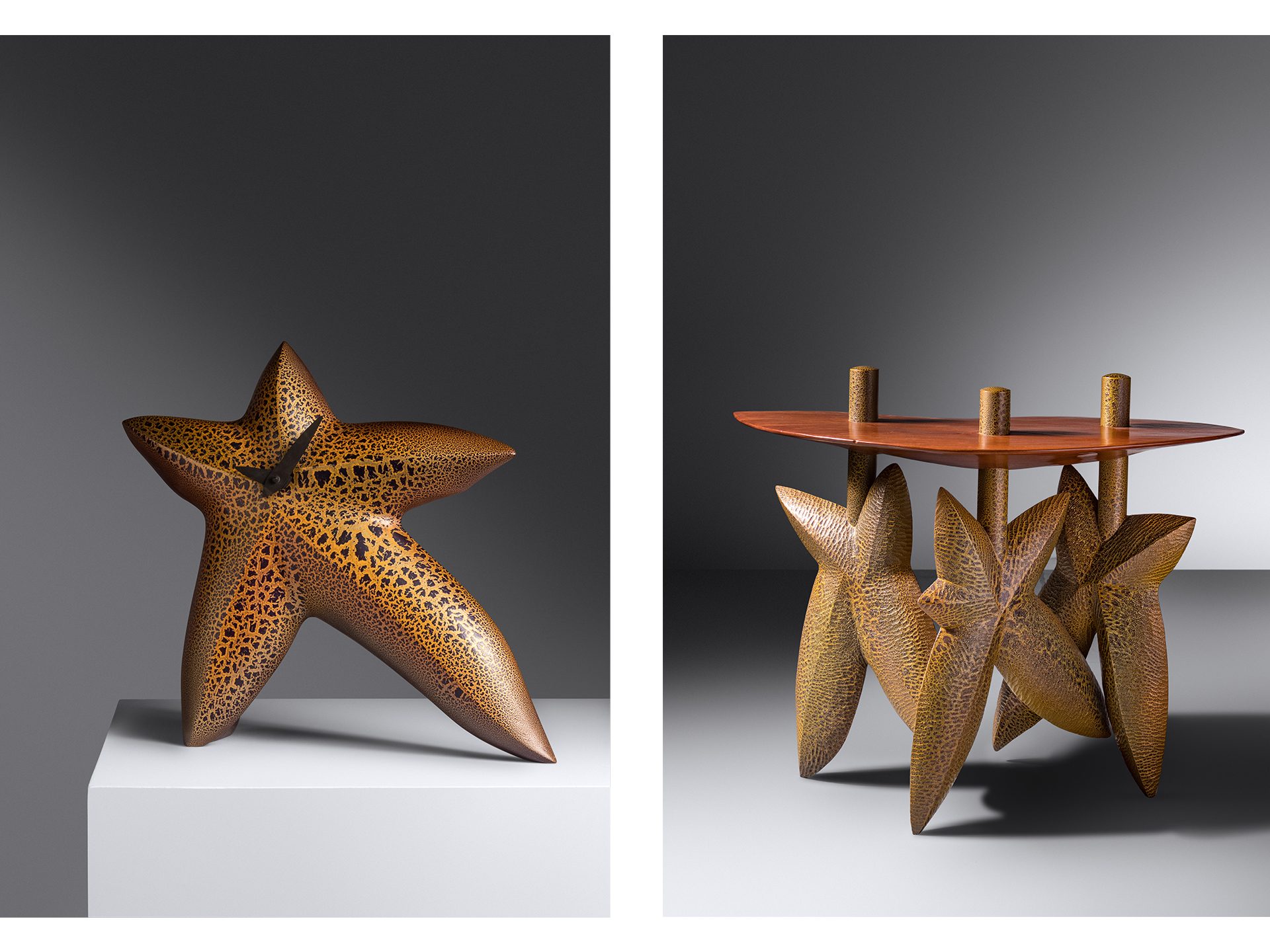 Left: Wendell Castle (American, 1932-2018), Vargo Clock, 1995. Estimate: $2,000-$4,000. Right: Wendell Castle (1932-2018), Three-Star Console Table, 1996. Estimate: $8,000-$12,000.
For a brief time, at the crest of the wave, these conditions decisively altered: the country's most accomplished makers suddenly had an unprecedented opportunity to pursue their visions. The man who made this possible was Peter Joseph, an investment banker with a love of art, who opened his eponymous Manhattan gallery in 1991. It was more a patronage structure than a commercial proposition: Joseph's goal was to elevate the field, offering his moral and financial support to the best furniture makers in the country. With Castle as a presiding eminence, younger figures – among them Tom Hucker, Wendy Maruyama, Alphonse Mattia, and Ed Zucca – made extraordinarily ambitious work, stylistically poised at the edge of postmodernism, but with a dedication to craftsmanship typically absent from that (other, larger) movement. Cabinetmaking in wood was the main focus at the gallery, but space was also made for Albert Paley – America's leading blacksmith – as well as object makers like Michelle Holzapfel.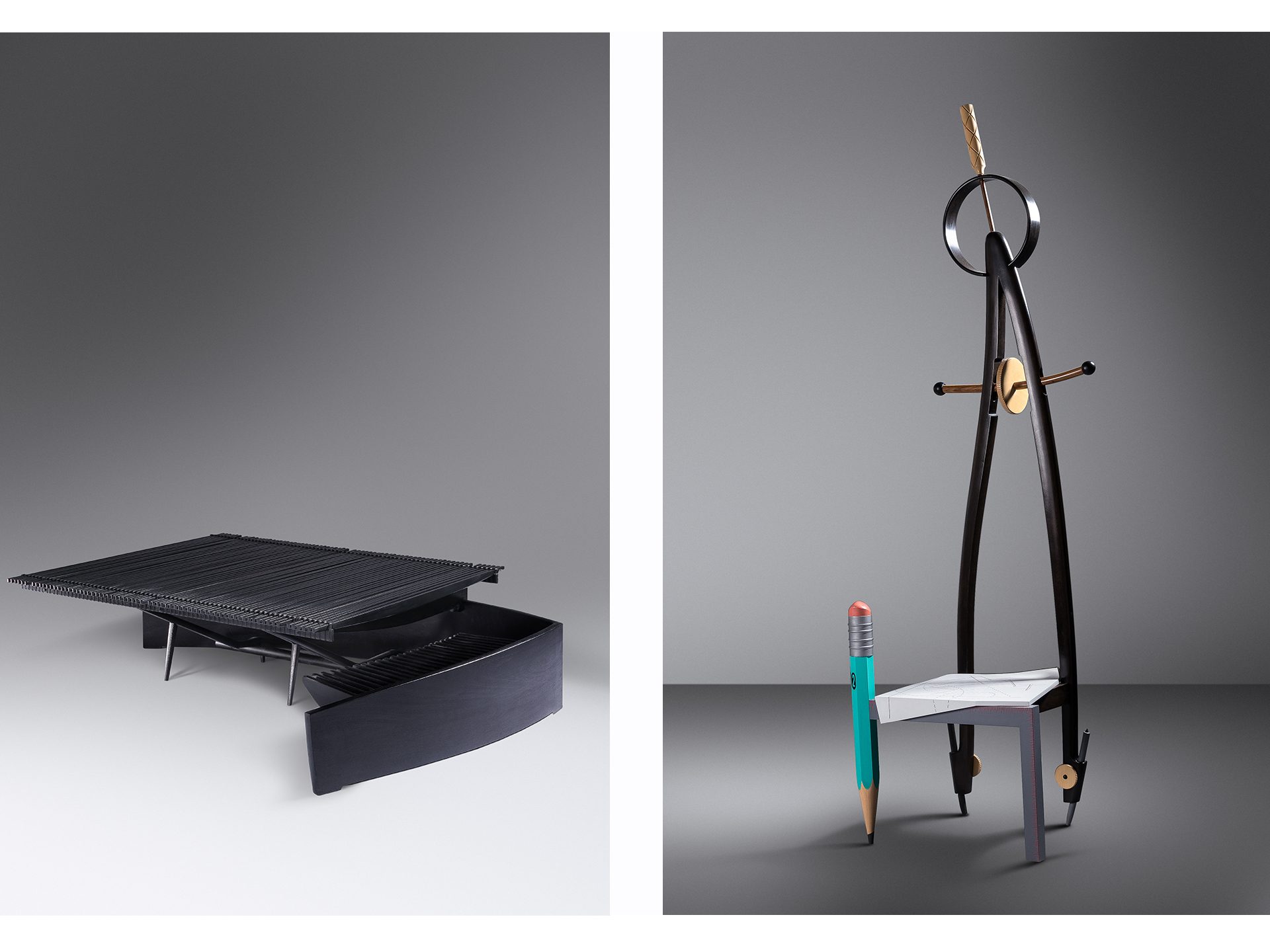 Left: Right: Thomas Hucker (b. 1955), Slatted Table, 1991. Estimate: $2,000-$4,000. Right: Alphonse Mattia (b. 1947), Architect's Valet, 1991. Estimate: $3,000-$5,000.
Robert and Carolyn Springborn encountered studio furniture before they ever stepped into Joseph's space. The initial spark was the Museum of Fine Arts, Boston, exhibition New American Furniture (1989), curated by Edward S. Cooke, Jr. (He soon went on to Yale University, training a generation of craft scholars, including myself.) This show had a straightforwardly effective premise. Each invited artist created a work in response to a historic object in the museum's collection, a conceit that highlighted both continuities with and departures from tradition.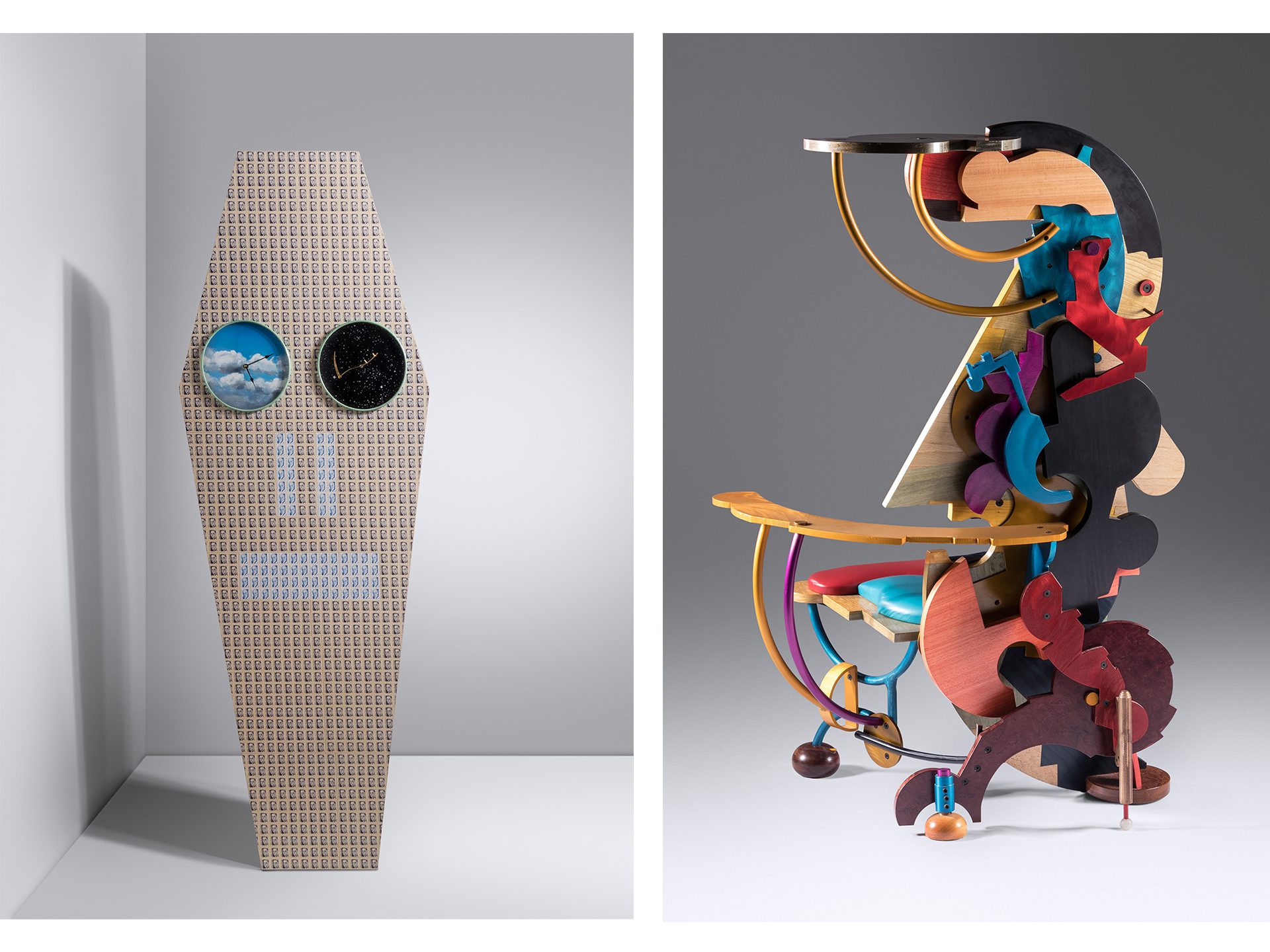 Left: Edward Zucca (b. 1946), Mail Me to Heaven, 1990. Estimate: $800-$1,200. Right: Jay Stanger (b. 1956), Stand at Ease, 1993. Estimate: $2,000-$4,000.
The Springborns demonstrated their adventurous taste, at the MFA show, by falling in love with the explosively colorful work of Jay Stanger; they immediately ordered a chair from him. That direct pathway was typical for them, and other craft collectors of their generation. They prized the relationships that they built with furniture makers; one could fairly say that as their home filled with exuberant chairs, tables, and cabinets, they felt surrounded by friends. But pursuing this new interest also led them straight to Peter Joseph, and it was through him that they came to know the work of Castle and Paley, which they went on to collect in particular depth. Maruyama was another favorite, for her puckish cross-cultural aesthetic statements.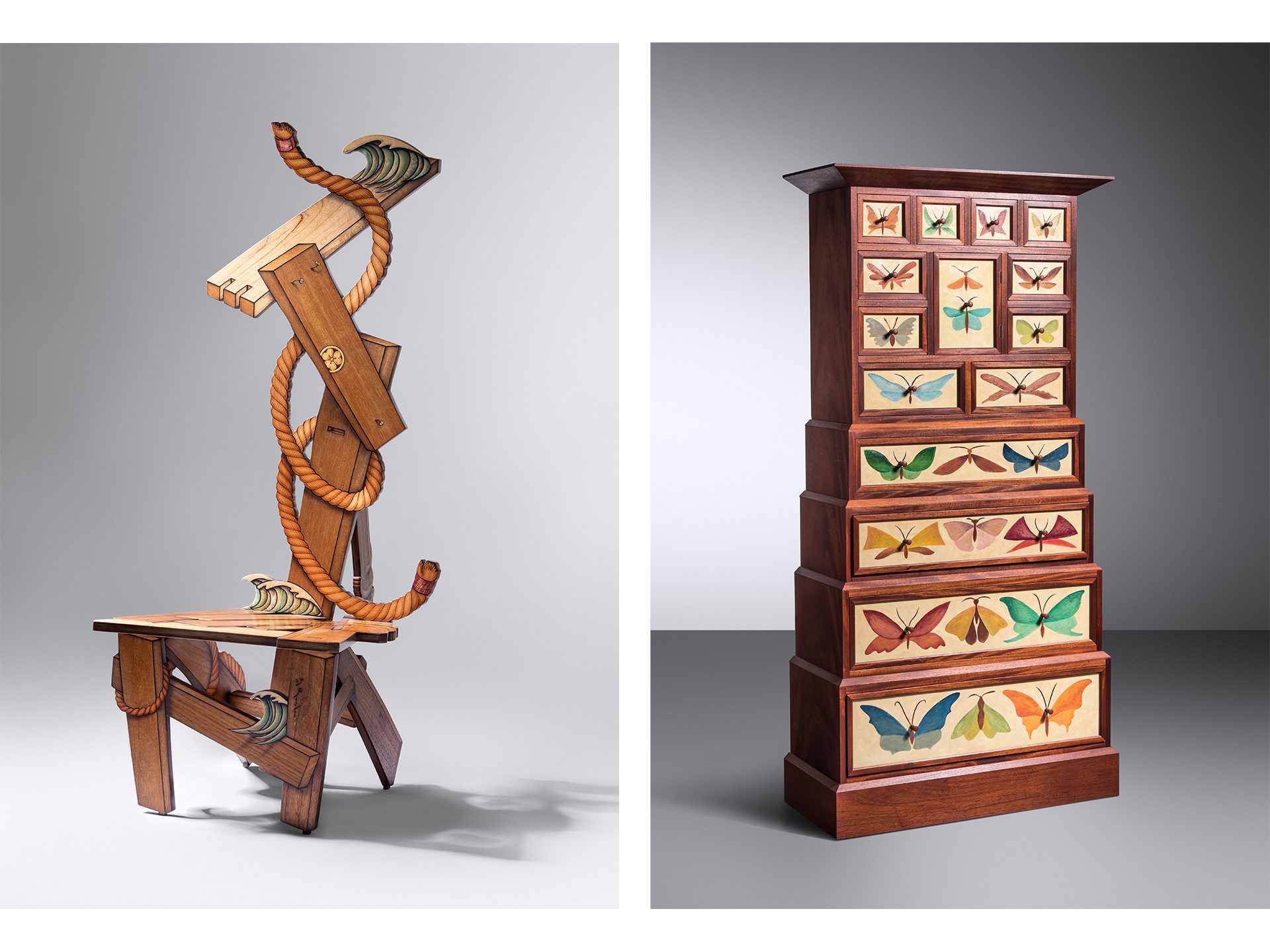 Left: John Cederquist (b. 1946), Little Waves Attempting the Rope Trick, 2004. Estimate: $8,000-$12,000. Right: Judy Kensley McKie (b. 1944), Butterfly Cabinet, 1993. Estimate: $2,000-$4,000.
The Springborns also explored beyond the confines of Joseph's program, acquiring several pieces each by the consummate master of zoomorphic design, Judy Kensley McKie, and by the California trompe l'oeil ironist John Cederquist. This commitment to the field was unusual, to say the least – Castle himself said, "I can't think of anyone who has collected more in-depth than they have" – and was recognized by a 2009 exhibition and accompanying catalogue, Living With Studio Furniture, organized at the Naples Museum of Art, near their Florida home. The present offering of material from the Springborns' collection is a valuable cross-section of a magical time, for them personally and the field at large. Joseph was tragically forced to close his gallery after only six years, due to illness (he died of cancer in 1998). Yet studio furniture would retain its vitality for some years to come, with an organization devoted to the field, the Furniture Society, founded in 1996. Twenty-five years on, the landscape has shifted. New galleries arriving on to the scene, like Carpenters Workshop, Friedman Benda, and R & Company, have emphasized the radical design context rather than that of studio craft, implying a European rather than American lineage for their concerns. Younger makers, likewise, tend to consider themselves either designers or artists first and furniture makers second. Yet in many ways, the propulsive energies that were set in motion by the midcentury generation – their emphasis on individual creativity, and the idea of furniture as an opportunity for self-expression – can still be felt in contemporary practice. The Springborns were lucky enough to be there when the studio furniture field crested to its height. And smart enough to catch the wave.
---
Glenn Adamson is a curator and writer who works at the intersection of craft, design history, and contemporary art. He has previously been a Senior Scholar at the Yale Center for British Art, Director of the Museum of Arts and Design; Head of Research at the V&A; and Curator at the Chipstone Foundation in Milwaukee. Adamson's new book, "Craft: An American History," examines how makers, carpenters, and blacksmiths took on the central role in shaping America's identity.
Featured Image: Wendell Castle (1932-2018), Ceci n'est Pas un Cadeau (This is Not a Gift) Carved Box, 2001. Estimate: $1,5000-$2,5000.