As furniture forms go, dining tables are hard to get right: a horizontal expanse that hides the undercarriage from view, surrounded by a set of chairs further prevents the table from making a statement. Yet the dining table is also one of the most important pieces of furniture in a home, a social object, around which conversation, family and friendship form.
By Glenn Adamson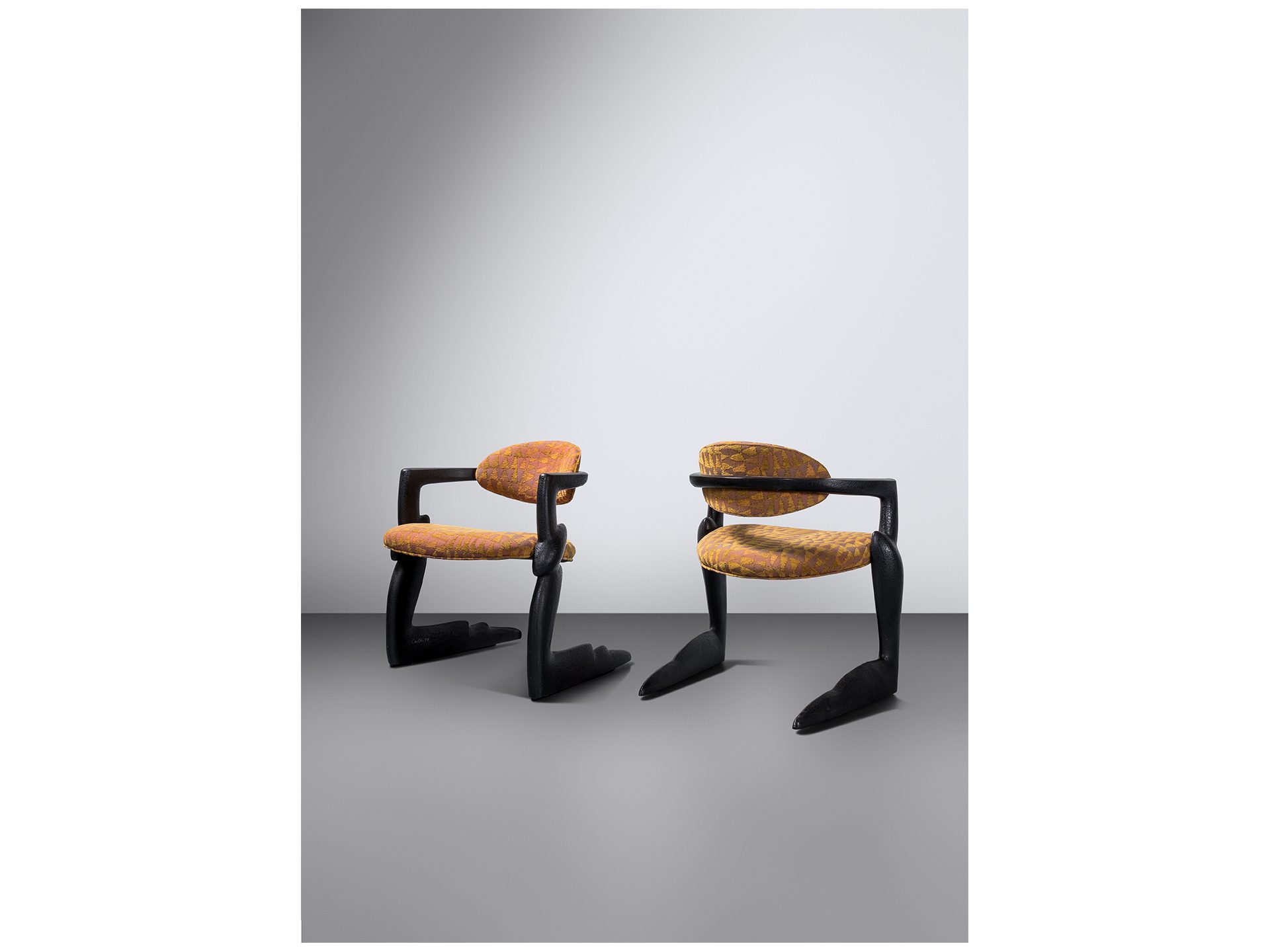 Lot 46 | Wendell Castle (1932-2018), Seven Days of the Week Dining Table and Ten Chairs, 1997. Estimate: $60,000 – $80,000
Wendell Castle, never one to shy from a challenge, returned to the typology often. He first tackled it in 1966, making three similar dining tables in walnut, one for his own use. All featured an ingenious means of opening up the form: a central aperture yielding a view down to a sculpted pedestal. These works exploit Castle's signature stack lamination technique, which freed him from conventional joinery and allowed him to compose freely in space.
Four decades later he returned to this idea for a dining table that he nicknamed the "hole in one." (It was made for the 2015 exhibition Wendell Castle Remastered, at the Museum of Arts and Design.) It sports a triad of conical supports, the tallest seven feet high, and a top that extends outward in a long cantilever. The design was achieved with CNC carving, which Castle employed to hollow out the wooden top, then filling it with hard light foam, and overlaying a veneer. The result is a featherlight shape that extends breathtakingly into midair.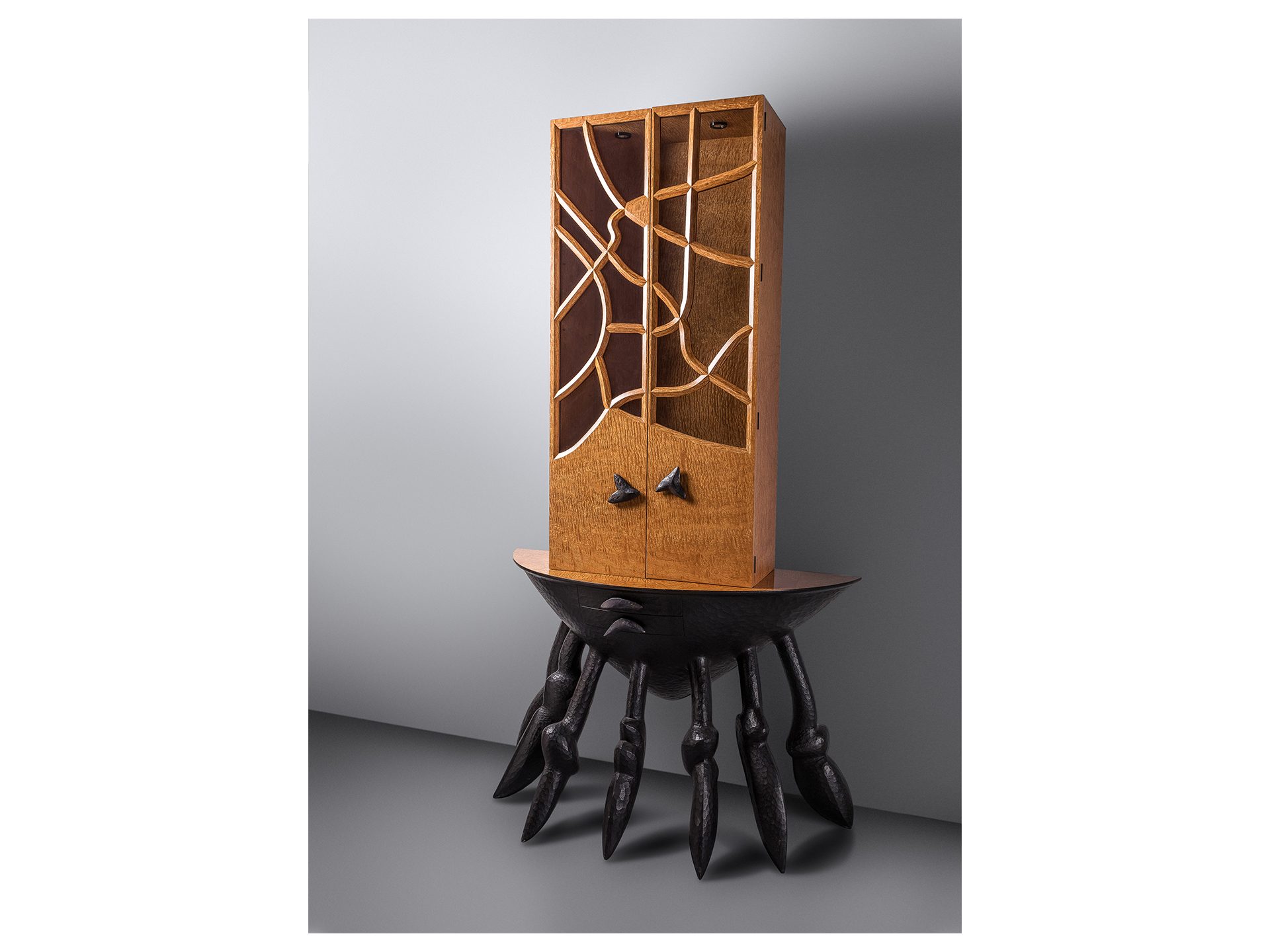 Lot 47 | Wendell Castle (1932-2018), Seven Days of the Week Cabinet, 1997. Estimate: $15,000 – $25,000
Right at the midpoint between these two moments, in 1997, Castle created his Seven Days of the Week suite for the Springborns. He was on an impressive run, having just realized his monumental Star Cabinets (shown to great advantage at Peter Joseph Gallery in 1995). The strong organic silhouette of these designs is reprised in a more articulated form in the Seven Days pieces, all of which have legs suggestive of an arthropod's. In the dining table, the legs stage a vivid contrast with the smooth asymmetrical top, recalling midcentury biomorphic designs by Isamu Noguchi.
The accompanying chairs feature continuous frames, running along the floor, up, around, and back again. Castle made many variations on this low-slung format enacts a sort of visual lean, yielding pride of place to the majestic table and its sculptural base. Yet another wholly original solution, from a wholly original designer.
---
Glenn Adamson is a curator and writer who works at the intersection of craft, design history, and contemporary art. He has previously been a Senior Scholar at the Yale Center for British Art, Director of the Museum of Arts and Design; Head of Research at the V&A; and Curator at the Chipstone Foundation in Milwaukee. Adamson's new book, "Craft: An American History," examines how makers, carpenters, and blacksmiths took on the central role in shaping America's identity.
Featured Work: Wendell Castle (1932-2018), Seven Days of the Week Dining Table and Ten Chairs, 1997. Estimate: $60,000 – $80,000