Recognized internationally for their resplendent gowns and extraordinary quality of work, Callot Soeurs are regarded as vanguards of Belle Epoque fashion. They set the standard for elegance at the beginning of the twentieth century: in 1916, American Vogue proclaimed Callot Soeurs as "foremost among the powers that rule the destinies of a woman's life."[1] The enterprise helmed by three sisters became the coveted label for an elite class of women, dressing modern femininity in embroidery and lace. Today, Callot Soeurs' legacy remains understudied, but nonetheless widely recognized and collected; their designs feature prominently in museum collections worldwide and perform well at auction. Hindman is proud to again bring their work to auction this September.
As the daughters of a painter and a lacemaker, the Callot sisters opened their first shop in Paris in 1879. Their business thrived selling the lace, ribbons, and lingerie that were coveted for the ornately detailed fashions of the era. By 1895, their success and acquired investment by wealthy benefactors led their business to expand into a couture house under the name Callot Soeurs. The label was operated primarily by the three eldest sisters of the Callot family: Marie Callot Gerber, Marthe Callot Bertrand, and Regina Callot Tennyson-Chantrell. Their reputation grew rapidly throughout Paris, and the 1900 Paris Exposition made them known to international clientele. Callot Soeurs became a staple in the wardrobes of society women throughout Europe and the United States, helping to usher in a new era of fashion.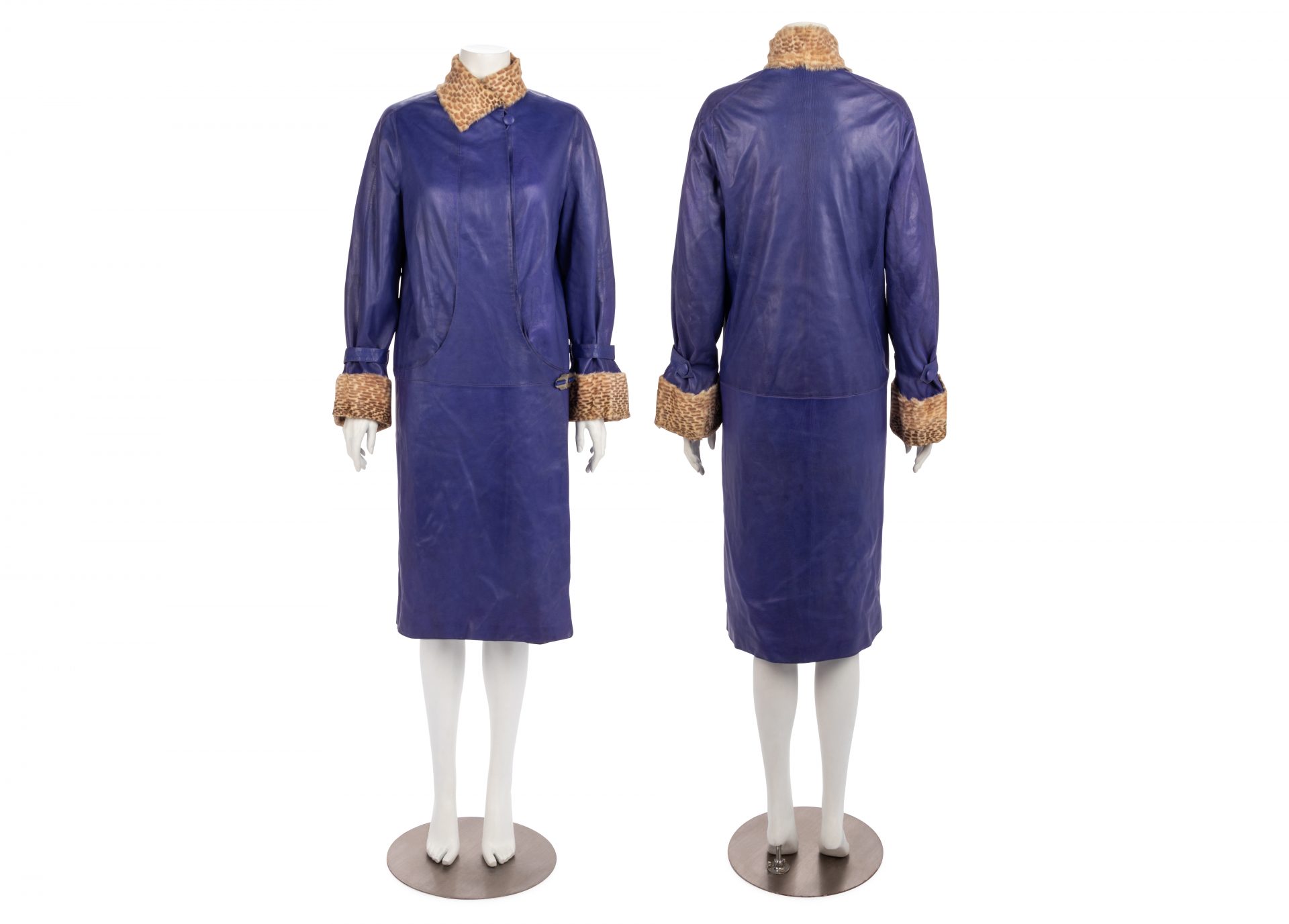 Fig. 1. Sale 769, Lot 1 | Callot Soeurs Leather and Fur Coat. Estimate: $1,000-2,000.
The label became known for their romantic, highly ornamented creations composed of weightless layers, creating tea gowns and housecoats inspired by the Near and Far East. They abandoned the corset, eschewing the S-curve of the 1890s for a more natural feminine shape. The silhouette favored by Charles Frederick Worth — cinched, padded, and buttressed — dictated the movement and occupation of the female body only a decade prior. Marie Gerber was known among the three as the lead innovator and designer, who, skilled in draping and effortless manipulation of fabric, created dresses less restrictive than Poiret's hobble skirts, and more understated than his theatrical orientalism.
After maintaining a thriving business throughout the economic challenges of the First World War, the years following the war brought about a great deal of change for Callot Soeurs. This was a time of flux for the fashion industry as customer demands and tastes shifted; in 1920, Marthe died and Regine retired, leaving Marie as the sole proprietor and creative force during a time of enormous change for Callot Soeurs. Dated 1927, lot 1 in Hindman's Couture and Luxury Accessories September Sale (fig. 1) seems an unlikely consequence of Callot's earlier orientalist and Rococo sensibilities. And yet, this coat is simultaneously a continuation of their modernist tendencies and reflects their ability to respond and lead on profound shifts in fashion over just a few years. In 1916, Vogue, describing Callot, wrote, "In the housecoat, Paris has invented a real inducement for woman to stay in her traditional sphere."[2] By the mid-1920s, Callot was offering leather coats for women venturing boldly outside into public life.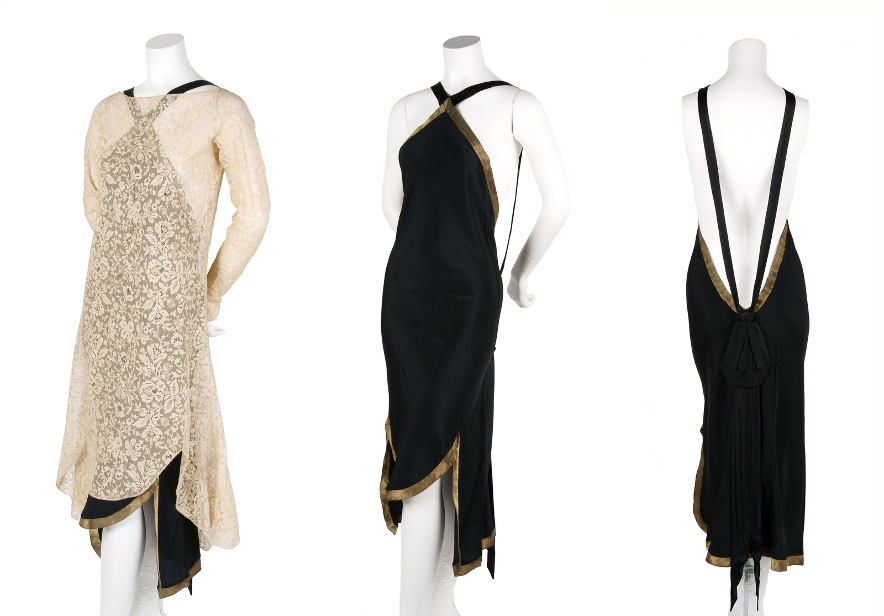 Fig. 2. Sale 92, Lot 9 | A Black Silk French Couture Dress, 1920s, attributed to Callot Soeurs, in a halter style with an extreme plunging back with gold lamé hem band. Together with an Alençon lace overlay. Sold for $4,250.
Callot Soeurs' later work reflects the aesthetic revolution underway in fashion, decorative arts, and architecture. During the war, women entered the workforce in unprecedented numbers, enjoying activities and liberties they had previously been denied. The transfigurations that occurred in art were paralleled in fashion, and antiquated bodily ideals were subverted by the straight, almost tubular, figure of the "liberated and enfranchised" woman.[3]Indeed, Callot experimented with the sleeker lines, harder edges, and flattened forms of modernism, as the taste for ornamentation declined. They began to incorporate elements of Art Deco and cubism into their romantic, feminine core. "Geometric in design," noted Diana Vreeland, "the clothes relied on the motion of living women to breathe in a shape, a movement and a sexuality into an otherwise sterile form."[4]
Madeleine Vionnet, the head seamstress at Callot Soeurs from 1901-1907, could have easily inspired the designs for figs. 2 and 3. Once a student of Callot's, she later became an influence, and forever remained an admirer, saying, "Without the example of the Callot Soeurs, I would have continued to make Fords. It is because of them that I have been able to make Rolls Royces." In turn, Gerber began to utilize the bias cut, of which Vionnet was an early proponent.[5] Light layers rather than volume give subtle depth in fig. 2 and 3, evoking Vionnet's plunging backs and sleek, body-skimming silhouettes, while honoring their own dentellière roots. The second (Fig. 3), in floral silk, emulates the modern body shape, flattened and straight. Richard Martin notes, "Still of an older order in not eschewing ornament, the Callot Soeurs worked ornament subject to the plane. Amplification and accretion were deliberately avoided."[6]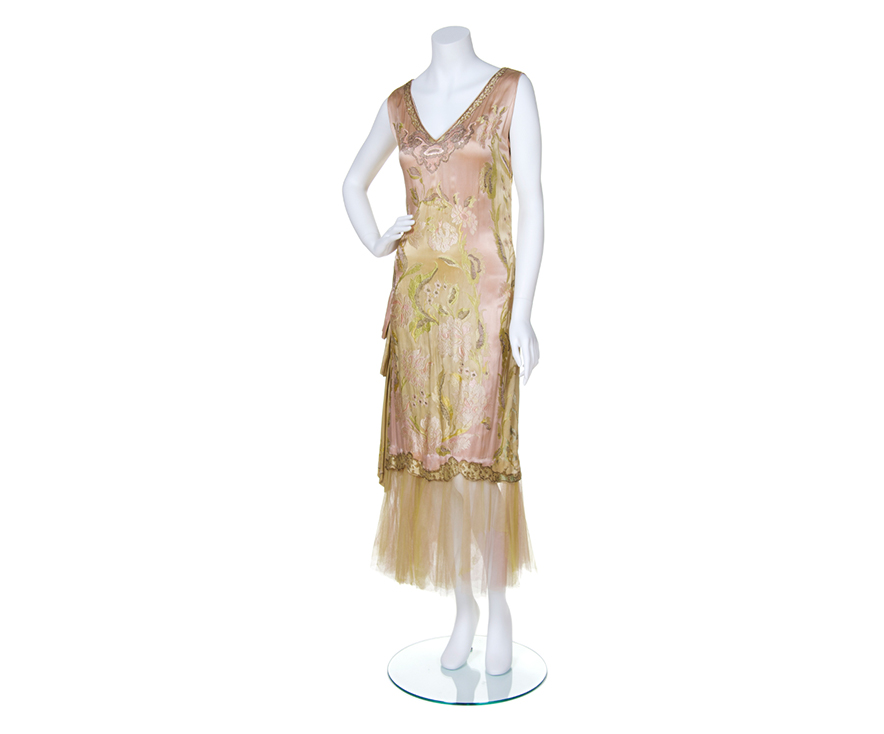 Fig. 3. Sale 240, Lot 1 | A Pink and Green Silk Embroidered Dress, circa 1923, attributed to Callot Soeurs, pink silk ground with all over foliate embroidery, pink and green tulle trim around bottom. Sold for $782.
With its drop waist and architectural pockets, this coat was worn by a fashionable young woman, likely as part of a chic motoring ensemble. The owner of this garment, the daughter of an East-Coast industrialist family, acquired it at the age of twenty-one. One imagines her in a matching cloche hat, perhaps behind the wheel of a Model T as she ventures into the city. It is a work of "contrived simplicity," in its unusual use of leather and complex, sweeping lines of a wrap coat that secures on the left hip with an Art Deco clasp.[7] Its drop waist sits snugly on the hip, creating a straight, cylindrical silhouette with subtle volume in the torso. It also features a printed fur collar and cuffs, likely pony hair dyed to resemble an exotic animal, bringing warmth to the sleek blue calfskin. Women's participation in the war effort led to limited adoption of military-style leather jackets, but the material had barely begun to enter mainstream fashion. Callot is responsible for one of the earliest uses of leather in couture, in a 1925 driving coat, housed in the Fashion Museum, Bath, UK.
Marie Gerber died in 1927, the same year this coat was created. Her son took over Callot Soeurs following her passing, but, impacted by the American market crash in 1929, the house could not sustain. By 1937, Callot had been fully absorbed by Calvet, a competitive French fashion label. This coat speaks not only to its historical moment, but to this turning point for the house: it marks the dawn of a new age for women, and the beginning of the end for Callot Soeurs. Gerber had, at one point expressed that, "The dress is everything that should be part of the woman. Not the woman part of the dress."[8] It is this woman-first ethos that inspired Callot Soeurs, and which is imbued in the coat. Created for the lifestyle of a modern woman, it demonstrates an effort to embody the zeitgeist of the late 1920s, and marks the end of an era for the "Three Fates" of Parisian couture.[9]

---
[1] "Fashion: The Straw Ballot of the Paris Openings," Vogue (Sep 15, 1916), p. 38.
[2] "Fashion: In the House Coat Paris has Invented a Real Inducement for Woman to Stay in Her Traditional Sphere," Vogue (Dec 15, 1916), p. 44.
[3] Martin, Richard. Cubism and Fashion (New York: The Metropolitan Museum of Art, 1998), p. 11.
[4] Vreeland, Diana, The 10s, The 20s, The 30s: Inventive Clothes 1909-1939 (New York: The Metropolitan Museum of Art, 1973), p. 5.
[5] Richard Martin credits Callot with the very foundation of this innovation: "Indeed, this is faint and self-serving praise, given that the Callot Soeurs established the flatness of the plane on which Vionnet exercised the twist of the bias and the weightless shifts of line." Martin, Cubism and Fashion, p. 27.
[6] Martin, Cubism and Fashion, p. 23.
[7] Battersby, Martin, Art Deco Fashion: French Designers 1908-1925 (London, 1974), p. 93.
[8] Polan, Brenda and Roger Tredre, The Great Fashion Designers (Oxford, 2009), p. 15.
[9] "Fashion: By Following the Lines the Old Masters and Miniaturists Pictured, Callot Soeurs Make Frocks Lovely Beyond Fashion," Vogue (Oct 1, 1915), p. 76.