Hindman is excited to partner with the Booth Western Art Museum to present an outstanding online auction, For the Love of Art, with bidding beginning on February 8.

For the Love of Art will include a range of Western fine art, jewelry and books. The auction is an exciting opportunity to acquire pieces while supporting the world's largest permanent exhibition space for Western art and their mission. Notable pieces include Robert Griffing's painting, Wonderfully Expert (lot 9), which has a presale estimate of $18,000-23,000. Other highlights include Steve Penley's John Wayne (lot 8), a mixed media work (estimate is $12,000-15,000), and Sonya Terpening's Not One More Step (lot 6) (estimate is $9,000-12,000).
We spoke with Seth Hopkins, Executive Director of the Booth Museum, about how the museum has moved to a new digital format for the auction and gala this year, and what bidders should pay attention to at this year's event.
Lot 9 | Robert Griffing
(American, b. 1940)
Wonderfully Expert, 2019
oil on linen
Hindman Auctions: Tell us about Booth Western Art Museum's annual Gala Weekend and how the format is different this year.
Seth Hopkins: Due to the pandemic, we've adapted the gala and auction for a digital format. Normally the Booth Museum Gala weekend is the biggest annual gathering of Western art collectors and aficionados in the Southeast. There are always a number of friends from all around the country who converge on Cartersville, and it's like a homecoming. Everyone has a great time renewing acquaintances, meeting the artists who come and buying art to support the museum. This year we are trying to replicate that experience digitally through a Zoom celebration that includes special music, a celebrity roast, interactive games and a live auction. Clearly the highlight of the event this year is the 70 lots of art, jewelry and books that are being auctioned on Hindman's Digital Bid Room.
HA: How many artists are represented and how are they selected?
SH: Over 50 artists, most of whom donated the work in the auction, are featured in this year's auction. The fact that these artists would donate their work to the museum shows they value the museum's approach, which is to work with living artists, galleries, auction houses and collectors to grow the interest and appetite for Western art in the Southeast.
We welcome any artist to submit work to our auctions, which are juried to ensure we maintain a high quality and puts the artist's work in the best light. We sincerely thank Hindman for their support in presenting this auction.
HA: Which artists are collector favorites, and are any represented in the Booth's collection?
SH: The rock stars in the auction this year include Atlanta's own Steve Penley, Robert Griffing, one of the top painters of eastern Woodlands Indians, and Sonya Terpening, a wonderful watercolorist and oil painter from Texas. Also featured are Cowboy Artists of America members Michael Donahue, Paul Moore, Gary Niblett, and Bill Nebeker. There are also very fine works by Dan Bodelson, Dan Meiduch, Charlie Fritz Jason Rich, Clyde Morgan and Kathy Wipfler. Many of the artists represented in the auction are also in the museum's permanent collection or have been featured in major temporary exhibitions over the years.

HA: Is there anything else noteworthy about the artists in this year's silent auction?
SH: There is also a wonderful group of miniature works that would normally be grouped into a separate sale during the weekend but this year they are mixed in the silent auction. Many of these were created by artists who are instructors at our art academy. They are great artists in their own right but also choose to share their talents with students on a regular basis. Often times auctions of this type can offer great value at a relatively low cost, while supporting a deserving non-profit.
Collectors looking to add depth to their traditional Western holding will find wonderful small to mid-size works by Dan Bodelson, Dan Meiduch, John Fawcett and Charlie Fritz, while buyers interested in more contemporary style works will find fresh works by Kim Wiggins, Amy Lay and Logan Maxwell Hagege.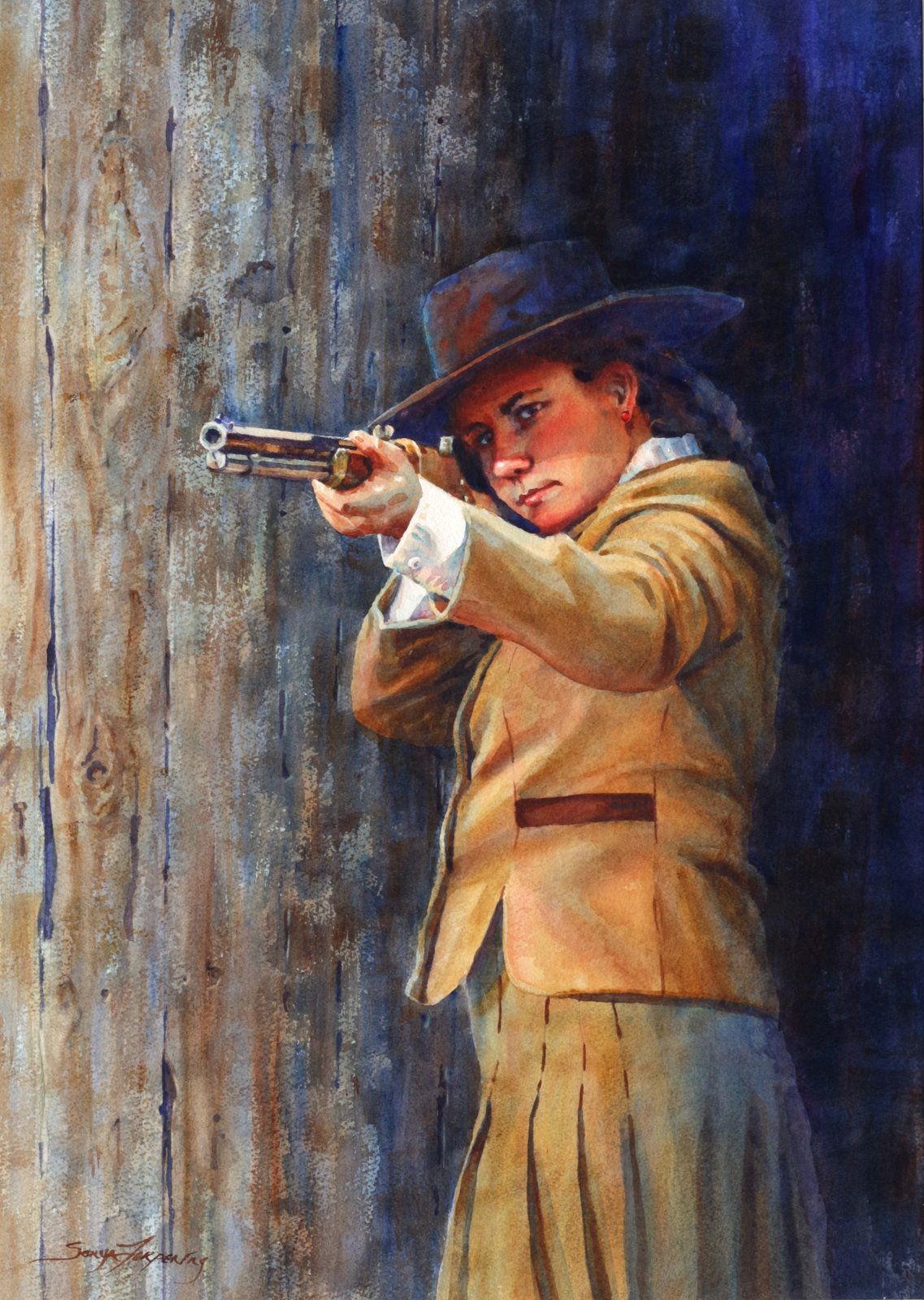 Lot 6 | Sonya Terpening
(American, b. 1953)
Not One More Step, 2020
transparent watercolor
HA: Why do you think this genre appeals to collectors?
SH: We believe Western art resonates with our audience, first because of the nostalgia from growing up with the television and later movie Westerns. There is also a universal appeal of the great American West with its wide-open spaces and majestic mountains that are often featured in the artwork. In helping new collectors get started, I tell them to be patient and to try to envision what types of artwork would make up a collection that they would want to live with over the long term. We actually offer couples collections counseling as one of the services at the museum where we help couples try to identify the overlap in their likes and dislikes when it comes to art. Once you have a sense of what you want to collect and what your budget might be, then you can move forward with more confidence when you see a piece you want to live with.
HA: What is your advice to new collectors or those looking to deepen their collection?
SH: When collectors ask me what to collect. I tell them to try to find pieces that pass the "Seth Hopkins' Pink Fuzzy Slippers Test." This test kicks in on Sunday morning when you are padding around your quiet home with a cup of coffee in one hand and the Times crossword in the other, and out of the corner of your eye you spy a work of art you are the custodian of for this generation and you get to LIVE with it. A grin creeps over your face because you get to see this art every day. That is the main reason to buy a piece of art, all else is secondary. With that in mind, I hope people all around the country will peruse the art in our benefit auction, graciously hosted by Hindman, and find something that passes the test for them. They will then have a wonderful piece of original art to enjoy along with the knowledge they are helping the Booth Museum accomplish its mission.
Bidding for the sale will be open from February 8 at 10am through February 22 at 10am. For more information, please contact Diane Homesley at dianeh@boothmuseum.org or 770-387-1538
---
Featured image: Lot 8. Steve Penley (American, b. 1964), John Wayne, 2020, mixed media.