PARIS, July 28—Yves Saint Laurent presented a fall couture collection today that will change the course of fashion around the world. It is as stunning in its impact as the collection Christian Dior showed in 1947, the one that came to be known as the New Look and affected the way women dressed everywhere.[i]
So declared the New York Times in the summer of 1976, following the debut of Yves Saint Laurent's Russian collection. In most instances, a work's profound impact is recognized in hindsight. Rarely is its effect so immediate, as was the case that July. Saint Laurent's was a show of extravagance in rich fabrics and sumptuous colors. "The new turn – the new excitement – in fashion is the new feeling for ornamentation. It's the fashion breeze that started at Saint Laurent," said Vogue, thus igniting a trend of more drama and ornamentation than the prevailing American style had seen in years.

Presented in haute couture and adapted for Rive Gauche, the impact of this collection was fast and widespread. Until this point, American collections had been reserved and polished, even restrained. This explosion of color marked a changing tide in fashion, one that the fashion press celebrated as a shift in women's wardrobes, even calling it Saint Laurent's New Look.[ii] The New York Times was visionary in its assessment of the collection.

From the collection of Martha Smith Simpson, lot 8 is a rare example of a complete ensemble from Yves Saint Laurent's 1976 Peasant Rive Gauche collection. Featuring a crepe blouse, laced corselet, a belt and a skirt embellished and trimmed with red and green rickrack, it captures the intoxicating appeal of this moment in fashion. Billowing sleeves, long skirts and eclectic details are laced and cinched at the waist, feminine and romantic.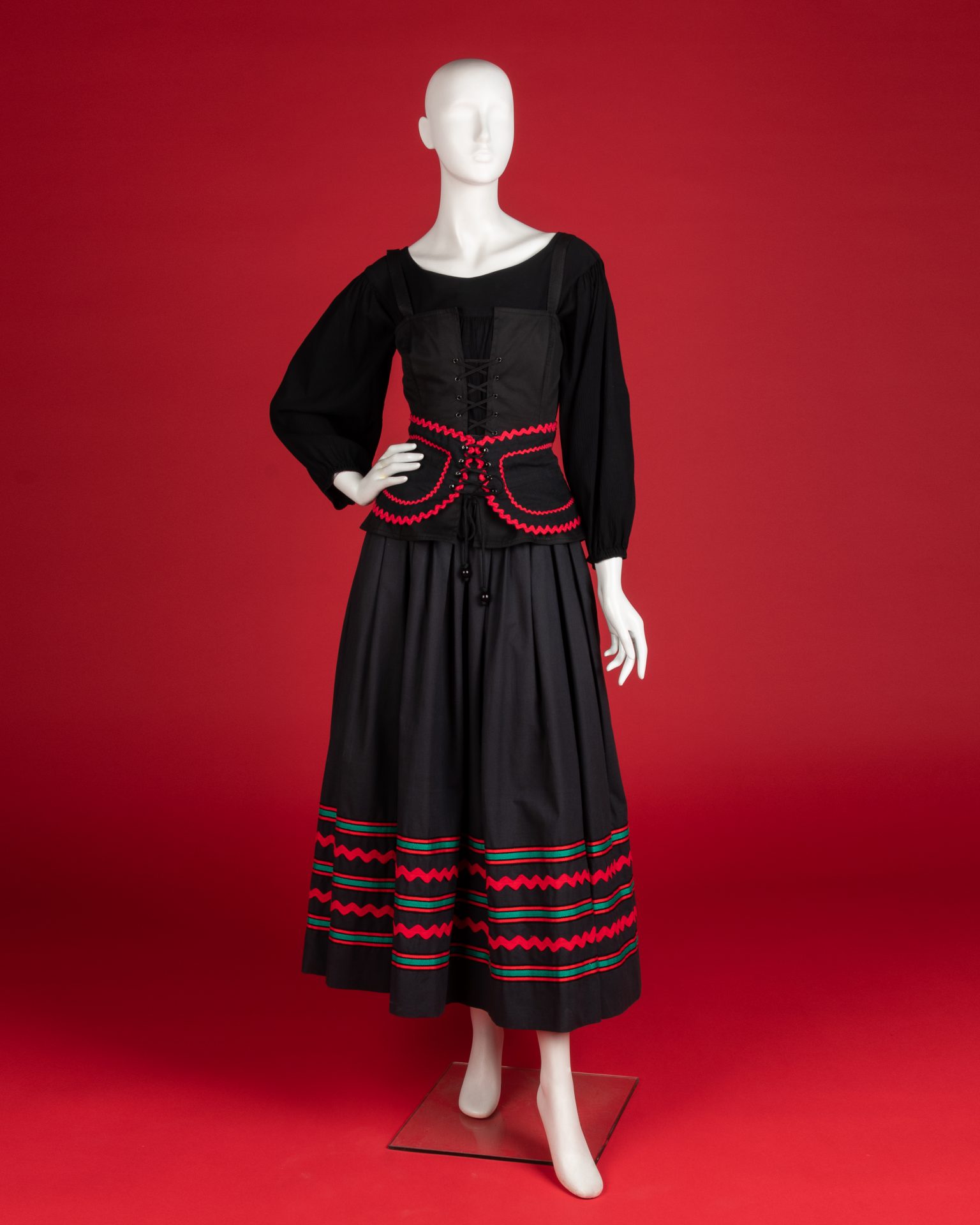 "In a room full of people, the woman in an understated style has a tough time attracting attention," said American designer Bill Blass in 1976. "It's hard to get away with a simple chiffon or jersey dress these days. The dress has to look important."[iii] This collection, replete with glimmering taffetas, rich velvets and topped with headscarves, showed a side of  feminine fashion that brought the allure of the nostalgic and the exotic. Color and romance prevailed, carrying out Saint Laurent's dream of another place and time.

In his search for something new in fashion, Saint Laurent relied on the French belief in the eternal: following in the path of Delacroix, Ingres, Poiret, visions of the non-French, of the Other, bring to fashion an exotic, intoxicating glamour.[iv] Like his predecessors in fashion and the visual arts, Saint Laurent's search for the modern borrows from the past, from imaginary voyages to faraway lands. He did not travel to Eastern Europe in the years prior; instead, he drew from Sergey Diaghilev's Ballets Russes of the 1910s and 1920s, and Dr. Zhivago, 1965. Inspired by visions of Russia from film and fantasy, the result is culturally hybrid and of indeterminate origin. "For the day," the designer said, "everything starts with traditional cuts from Russia, Czechoslovakia, Austria, Morocco. From there comes this naiveté of the cut which makes it youthful, with the color."[v] In 1976, the "new" in Parisian haute couture was derived from tradition and folklore, reanimated and reimagined. Art critic Pierre Schneider, in the same year, observed, "Here we can see how artful fashion has become in its interpretation of history. It is not a nostalgia for the past, but for the eternal present, beyond the past."[vi]

As audiences were swept away by the romance of the collection, some raised doubts about its relevance to normal life.[vii] For a show that sought to transport and transcend, it cannot be divorced from its political context. Saint Laurent envisioned the Russian peasant class with a sense of ease and detached nostalgia during a time of global tensions between the Soviet Bloc and the West. The Russian collection reimagined, for European audiences, a peasant class subject to Soviet control in the midst of a Cold War. Off the runway, art, fashion, and international relations intertwine and exist in real space and time. By the winter of 1976, the United States and the USSR had agreed to a series of five major art exchanges between American and Soviet museums through 1980. This monumental agreement was an intentional and calculated attempt at a détente between the nations via increased "cultural contacts."[viii] With material from Russian museums, The Metropolitan Museum of Art in December of 1976 opened the exhibition "The Glory of Russian Costume." Notably, alongside displays of embroidered peasant dress and royal couture, "in honor of the occasion, a number of women… wore bouffant colorful tiered or ruffled taffeta dresses from Yves Saint Laurent's widely publicized peasant collection."[ix]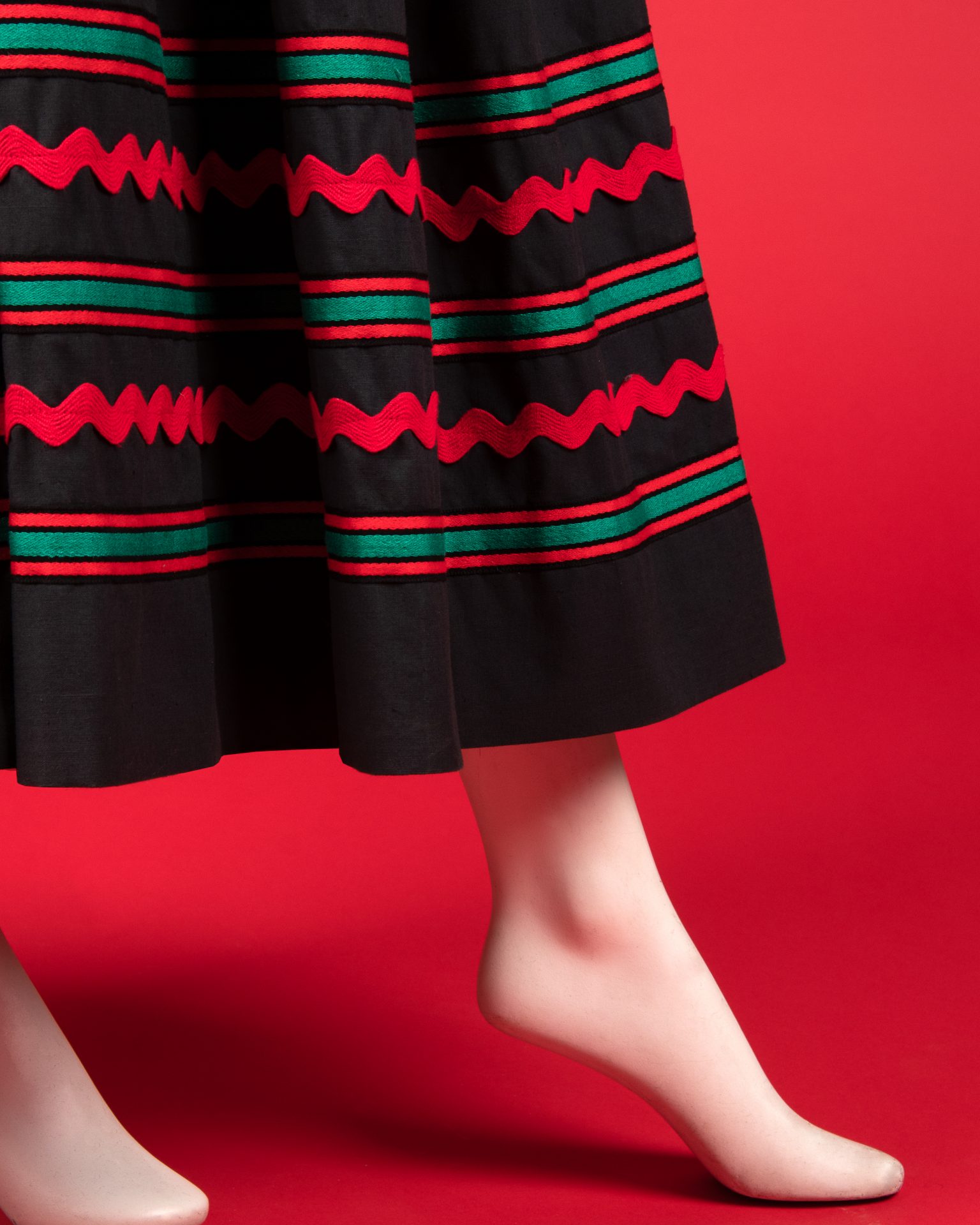 At the time of its debut, the fashion press anticipated that this collection would change the course of fashion. By the time it was adapted for Rive Gauche boutiques, stockists struggled to keep up with demand. Since the spring of 1977, when the Peasant collection became available for Rive Gauche, its silhouette became the look for fashionable women in the evening. This was the same season when Neiman Marcus in Northbrook, Illinois opened its own Rive Gauche boutique, where the late Mrs. Simpson likely purchased her own ensemble.[x]

Doubts about the peasant collection's wearability were assuaged as soon as it became available for retail. The dream of fashion becomes lived experience, and, available through Rive Gauche, enables every woman to participate. Saint Laurent's eastward voyage intertwines imagination with custom, showing that the true luxury of fashion is the freedom to be transported. For Schneider, "What Saint Laurent has done, with his latest collection, is to remind us that fashion, in its radical form of haute couture, is costume…His Albano-Circassians and Slavo-Touaregs proclaim that haute couture can only be, in its looks, what it already is from the standpoint of economics: impossible."[xi] Between the imagined past and the lived present is where the fantasy of fashion resides. For the fashionable woman's wardrobe, Saint Laurent offers newness in the form of tradition and a belief in the unchanging. High fashion emerges from folklore and reverie, and makes visible that it is implicitly contingent, responsive, and political.

Lot 8, A Rive Gauche Peasant Ensemble, is available in Spring Fashion: A Century of Couture on March 18.
---
[i] "A Revolutionary Saint Laurent Showing," The New York Times (New York, NY), July 28, 1976, p. 1.
[ii] Ibid.
[iii] Bernadine Morris, "Nights Still Thrive," The New York Times (New York, NY), December 27, 1976, p. 50.
[iv] "'Opéras – Ballets russes' Collection," Musée Yves Saint Laurent Paris, March 14, 2021,  https://museeyslparis.com/en/biography/collection-opera-ballets-russes-ah
[v] Ibid.
[vi]  Pierre Schneider, "The Assurance of Dreams," Vogue (New York, NY), September 1976, p. 228.
[vii] "A Revolutionary Saint Laurent Showing," p. 1.
[viii] David K. Shipler, "Moscow and Met Museum Agree on 5 Art Exchanges," The New York Times (New York, NY), August 30, 1975, p. 1.
[ix] Bernadine Morris, "Metropolitan Toasts a Dazzling Russia of Old," The New York Times (New York, NY), December 7, 1976, p. 1968.
[x] Genevieve Buck, "Rive Gauche Boutiques are Blossoming in Chicago," Chicago Tribune, (Chicago, IL) March 14, 1977, Accessed February 24, 2021, p. B3.
[xi] "The Assurance of Dreams," p. 228.